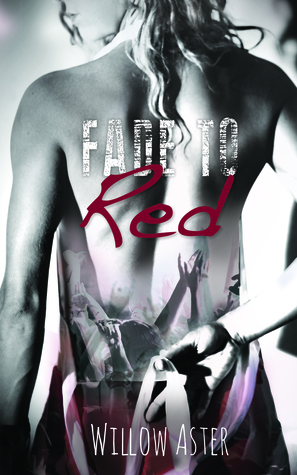 Fade to Red

by Willow Aster
on September 21, 2015
Buy on Amazon
Goodreads

Dancing in pop superstar Beckham Woods' entourage was the last thing Roxie wanted. Her life with little Leo was blissfully ordinary; she didn't have time for the drama that stirring up old memories would surely cause.

But when Roxie took a spot on an international tour with Woods and rock icon Ian Sterling, the lure of financial security and her passion for dance pulled her into an emotional storm that threatened to spin out of control and hurt the ones she loved most.

Just as she began to adjust to her new life, it became apparent that danger was in the shadows, waiting for a chance to move...

***Fade to Red is a standalone novel featuring characters from True Love Story.***
Be on the lookout for our review coming October 1st! Take a sneak peek into Chapter 1 of FADE TO RED below and make sure to enter the giveaway for a chance to win a paperback copy of this book (US ONLY)!

It was true lust the moment he saw her.
He had hoped to avoid the audition, altogether, but once he walked into the auditorium and saw her, he was transfixed. Tall, lean, with legs that seemed endless, and blonde hair piled on top of her head, other dancers surrounded her, but even the spotlight seemed captivated by only her. Every movement she made possessed the music. From one song to the next, he watched as she was completely enraptured by the rhythm. The girl could move.
"I don't care who you pick—they all look good. But you have to keep that one." Beckham tapped the choreographer's notes on number four.
"Oh, that's a given." Anthony rolled his eyes. "She could make even you look like you know what you're doing."
"Watch it." Beckham tweaked Anthony's fedora so it fell over his eyes.
"Trying to do a job here," Anthony said as dramatically as he could, which was extremely dramatic.
Beckham stood watching the dancers until Anthony raised his hand and told them to stop. He thanked them and called the next group auditioning. Beckham had seen enough; he usually avoided the whole scene until he knew who Anthony had chosen. Extra guards were stationed all over the theater, and each dancer had been instructed to only speak to Anthony if they had any hopes of being part of the tour. No autographs from Beckham would be given, no pictures, no exceptions. So far, only one girl had tried to get past a guard backstage and she had been escorted out.
Beckham walked to the back of the theater and went to the green room, still thinking about the girl. She made him want to forget the man he'd become. Just a year ago he would have made sure he got her into his bed. A girl who could move like that. Hell. The things he could do with her. He contemplated going back in the auditorium to see if Anthony would have her dance again, but didn't even want to let himself get into that line of thinking.
They'd been in San Diego for two days, trying a different talent pool for this tour. He had holed up in the theater or on the bus during the day, avoiding the crowds that seemed to be multiplying at their hotel. This would be an intense tour, and if he had anything to say about it, the last he'd ever do again. As much as he loved singing for thousands every night to packed-out stadiums, after multiple world tours and dozens of shorter runs, he was ready for a break. A long break. A forever break. Not exactly the right way to be thinking before the stringent rehearsal schedule began in a couple of weeks.
Grabbing his sunglasses and ball cap, he walked back into the hall. A little boy who looked around 4 or 5 with curly brown hair had materialized in the short time he'd been in the room. Beckham wondered how he'd gotten through security, but he didn't mind him being back there. He wasn't bothering anyone. He was playing with a ball on the floor and didn't look up until Beckham was standing right by him.
"Hey there. Whatcha playin'?"
"My mom says I can't talk to strangers," he lisped all his S's, "but I know who you are, so I guess it's okay."
"Well, she's right. Is she here?"
The little boy nodded and then a smile took over his face. And Beckham was finished, done for, smitten.
"Wanna play jacks?"
He showed Beckham the metal pieces he'd been squeezing in each hand. The ball went bouncing out of one hand and Beckham leaned down and caught it on its bounce up.
"Sure. I haven't played with jacks since I was little—I never see kids play it anymore."
"I do. All the time. Mom says I have a 'diction." He caught the ball Beckham bounced his way.
"Hmm, well an addiction to jacks wouldn't be the worst thing, I don't suppose. So, I'm Beckham, and who are you?"
"I'm George."
"Really? George? Like Curious George?"
He laughed. "No, I'm Harry."
"Harry. Oh, okay. So which is it? George or Harry?"
"I'm Mavid!"
"Mavid? Is that even a name?"
"Nooooo, you're crazy. Mavid's not a name."
"You're starting to look like a Mavid, actually. I can see it now."
That wiped the grin off his face. "I do not. Take that back."
Beckham held both hands up. "Whoa, dude. Just playing the game here."
The little boy laughed. "Just kiddin'. Whoa, dude, loosen up." He looked at Beckham then and stood up. "And you can call me Leo."
Leo, or whatever his name really was, looked so stinkin' cute, Beckham couldn't wipe the grin off his face. He could hang with this guy a few more minutes before getting some air. In fact, maybe he'd just skip going out.
"You got any whiskey sours?"
Hearing that come out of his mouth, especially with the lisp of all lisps, was too much. Beckham's laugh echoed through the corridor.
"Where have you heard about whiskey sours?"
"I heard my mom saying that's her favorite drink. Joey says it's a girly drink. Mom also likes marragritas sometimes."
"Marragritas … oh yeah, I like those too."
"You know my mom?"
"I don't think so."
"Well, she knows you." He mimed the words of Beckham's song that was still coming from the auditorium and knew every word. "My mom listens to you all the time."
"Ahh, that's nice of her. Maybe I can meet your parents. Where are they, anyway?"
They were just coming to the side doors of the auditorium. "Getting work done. I'm supposed to stay right here and not move an inch. I went and came right back though." He said it like Beckham might tell on him.
"Hey, I think they'd understand you getting a drink. No worries."
The door opened and a cute blonde came out. She gave a startled look to Beckham and then to Leo, and back to Beckham.
"Sorry I was gone that long, Leo." She shuffled nervously behind Leo.
Beckham smiled, trying to make her more comfortable. She didn't crack a smile; in fact, her eyes just grew larger as she stared at him. The kid's mom seemed a little uptight. Not exactly what he was expecting with such a cool kid.
"It's okay," Leo lifted his thumb toward Beckham, "he kept me company."
Just then Jodi, one of Anthony's assistants, stuck her head out and said, "Beck—Anthony's wondering if you can take a look at a small group he's put together, since you're still here…" She smiled, knowing he was trying to escape.
"Ohhhkay," he dragged it out, "I guess I can do that." He looked back at Leo and the girl. "You're welcome to come into the auditorium…"
"Oh, that's okay. We're good here," she responded quickly.
Leo shrugged and with a smile he walked to Beckham and held out his hand. Beckham gave him a firm handshake. "Thanks for playin'."
"Well, thank you, Mavid … I mean, Leo." This got a laugh out of the little boy. "It sure was great to meet you." Beckham walked to the doors and gave Leo another wave before going inside. What a fun kid, he thought. Manners, too.
When he entered the auditorium, the tension in the air was thick. The room had cleared out, with nine still on the stage.
Anthony motioned him over. "I think I'm ready to call it but wanted to see if you agree with the three that I want to cut."
"K, man. Let's do it."
Anthony turned on the music and for the first song, they all did the routine Anthony had shown them. On the second song, they each had about twenty seconds to freestyle.
Anthony and Beckham talked it out and were in agreement with every dancer. There were three that just didn't have the same deep groove that the rest did. And six who were so tight, you could feel every pulse of the song. And then, the girl, she was the one all eyes would gravitate toward. She just had it.
"I'm thinking that girl for the solos, mirroring you," Anthony said. He turned on a slower song and yelled, "Roxie Taylor, show me what you can do on this one."
Beckham nodded, unable to take his eyes off her.
Sensuality oozed out of her when she moved. More than being sexy, it was the emotion she provoked with her movements. She became every word of the song. It was impossible to not be mesmerized watching her. Graceful, but funky. Fluid and strong, even in the more intense moments of the song.
Beckham forced his mouth closed when the song ended. Roxie stood up straight then, and for the first time, looked self-conscious.
"Excellent! Okay, everyone, I think we've seen what we need to see. We'll discuss things and get back to you within a few days. If you don't hear from us, thanks for trying out … maybe we'll see you again in the future."
Beckham cringed. This was why he didn't like to be here for this part. He didn't want to feel bad for the ones who were let go.
"Just a reminder, for those of you who are selected—we will begin two months of rehearsals in L.A. in a month from now. We expect you to be ready to work hard. No distractions. Also—make sure you're able to survive being on a crowded tour bus with people you don't know … for long, exhausting months at a time. You think you want this now, but imagine if you don't like someone, the close space, the exhaustion, the wear and tear on your body. Be sure about this before we call to tell you you're selected. Otherwise, your future career as a backup dancer is already over."
"Okay, Anthony, enough," Beckham muttered.
With a clap and a complete change of tone, Anthony said, "All right, folks! We'll see some of you in a month!" He turned to Beckham and raised an eyebrow. "What?" he challenged.
"No one will want to do it after that little speech."
Anthony waved his hand, openly scoffing Beckham. "Please. Everyone dreams of touring with you. And dancers are all about torturing themselves. Trust me, my little speech just made them want this all the more."
Beckham smirked. "Whatever you say."
He turned around to leave and saw his manager, Nate, walking toward him. It had to be important for him to show up during tryouts.
They did their usual half-shake, half-hug greeting.
"What's going on, man? You've got my attention, showing up here," Beckham said.
"I want to throw something by you, an opportunity … something we need to act on quickly."
Beckham frowned and nodded. "Of course. Lay it on me."
Nate tilted his head to the side, motioning for Beckham to follow. They walked through the doors and into the back halls of the auditorium. To his disappointment, Leo was long gone. He wished he'd thought to invite his family to the San Diego show. It would be the end of the tour before they were back through, but still, it would have been fun to see the little guy again.
Beckham took the lead when they got toward the green room and offered Nate a bottled water once they stepped inside.
Nate took it and launched right into what was on his mind.
"I think you've met Donny Carter before, right? Made his career when he signed J. Eliot. I think he might have wanted to manage your family way back when."
"Name sounds familiar," Beckham said.
"Well, he just found out he has cancer and is retiring. It's bad, really bad." Nate shook his head. "Such a shame. Anyway, he called to see if I'd take over his client."
Beckham nodded and waited, confused about what that had to do with him.
"His client is Ian Sterling." Nate leaned back and smiled a slow grin.
Beckham perked up. Ian Sterling was someone he had long admired. He was a true artist—with the pipes, songwriting, and unparalleled guitar skills to back it up. Beckham had seen him play before Ian became well-known, in a little bar in San Francisco, and it had inspired him during a time when he was pretty numb. Earlier this year Ian had taken the Grammy home for Best Album of the Year, and Beckham thought no one deserved it more.
"Bad news for Ian is that Donny completely botched Ian's tour. I mean really—he screwed up. I don't know why he didn't call sooner, but he's obviously had a lot on his mind." Nate lifted his eyebrows and let out a deep breath. "He feels awful about it. Ian has been top-notch about the whole thing, but bottom line is, the guy is now free for the next year, when he was supposed to have a huge tour of his own all lined up."
Beckham and Nate stared at each other, both their minds racing with the possibilities.
"What are we waiting for?" Beckham asked. "Let's make him an offer he can't refuse."

♥READ THE BOOK THAT STARTED IT ALL ♥