We CAN'T WAIT for more Ethan and Brynne!!!!!!! To hold us over until the release in just a couple of more weeks…Raine has provided us with a teaser!!  Enjoy!!!
*Disclaimer: May be edited or deleted prior to publication. 
This is from Brynne's POV. They have just gone for a run and are eating breakfast at a restaurant.
The waitress appeared with our food just then, giggling and leaning over the table in a disgusting display that made my stomach turn. Literally. The eggs and bacon set out in front of me suddenly didn't look so appealing either. I reached for the toast first.
I couldn't help rolling my eyes again as she strutted off, hips swinging for maximum affect. Ethan gave me a soft laugh and an air kiss.

"Let's talk some more about this plan of yours when we get back to London, okay? I want to enjoy our time here together this weekend and forget about that message last night, and have some fun." I couldn't resist adding in just a little snark. "Not that watching women throw themselves at you is fun for me or anything."

He laughed a little harder. "Welcome to my world, baby. Hell, if it helps my cause by getting you jealous, maybe I should encourage the admiring females a little more." He gestured in the waitress's direction.

I glared at him. "Don't even think about it, Blackstone." I nodded toward his crotch. "It so won't help your cause or getting you more of what you like."

He bit off the end of a piece of bacon and ignored my threat, grazing over me with sexy, slow eyes. "I like the jealous you very much. It turns me on," he said in a low tone.

I felt the tingle of arousal flutter through me as he raked me over with a look. Ethan could get me hot for him with just the slightest gesture. I noticed how his muscles flexed under his shirt and I wanted to tear it off and proceed with licking him down his beautiful carved chest, down farther over his stomach and that V cut which ended in the most magnificent—"

"What are you thinking about now?" he asked with a brow twist, interrupting my wicked fantasies.

"How much I like to go running with you," I countered, proud of my pithy comeback when I'd so obviously been caught shamelessly ogling him worse than the redhead who'd served our meal had done.

"Right," he said, totally unconvinced. "I think you were dreaming about getting me naked and having a shag."

I was horrified as I stared down at my food, wondering why I was so sexed out these days. All. His. Fault.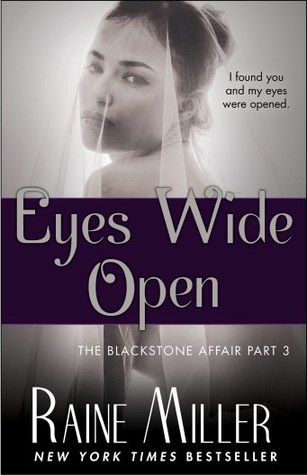 Synopsis
The third part in The Blackstone Affair series: A love on the brink of being destroyed. The fight of a lifetime to keep it alive.
Big surprises are on the horizon for Ethan and Brynne as they struggle to adjust to what life has thrown at them. Demons from the past are threatening to destroy the passionate bond they've forged despite their vow that nothing will ever keep them apart. A truly devastating loss coupled with the promise of a new hope opens their eyes to what is most important, but is it possible for the lovers to move on from the painful histories that continue to haunt them? A stalker is still lurking in the shadows, plotting evil amidst the distraction of the 2012 Olympic games in London. Brynne and Ethan are on the cusp of losing everything as the stakes rise. Will they yield to circumstances beyond their control or will they give every ounce of fight they have left to save each other and win the ultimate prize of a life together?
Eyes Wide Open is a passion-wrought story that shows us what pure love can achieve when tested and what the heart can accomplish despite danger and adversity.