Disclaimer: May be edited or deleted prior to publication. Permission is NOT granted to re-post this content anywhere, so please don't do it. You may link to this page if you want to share it with others. Thank you.
---
We are SO excited to be hosting this blog tour starting next week on November 11th. Make sure to stop by to follow the tour and read some AMAZING reviews and enter for a chance to win some great giveaways too!
Click here for Blog Tour Schedule
A story of heart-stopping, toe-curling passion by the beloved bestselling author of Hard to Love, Resisting Her, and The Impact of You.
Straight-laced and well-mannered southerner Emmy Clarke is out of her depth in New York City's fashion world, but when she lands a job as an assistant at a modeling agency it seems like the perfect mix of business and pleasure. Working under the notoriously tyrannical Fiona Stone is a nightmare, but there's one distinct perk: ogling the ridiculously hot male models who parade through the office—particularly rising star Ben Shaw.
Ben is everything Emmy's not: exquisitely gorgeous, highly paid, and well-traveled. He's also got more issues than Vogue. Emmy looks after Ben on photo shoots, but she refuses to become another one of his lusting groupies. Ben finds Emmy's refreshingly real attitude to be surprisingly attractive.
Against a backdrop of the most fashionable cities in the world, casual flirting turns into an illicit affair, but when Ben's twisted past is revealed, and the bitter Fiona catches wind of their relationship, their careers and hearts are threatened.
---
Teaser
"What do you want to know?" His smile was playful, like he almost expected that I'd Googled him and assumed that I knew everything there was to know.
I did know a lot. His mom was retired supermodel Dakota Shaw, rumored to be quite a swinger. His dad appeared to be a mystery; possibly a politician or a rock star. But it didn't seem right to try to probe him for answers now. Instead, I simply asked, "Where did you grow up?"
His eyes drifted to his glass of wine, which he'd stopped swirling. I briefly wondered if I'd touched on a topic he didn't care to discuss. "All over, really. New York City, London, Barcelona, Prague, Rome, Brazil, everywhere. I want to hear more about you, though. Normal family. Tennessee. What else?" He grinned, taking a sip of his wine and licking those full lips.
The wine had started to get to me already, and it seemed surreal that Ben Shaw was sitting across from me. What was he even doing here with me? Was this a date? Two friends? Coworkers? My head was a wreck. I needed answers.
I set my glass down on the table and summoned my courage. "Ben." My tone came out too serious and his gaze flicked up to mine. "I'm sorry to disappoint you, but I'm probably a bit boring for your tastes."
Ben abandoned his casual posture and leaned in toward me. "I assure you; I'm anything but bored, Miss Clarke."
I twisted my fingers around the stem of my glass. "We both know I'm not a model. I'm not like the women you usually go out with."
"Emmy…" Ben set his glass down in front of him, his expression stern. "I don't only date models. I actually typically don't date models, so relax."
His little declaration did nothing to calm my anxieties. The fact that he only sometimes dated models was supposed to calm me? Ha! My insecurities were too deep-rooted to disappear with that information.
He leaned closer, fixing me with an intense stare. "How about I admit to a little secret? Will that make you more comfortable?"
I stopped fidgeting at the table. I hated that I was being a girl, all self-conscious and nervous. "Yes," I admitted.
Ben took a sip from his glass. "Okay…."
About the Author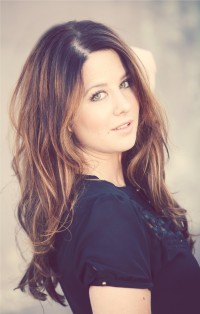 Kendall Ryan is the New York Times and USA Today bestselling author of the contemporary romance novels HARD TO LOVE, UNRAVEL ME, MAKE ME YOURS and RESISTING HER. She's a sassy, yet polite Midwestern gal with a deep love of books, and a slight addiction to lipgloss. Visit her at: www.kendallryanbooks.com for the latest books news.