Christine CAN'T WAIT for this one! Enjoy an excerpt and some teaser pictures below!!! Make sure to add to your TBR list! And enter for a chance to win an ARC using Rafflecopter below!
Disclaimer: May be edited or deleted prior to publication. Permission is NOT granted to re-post this content anywhere, so please don't do it. You may link to this page if you want to share it with others. Thank you.
---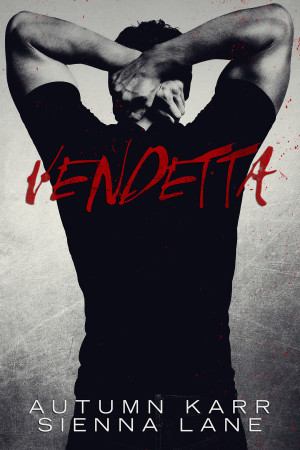 Synopsis
Coming December 17, 2013
I am not a good man.
I have lied and cheated and stolen. I've decided between life or death, like it was my due. None of it matters, not anymore. These are not my sins.
I see her raise her hands, the dark metal she's clutching reflecting the moonlight. Her finger trembles as she cocks the gun pointed at me. Her eyes are cold, determined, but I know.
I know her.
My name is Devon Andre and I confess my sin. I am not a good man because this is the woman I love.
She pulls the trigger.
* Standalone contemporary romance.
* Mature reader advised due to sexual content and strong language.
---
Excerpt
"I wish things were different, Leighton."
"But they're not. You have to do what you have to do, Devon, and I have to do what I can to protect myself," she says.
I search her eyes, trying to see how serious she is. Her breath hitches as I skim the pad of my thumb over her bruised bottom lip, her lips parting slightly in invitation. I lean in and take the same lip my thumb just grazed between mine, needing to taste her, our foreheads touching, and her face still cupped in my hands. I expect her to respond, to kiss me back as I taste her lips, to tangle her fingers in my hair and pull on it until it hurts, but she doesn't do any of that.
"Kiss me back, dammit," I say against her lips.
"Please don't touch me again," she responds. I let go of her as if she's on fire. "You're being so unfair to me, Devon."
I get up and cross the room before I do something to make things worse.
"I'm sorry," I say, my back turned to her as I unlock the door. I don't think I've ever apologized to someone so much in my entire life. I look back at her sullen expression once more and then leave the room.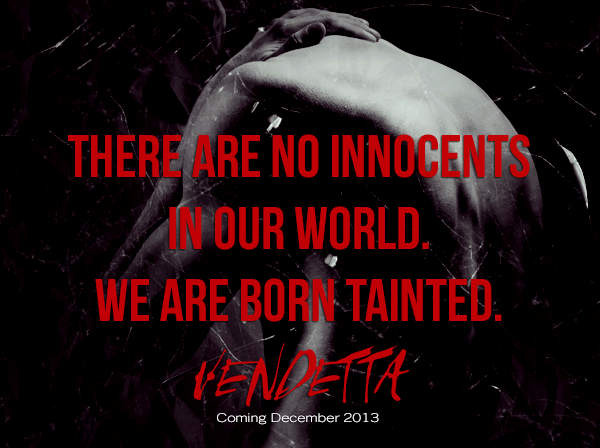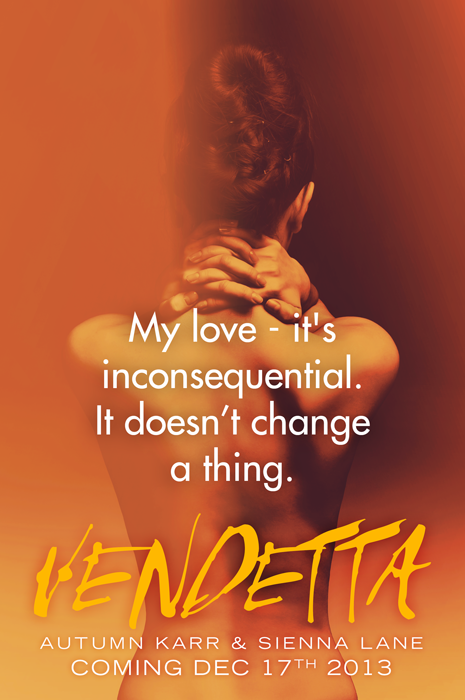 About the Authors
Sienna Lane and Autumn Karr are two friends with a joint love of reading, writing, candy, and Disney heroes (and Disney songs, of course.)
When they aren't scheming against fictional characters, or talking about their favourite books, you can find them ogling tattooed models and trying to figure out how to get them to do a cover shoot for their next book.
Together they wrote VENDETTA, releasing this December, and hopefully many more books to come.They love to hear from readers, so don't hesitate to contact them through their Facebook page.
---
 Follow Sienna Lane
Follow Autumn Karr
---
GIVEAWAY
a Rafflecopter giveaway