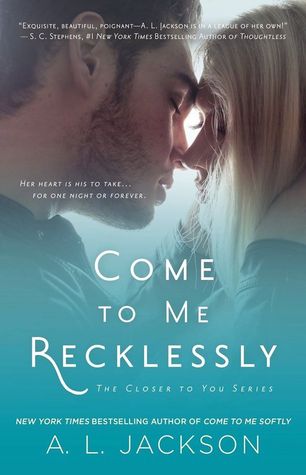 Come to Me Recklessly

by A.L. Jackson
on April 7, 2015
Buy on Amazon
Goodreads

His heart was turned off…

Until she turned him on…

Christopher Moore gave up on the idea of love years ago. Now, his life is an endless string of parties and an even longer string of girls. Enjoying the physical perks with none of the emotional mess, hes convinced everyone that hes satisfied—everyone but himself.

Samantha Schultz has moved on with her life. Finishing her student teaching and living with her boyfriend, shes deluded herself into believing shes content. But there is one boy she never forgot—her first love—and she keeps the memory of him locked up tight. She will never allow any man to break her the way Christopher did.

When Christopher's sister and her family move into a new neighborhood, Christopher is completely unprepared to find Samantha living at the end of the street. Memories and unspent desires send them on collision course of sex, lies, and lust. But when guilt and fear send Samantha running, Christopher will have to fight for what has always been his.
Move over Jared Holt – new book boyfriend alert!! We LOVE Christopher Moore! Enjoy a sneak peek into the book below (it's releasing next week!!) and make sure to enter the giveaway below for a chance to win a signed paperback of the book (open to US residents only). Good luck!


Leaning in closer, his mouth brushed across my ear. Shivers raced through me, and I clamped down my mouth, trying not to inhale the potent nature of the boy who'd rocked my entire world. The one responsible for the huge, gaping crack in my foundation.
The fault.
And the fault was his.
I'd do wise to remember that.
His words were sharp and not in the least unexpected. But they stung nonetheless. "Thought I told you to stay the fuck away from me. You're not welcome here, Samantha." He drew out my name in a whispered taunt, coaxing me to look at his face that was less than a millimeter from mine.
God, I wished I hadn't.
A sharp breath wheezed down my throat when our eyes locked, and I drew in everything that was Christopher Moore. My mind and body lit up in recognition when I was struck with his distinct, unforgettable scent.
But tonight, there was a hostility saturating it that had never been present before.
Pure sex bidden by a brilliant, raging fury.
Like he'd consume me and there'd be nothing left.
Ashes.
That's what had remained after he was finished with me the first time.
After he'd promised me forever.
Maybe I'd been that stupid, naïve girl then, but I definitely wasn't her now, and I wouldn't allow him to reduce me to a stammering, blubbering mess.
Resistance lifted my chin in a firm set of defiance, my heart thrumming too hard and my stomach feeling as if it might spill over. I wrenched out of his grasp. I wanted to scream a million insults at him, to make him feel as small and foolish as he had made me feel, but I remembered my mission. This was about forgiveness. About regaining that part of me that had been lost to Christopher. To moving on.
"I'm here because your sister invited me. Because she came to my home and asked me to be here. I'm here because she's my friend and I've always considered her to be, even after you took her away from me."
Christopher blanched, and a surge of hurt flared in his searing eyes, before he recovered with a sneer. "I took her away from you?" He snorted. "Seems to me you have a pretty poor memory…" He leaned in close. "Sam."
He said it hard, with an emphasis that drove another stake straight into my failing heart. So desperately I wanted to be courageous, but he knew my weaknesses. He knew I hated when he called me Sam. But even more, he'd hated when anyone else called me that.
It was a clear slap to the face.
Moisture gathered in my eyes, and I tried with everything in me to blink the tears back, but the first one fell, hard and fast. I squeezed my eyes, looking away to the floor. I pressed my hands to my chest, trying to hide the way it heaved and shook, but the tremors just took over my body.
Could anything be more humiliating than this? Christopher watching me fall apart?
"Fuck," he cursed, and even with my eyes shut, I could almost see him shift, the way his body shrank and he fisted his hair. His voice lowered. "God damn it, Samantha, what are you trying to do to me?"
Tentatively, I peeked up at him, because there was nothing I could to do stop myself. He wore the most tortured expression I'd ever seen, his brow all twisted and his eyes the deepest forest green.
Why did he have to be so beautiful?
And why did I still have to love him so much?
He jerked his face away for two anguished beats, before he leveled his gaze back on me. All traces of emotion had been erased. "Stay out of my way, Samantha. If you think you have a right to be here, then fine. Stay. But don't think for a second this means anything. You're dead to me."
My entire being quaked with a jolt of pain.
There should have been no surprise. He'd made that abundantly clear when he'd stared vacantly across that room at me all those years ago, the trace of a smirk on his face confirming I'd meant nothing to him at all. I realized once I got older that it'd probably gotten him off, giving him a sordid sense of pleasure attained only in my misery.
Every single promise he'd made me had been a lie.
And the one he'd just made?
That's the one I needed to remember.
I was dead to him. Nothing. I'd always been. All these years I'd spent hurting and longing and wondering had been nothing but a waste.
I knew it then and I knew it now.
Christopher Moore was a bastard.
When they found out I was with him, my parents had begged and pleaded with me to see reason, to open my eyes and realize the direction I was allowing my life to go, warning me I was conspiring with the devil.
As I stood there staring up at all his glorious beauty, the man outwardly too perfect to be real, his black hair unruly and chaotic, his green eyes vicious and cruel—and his body—his body an altar of temptation, I realized their warnings hadn't even come close to the truth.
I'd sold my soul to Lucifer himself.
♥BUY THE SERIES♥
Book 1 – Come To Me Quietly
Book 2 – Come To Me Softly
Pre-Order Book 3 – Come To Me Recklessly