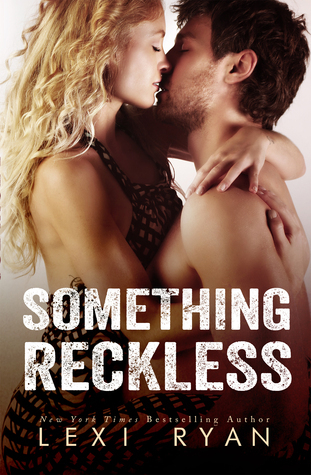 Something Reckless

by Lexi Ryan
on December 22, 2014
Pages: 248
Buy on Amazon
Goodreads

Dive into a world of secrets and temptation. Read the first novel in the sizzling Reckless and Real series from NYT bestselling author Lexi Ryan...

He talks dirty to me, but I don't know his name.

He wants to tie me up, but I don't know his face.

He turns me on, but I couldn't point him out in a crowd.

I've fallen for an anonymous stranger, and now the anonymity ends. I want more than typed secrets and texted promises. I want something reckless. Heat. Passion. The thrill of being entirely possessed.

Because I suspect this anonymous stranger isn't a stranger at all.

***

Lizzy Thompson met Riverrat69 online through Something Real, a service promising to deliver meaningful relationships by forbidding its users to share names or photos until they've reached a certain benchmark. She was looking for love. He was researching an investment. They hit it off. Talked and flirted, hid behind screen names and cartoon avatars.

Now they're breaking the rules and meeting in person. But Liz is prepared. She's picked up hints and followed clues. She's ninety-percent convinced she's discovered the identity of her dirty-talking online friend.

She wonders if her ex-lover Sam Bradshaw knows her identity too.

When she rolls the dice on one reckless night, her chance at something real could crumble.

The Reckless and Real Series Includes:

SOMETHING WILD (Liz and Sam's story begins - novella)

SOMETHING RECKLESS (Liz and Sam's story continues)

SOMETHING REAL (Liz and Sam's story concludes, coming March 2015)

© 2014 by Lexi Ryan
"Oh my God. Oh my God. Oh my God." I tap on my screen wildly as if there's some magical swipe-tap-hyperventilate combination that can take the text back. Or, more specifically, the picture. Nausea rolls over me and I drop my phone to the counter and press my hands to my hot cheeks. It's over. It's done. The picture is out there.
"Liz?" I look up to see my mom standing in my kitchen, frowning at me. Her hair is extra coifed tonight, and her frown extra condemning. Which, if you know my mother, is saying something. If a frown can say, "Anything that's wrong in your life, you brought on yourself," Mom's does. She doesn't mean to be a judgmental harpy where all of her daughters are concerned, kind of like clowns don't mean to be creepy. Intent is pretty much irrelevant.
I drop my hands from my cheeks. "Hi, Mom."
"What happened?"
"Nothing. It's just hot in here. I'm feeling a little woozy." I'm not about to tell my mother that I accidentally sent a naked picture to Sam Bradshaw.
I want to meet River in person. I haven't been able to get it out of my mind since he suggested it. But given my complicated history with Sam, I decided that River/probably Sam needed to know exactly whom he was meeting. When I sent the picture, I was so busy thinking about what Sam's reaction would be, I sent it to Sam via text message, rather than to River via Something Real chat—a picture of myself in nothing but a purple lace thong, black heels, and a smile.
Fuck, fuck, fuckity fuck, fuck, fuck.
It shouldn't matter, but now instead of the picture being the way I tell River/probably Sam that I am Tink24, the picture is on its way to Sam's phone from my phone. Even if it's really the same thing, it's not the same thing at all.
"You're not wearing that, are you?" Mom asks. She narrows her eyes so disapprovingly at my fuzzy candy-cane sleep pants and white tank that, for a moment, I consider it. Just because it would get Mom's hackles up, I want to wear my pajamas to Hanna's wedding rehearsal. Hanna wouldn't care. She's so sleep deprived from taking care of the twins while Nate's been on tour that she probably wouldn't even notice.
"I'll go change," I mutter, turning toward my bedroom.
The second my bare feet hit the carpet of my room, my phone buzzes, rattling against the kitchen counter. I spin and run all in one motion and reach for the phone at the exact moment as Mom's fingers wrap around it. "I got it."
She lifts a brow but doesn't release my phone. "Are you hiding something? If you're doing something you don't want your mother to know about, you probably shouldn't be doing it."
"I'm not a little girl anymore, Mom. There are plenty of things I do that I don't want you knowing about." With a tug, I snatch the phone away and tuck it into my pocket. If she knew what I did moments before she'd arrived, she would be so disappointed. Of course, I don't think she'd be less disappointed if I'd sent it to the anonymous stranger it was intended for.
"We're going to be late," she scolds.
I rush into my room, close the door behind me, and lean against it before withdrawing the phone from my pocket.
Sam: Nice shoes.
That makes me smile. Damn. I needed that.
I click into the text box and stare at my phone, but I can't think of a reply.
Instead of texting Sam, I pull up the chat application I use to talk to River. I already depleted my short supply of courage sending that picture the first time, so I'm not going to send it again.
Tink24: Do you still want to meet me?
Riverrat69: More than anything.
Tink24: When? Where?
Riverrat69: Can you get to Brown County tomorrow night?
I put my hand to my mouth. I'll be staying in Brown County tomorrow after Hanna's wedding. And so will Sam.
It really is him. It has to be.
Tink24: Yes. It will have to be late. I have an event.
Riverrat69: 5429 Water Pointe Blvd. I'll wait up.
Tink24: I'll see you then.
Riverrat69: I've never actually ripped a woman's clothes off before, but I might have to with you. I don't think you'll make it past the foyer before I bury my face in your pussy.
The thrill that buzzes though me at his words settles hard and hot between my legs.
Tink24: You have to promise not to rip my dress. It's too pretty for that.
Riverrat69: Then you have to promise to take it off as soon as you step in the door.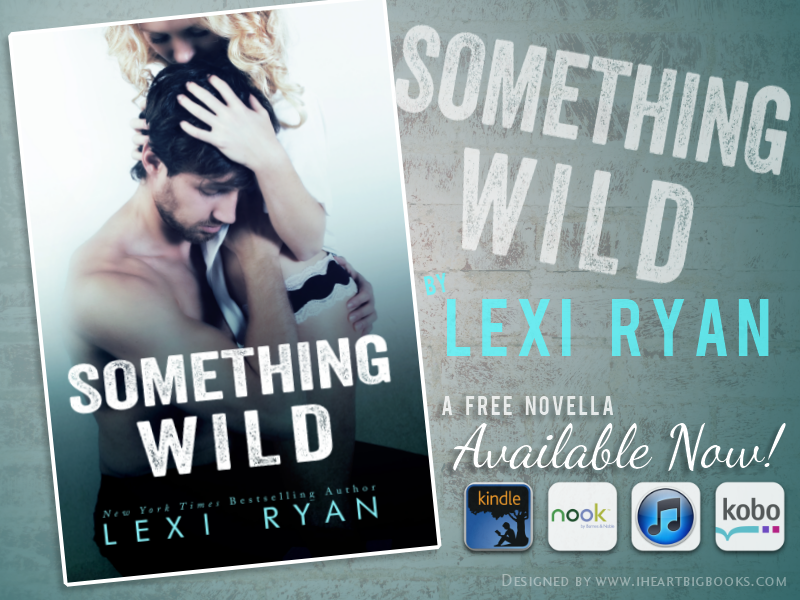 ♥BUY THE BOOKS♥
Book .5 – Something Wild
Amazon | iBooks | Kobo | B&N | Smashwords| Google Play
Pre-Order Book 1 – Something Reckless

For a chance to win a $10 Amazon gift card, please share this teaser excerpt and comment on the post below with a link to where you shared the post. Please also stop by Lexi Ryan's FB page to show her some love <3. For an extra entry into this giveaway, please email a copy of proof of purchase for either Something Wild (currently FREE) or Something Reckless to info@shhmomsreading.com. Winner to be picked on Wed AM. GOOD LUCK!