We CAN'T WAIT for this one! Enjoy an excerpt and a teaser picture below!!! Make sure to add to your TBR list! And enter for a chance to win an ARC copy of THE DEVIL'S CONTRACT using Rafflecopter below!
Disclaimer: May be edited or deleted prior to publication. Permission is NOT granted to re-post this content anywhere, so please don't do it. You may link to this page if you want to share it with others. Thank you.
---
He made her promise two years.
She should have known there was a catch.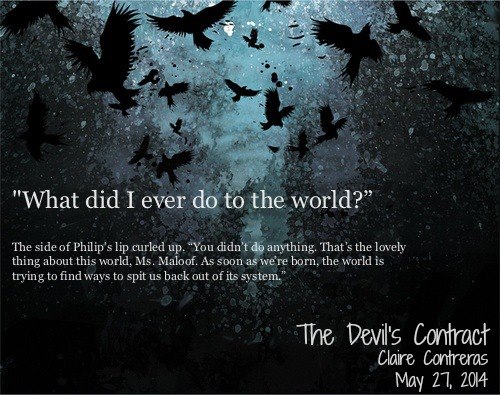 "Rule number one, Ms. Maloof, you always read what you're signing. I'm shocked your father didn't teach you that."
Philip didn't sound shocked, of course, he sounded like he was enjoying her ignorance. Amara tore open the yellow envelope and took out the contract with desperate, shaky hands. She began leafing through it, her wide eyes meeting Philip's over every page as she read. When she got to page six, her mouth dropped. There it was: Article IX: No Sexual Relations with Clients*. A damn asterisk! Her eyes dropped to the bottom of the page. "**Unless Méchant Agencies requests employee to do so, in which case, employee will have to comply." Should employee have specific concerns about this article, she may request permission to not comply."
Amara felt her face flush with fury. She slammed the papers on the table. "You set me up!"
"Au contraire," Philip replied. "You set yourself up. You agreed."
He shrugged at the obvious, while Amara fought for control of her emotions. She didn't know what to do—what to think—what to say. He was right. She signed without reading.
"Okay," Amara said, blowing out a breath as she tried to calm herself down. "Okay…my boyfriend…"
"Is no longer your boyfriend," Philip finished.
Amara tore her eyes away from his face and looked at the papers on the table. She blinked a couple of times and focused on her breathing, trying not to cry. Not in front of Philip. He'd probably get off on her crying, and the last thing she wanted was to bring another creepy smile to his face.
"If we come to an agreement," she started.
"He wouldn't be part of it," Philip countered.
She brought her eyes to his, pleading with him, hoping he would see how much she needed this sliver of her current life. He shook his head.
"Absolutely no relationships," he said. "The contract says so, and you agreed. Or were you oblivious to that as well?"
The tone in his voice made her feel as though she'd been punched. "I know I agreed to that," she gritted out. "He's a friend of mine."
"That you sleep with. Often."
Amara's eyes flickered to his. "He's still a friend. I wanted to see if we could come to an agreement."
"I can agree to many things, ma chére," he said. "A relationship isn't one of them. Boyfriends complicate things. They get jealous; women begin to feel guilty for doing their job, and it's a job that pays remarkably well and has many perks, as you know. No boyfriend."
"He won't even know what I'm doing. I don't even know what I'm doing!" she emphasized. He grinned at that—a malicious twist of his lips that made Amara's hands begin to shake again.
"I know. That'll soon change," he said, opening his obviously expensive briefcase and handing her a white envelope. "Here are your tickets. Your flight is tonight. A driver will pick you up in," he glanced at his enormous watch. "Three hours." He looked down and saw her suitcase. "Is that all you are taking?"
Her hand reached down to touch the handle of her weekend bag. "Vivienne said to pack lightly."
He nodded. "I like a woman that follows directions. We should work together just fine, Amara. Do yourself a favor and read the papers I gave you. Your passport and flight ticket are also in there."
She swallowed loudly and nodded in agreement, trying once more to reason with him. "Philip, my friend…" she said again, pleading.
Philip let out a harsh breath and rolled his eyes towards the heavens. "Mr. Wolfe will be fine, Ms. Maloof. I'm sure he will take the opportunity to screw all the single women in Manhattan and move on just fine."
Amara's lip trembled and tears spilled cruelly. His words cut her deeply. "Why are you saying this to me?" she whispered.
He exhaled. "Everybody gets their heart torn at one… or several… points in their life. I'm assuming this is your first real heartache, as is his. You're both young, you're both naïve, and think the world is at your feet. You're wrong. The world will never grovel for your love; it will take it and spit it back in your face. It's best you learn that from a young age."

Claire Contreras graduated with her BA in Psychology from Florida International University. She was born in the Dominican Republic and raised in Miami, Fl, where she currently resides with her husband, two boys, and two American Bulldogs.
Life is short, and it's more bitter than sweet, so she tries to smile as often as her face allows. She enjoys stories with happy endings, because life is full of way too many unhappy ones.