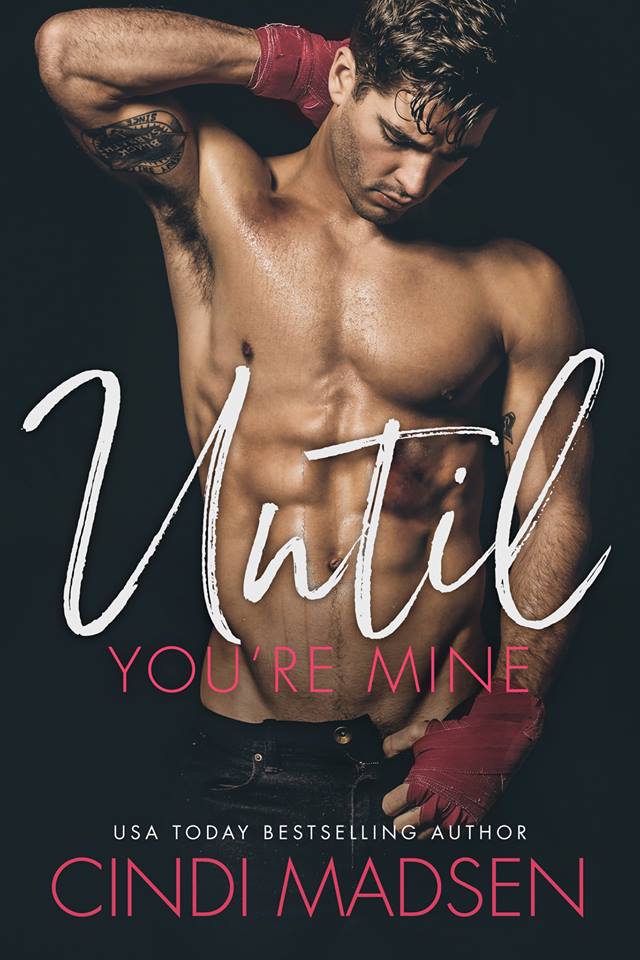 Until You're Mine

by Cindi Madsen
on January 22, 2018
Pages: 393
Buy on Amazon, Buy on B&N, Buy on iTunes, Buy on Kobo
Goodreads

You might've heard of me, Shane Knox, the guy who rose quickly through the MMA fighter ranks, only to crash just as fast. No one cares about personal reasons when it comes to losing fights and money. I'm determined to get back to where I was. For you to hear my name again. I've finally convinced the owner of Team Domination to take a chance and get me back in fighting—and winning—shape. What I didn't bargain for is the guy's spitfire of a daughter. Factor in her two professional-fighter brothers who are acting as my coaches and the fact that my career hangs in the balance, and Brooklyn's the last girl I should be fantasizing about.

The closer we get, the more I want Brooklyn. The stakes are high, and I know there's a big chance of both of us getting hurt, but I won't stop until she's mine.
Enjoy a sneak peek into UNTIL YOU'RE MINE by Cindi Madsen releasing on January 22nd. Make sure to enter the giveaway to win a signed paperback copy of this book! Good luck!

Brooklyn's body sagged against mine, and I had a feeling all the sexy scenarios I'd spent a great deal of time daydreaming about would need to wait until tomorrow morning.
"Come on, lightweight."
"Hey," she said as I lifted her into my arms. Then she snuggled tighter and gave a happy sigh that warmed me from the inside out. I pushed into my apartment, carried her into the bedroom, and laid her down on the bed. She stirred as I pulled off her shoes.
A stream of unintelligible words tumbled from her lips. I eyed her dress, sure she'd be more comfortable if I took it off. Thanks to the hard-on already straining against my zipper at the sight of her legs, I was also sure I'd be more uncomfortable, and it'd make it that much harder to behave.
I leaned down and kissed her, a quick peck on the lips. "Good night, baby."
She wadded a fistful of my shirt in her hand, holding me close. "No. We sex now."
Images of stripping her down and pinning her underneath me flashed through my head, a dirty image reel that I worked to tamp down. Her eyes were already drifting shut again. "I'll wake you up tomorrow morning with my head between your thighs. How does that sound?"
More indecipherable words, but I was pretty sure there was an agreement in there somewhere—I just wasn't the type of guy who'd settle for less than an actual agreement from a fully conscious female.
I pulled the covers up over her and headed into the bathroom. I brushed my teeth and eyed the shower, thinking I might need a long cold one. I took a few moments to collect myself—if I couldn't calm down, I'd force myself to sleep on the couch, even though I hated to let an opportunity to sleep next to Brooklyn slip away.
As I was reaching for the doorknob, the door swung open. Brooklyn stood there, hair mussed, wearing nothing but one of my T-shirts.
She closed the door behind her, leaning against it like I'd try to escape otherwise. "I started thinking about you, and all the naughty things I'd like you to do to my body, and suddenly I was very, very awake."
Every nerve ending jolted to life, my control unraveling at her feet the instant she stepped into the room. "You better describe these naughty things to me, preferably in excruciating detail, so I can make them all come true."
"Coming was definitely involved."
Heat replaced the blood in my veins, and my arms ached to pull her closer and get started on that, but I wanted to draw out the game for a little while. To tease her until she was on the verge and begging for it. "Where were my hands?"
She padded toward me, and I forgot how to swallow as she curled her hand in the waistband of my pants, and yanked me closer. "First things first, you had a lot less clothes on." Her fingers moved to the hem of my shirt, and when she rose onto her toes to get it over my head, I assisted her by gripping the back of the collar and tugging it off.
The movement made her stumble into me, her luscious curves pressing against me and turning me on even more. She gasped, and I slanted my mouth over hers, taking a taste. Her hands flattened against my chest and dragged down, down, down…
She flicked the button on my pants then torturously slowly unzipped them.
I groaned as I sprang free, and she bent and tugged off my pants. On her way back up she dragged her hands along my thighs, like she was frisking me, and I grew even harder as her fingers brushed my balls. At my grunt, she looked up and raised an eyebrow.
Then she gripped me over my boxer briefs, a vixen smile on her lips. I arched into her touch, my vision blurring for a moment.
"Getting kind of restless here, bruiser. Either you tell me where my hands were during all the naughtiness, or I'll take creative license."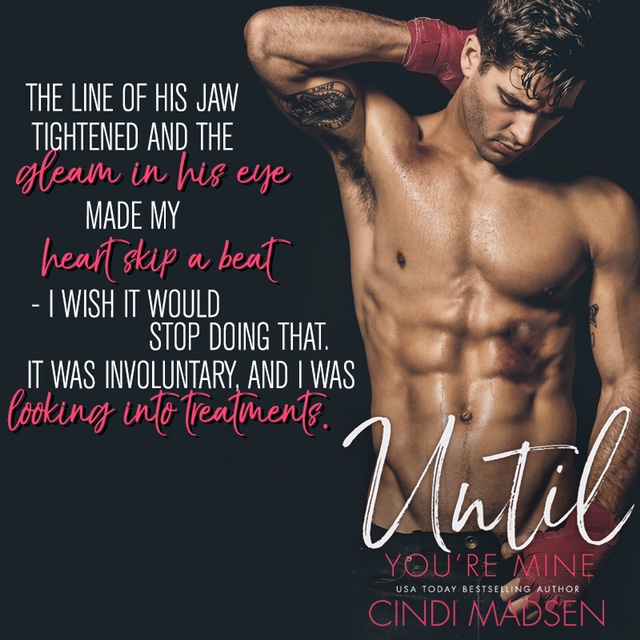 Preorder Until You're Mine TODAY

*Giveaway now over – congrats to Kathy Partridge*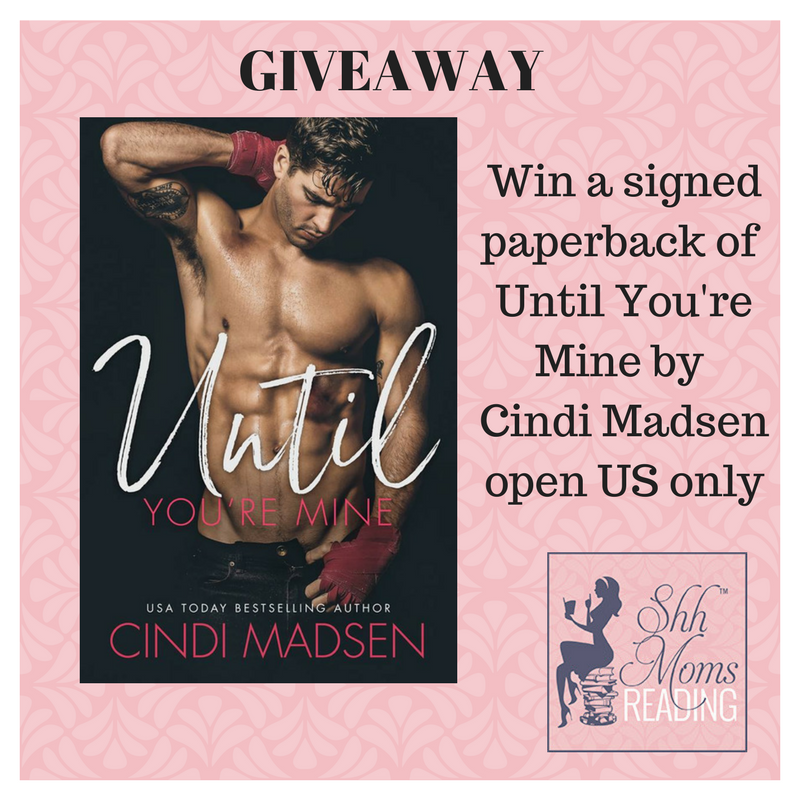 Enter to win a signed paperback copy of Until You're Here (open US only)!
All you have to do is share the excerpt and giveaway of Until You're Mine on your social media (Facebook, Twitter, Instagram). Sample message below:
I entered the Until You're Mine #Giveaway @shhmomsreading @cindimadsen #FightForLove
Please make sure to post a link to your shares below (the more you do the more chances to win!). One winner will be chosen Sunday, January 21st. Thank you for sharing!