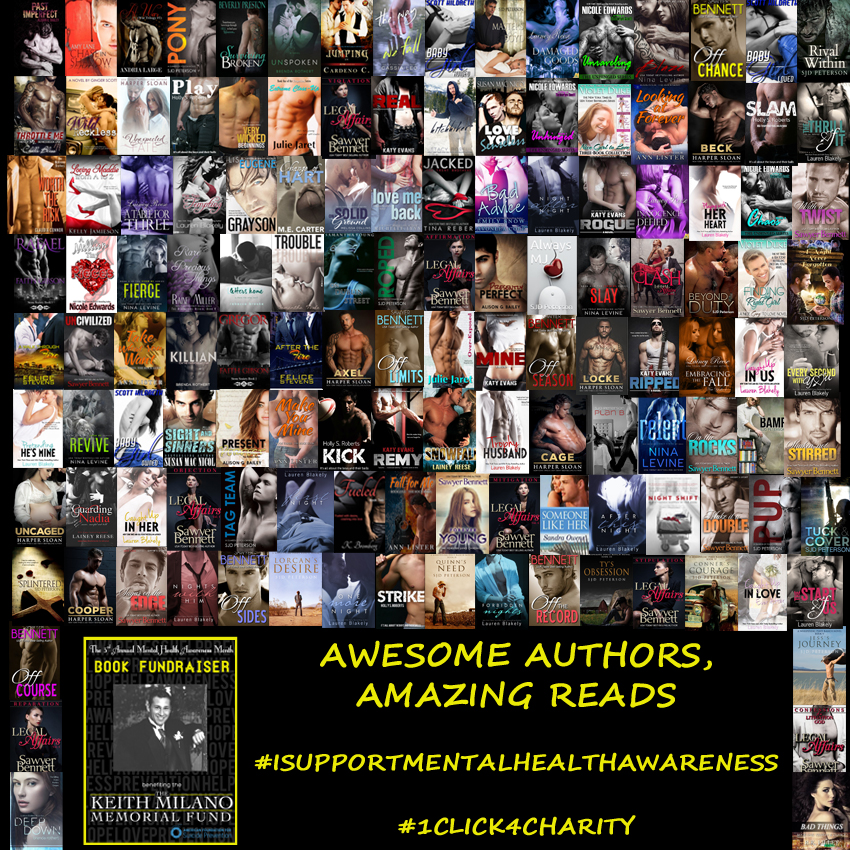 An amazing group of authors have agreed to donate a portion of their May 2015 books sales to the Keith Milano Memorial Fund at the American Foundation for Suicide Prevention (AFSP).
Personal Message from Denise Milano Sprung: My brother was bipolar and died by suicide. In the past 10 years, I have said those words more times than I can reminder. I have had a wide range of emotions run through me as those words left my lips, but of all the emotions I never felt shame or embarrassment. Keith was sick, bipolar disorder is a disease of the brain; one that we know so little about.

When Keith passed away, I vowed he wouldn't go quietly. It is with the humbling support of others that we push back against the stigma associated with mental illness and raise funds to help us better understand the brain.

Below you will find a list of authors who have generously agreed to donate a portion of May sales to the Keith Milano Memorial Fund. This month will also have an amazing author takeover and online auction we hope you will take part in.

There are no words to express my gratitude for all those who make this event possible but I am going to try….
To my husband who has stood strong next to me, who has fought for Keith when I couldn't and who has championed Keith's memory as if he were his own blood. I love you.

Shh…to Christine, my friend and blog partner, thank you for all you do and for taking this journey with me. I am so proud of what we have built.

To the participating authors –  your involvement in this event, your words of encouragement and you reaching into your pockets to help this cause will forever be a part of my soul.

To the bloggers sharing the event details thank you! The power of grassroots shines though.

Thank you Hang and Donna for the wonderful graphics.

To Kendall, Kari, Kat and the ladies who stepped up to create and plan the takeover. I am so touched by your drive and hard work to make this year even bigger.

To the readers….every 1-click means so much! Thank you for supporting this event and the authors who agreed to take part in it.

Finally thank you to all those who have used this event to share a story. By having the courage to speak up, you reduce the stigma.

My hope is that after reading this post after seeing the outpouring of support that more people will speak openly about how mental illness has touched them and those they love.
The Keith Milano Memorial Fund was established to help raise awareness about the devastating and deadly disease that is mental illness.  Our hope is that by having the strength to say that Keith was "Bipolar" we can strip away the stigma.
This year the event will also include an online auction and author takeover over 4 amazing days!! We hope that you will join us for not only some great auction items but to have an opportunity to speak with participating authors during an epic author take over event.
In addition to all of these great things, thanks to the amazing design skills of author SJD Peterson, we also have custom t-shirt for sale, which part of the sales will also benefit the Keith Milano Memorial Fund.