by Nicholas Sparks


Denise and I had the privilege of attending the NYC premiere of The Longest Ride on
March 28th and the opportunity to attend the Press Day Round Table and had an AMAZING ONCE IN A LIFETIME EXPERIENCE! We fell in love with the book and even more so after seeing the movie! Get ready to meet the cast and for some of our thoughts – our movie/book review AND a giveaway will be posted tomorrow April 10th.

Based on the bestselling novel by master storyteller Nicholas Sparks, THE LONGEST RIDE centers on the star-crossed love affair between Luke, a former champion bull rider looking to make a comeback, and Sophia, a college student who is about to embark upon her dream job in New York City's art world.  As conflicting paths and ideals test their relationship, Sophia and Luke make an unexpected connection with Ira, whose memories of his own decades-long romance with his beloved wife deeply inspire the young couple.  Spanning generations and two intertwining love stories, THE LONGEST RIDE explores the challenges and infinite rewards of enduring love.
---
WOW! This has to be one of the best book to movie adaptations we have seen in a long time. The movie takes the amazing characters created by Mr. Sparks and weaves them into a magnificent vision of love and sacrifice. Two epic and powerful love stories:  the present day story of Sophia and Luke and the retelling of the love story of Ira and Ruth a love story that spans 40 years.
Denise and I had an amazing opportunity to watch the movie and speak with the cast to ask some of our questions along with other members of the press.
We first met with Nicolas Sparks, Scott Eastwood (Luke) and Britt Robertson (Sophia).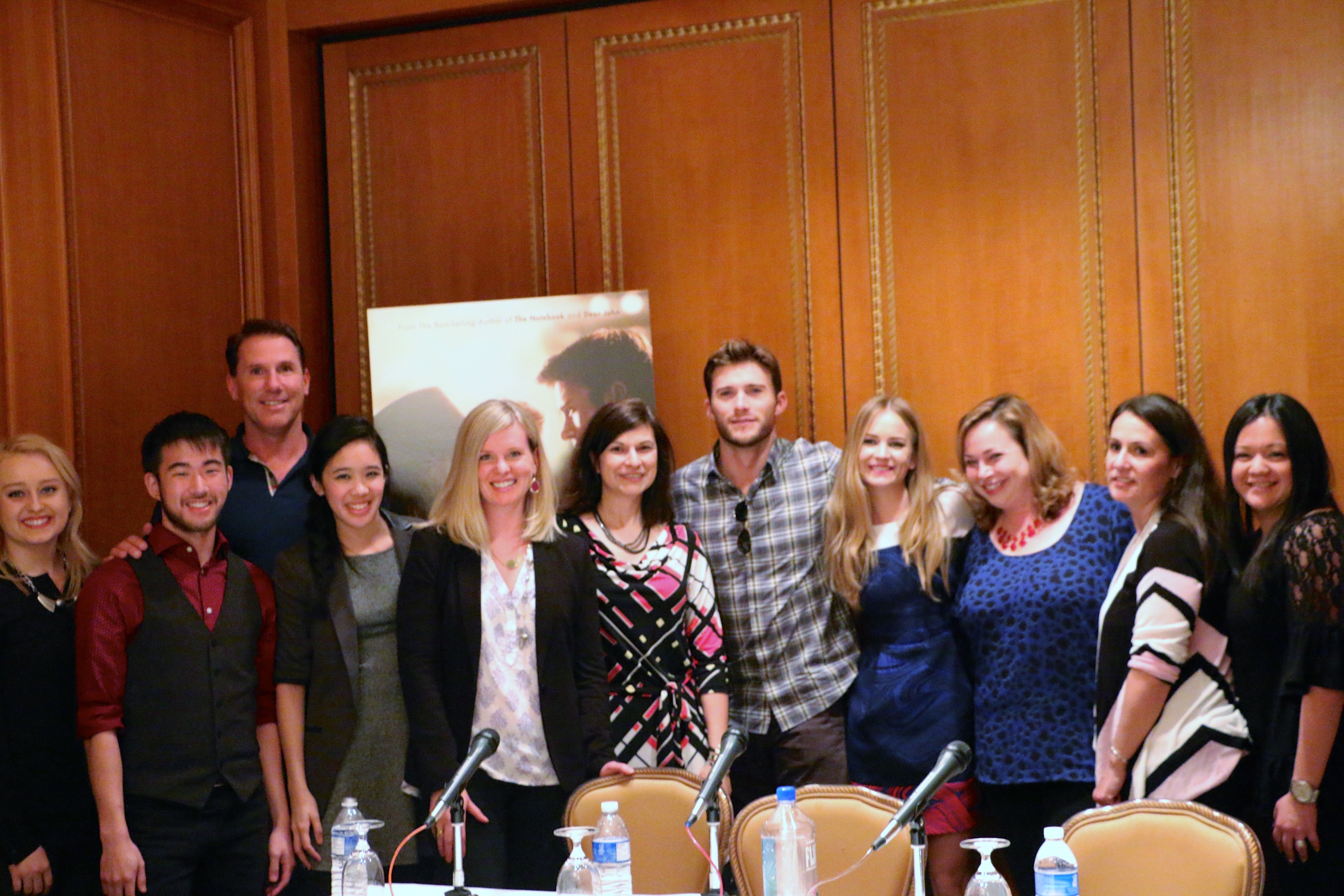 Upon entering the room, of course feeling shy, no one readily volunteered to ask the first question so Mr. Sparks, of course picked ME (Christine)! And my question was "What was the hardest thing about translating this book into a movie?"
And Mr. Sparks said, "Getting it into 120 pages, two full stories, in which you had to have two full relationship arcs. And then you had each of the four characters had to have an arc, and then you also had to have an arc between the relationship, between Britt and Alan Alda, old Ira and young Sophia.
So, that had to have an arc. And it had to weave back and forth. And everything had to move forward and build on each other. It all had to fit together and flow so that none of you even noticed how hard it was to do."

As some of you will see when you watch the movie and/or read the book, Sophia (Britt Robertson) has such a special connection with Ira (Alan Alda). A connection that quite honestly touched our souls and made Christine tear a time or two. When asked about someone special in her life that acted as a mentor and helped to affect her relationship between Ira and Sophia, Britt said "I've always had a really close relationship with my grandmother. She raised me for a good portion of my life.  She moved to LA with me.  And she's also just had a really incredible life.  And I look up to her.  And she's taught me so much about the kind of person I should be in the world. And I always try to look to her when I'm thinking about decisions, big decisions in my life.  And she's kind of guided me through certain things. So, I think maybe I can attribute that relationship to the Ira/Sophia relationship and the connection there."
Britt on her working with Alan "I think Alan Alda, he's very much responsible for that relationship because he's such a kind man. And he really was my Ira for a couple months, just sharing stories and hearing all the things that he has to say about his life and his experiences."
Britt really impressed us being so young yet so poised and professional. And funny too! She brought a smile to our faces and we see great things happening for her.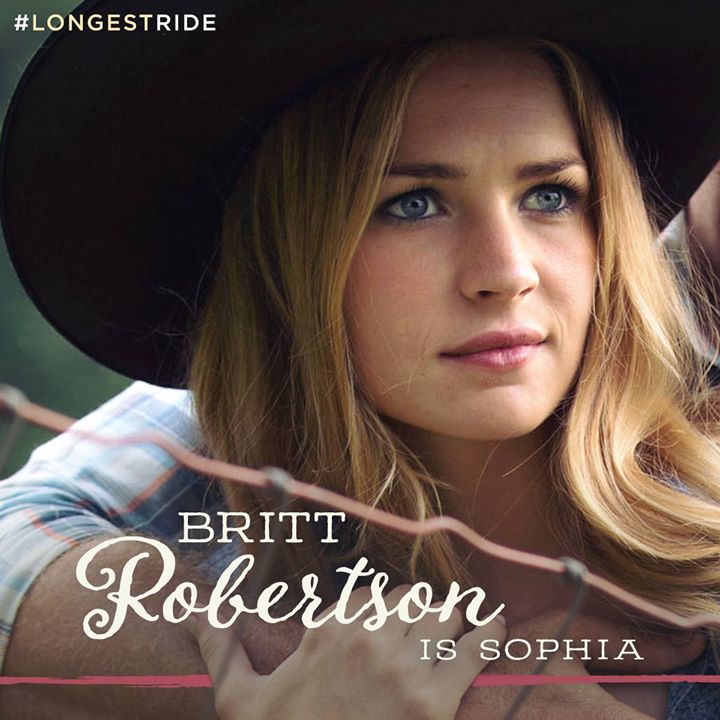 Denise gets to ask her question of Scott because I, of course, was too shy to say a thing! And to hear Scott say he liked our blog name just made our day "ShhMomsReading. I like that. Nice."
Denise: "We have a two-layered question, which is, one, what is the best piece of advice your father has given you? And second is before you decided to act, did you consider not using the same last name as your father?"
And Scott told us, "I think the best piece of advice my father gave me, and really in the acting world, it's more just about life. Just put your head down and work hard and show up on time. You know, try to be a gentleman. Pretty simple. (And about using the Eastwood last name) "When I started out, I went by my mom's last name. I think I was trying to prove it to myself that I could do it. And you sort of realize rather quickly it really doesn't matter. You still have to go in the audition room and do what everyone else will do. And I said, okay, well."
Scott is adorable! The dimples when he smiles are infectious…Scott will be starring in Marvel's "Suicide Squad" coming up and we look forward to seeing more from him.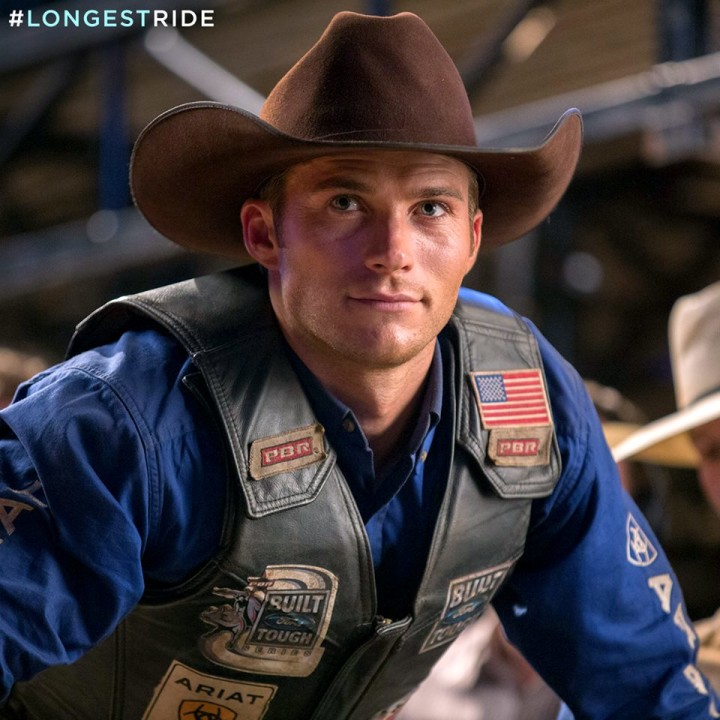 A question that we loved from another blogger was asked "The film addresses a part of art and what it means to you. So, as artists in your own right, whether it be writing or through acting or your other passions, what do you hope to achieve? What's the defining thing you hope to achieve in your careers?"
We loved how it was such a different take from Mr. Sparks and Britt and Scott.
While Britt says "I want to do that for other people.  I want to be able to make movies that mean something to others" and Scott mentions similarly "…being in movies that affect people.  That's sort of what we do.  That's really all I think life is really about.  It's not about what we have or what material.  It's how you affect people in this short period of time you have on this planet, either in a positive way or a negative way. And movies have the power to transcend that across the globe in a positive way.  And I think there's something really special about that forum"…
Mr. Sparks took a different approach….."In the end, what I hope to achieve is a novel that I'm proud to have written, where I can sit back and say I did the best job that I could, and the same thing with the film. It's the best possible film that I can be involved in because in the end, I can't control what all of you are going to think about it.  And you know what?  It really doesn't matter to me because I saw the film and I love the film.  And I'm proud of that film. And in the end, that's really all I can control.  So, I don't try to get too caught up in what everyone else thinks or the power of anything else.  I just want to know that when I put my head down at night, I did the best work that I could."
Well we think they did an AMAZING JOB! Next up…..Meeting Director George Tillman Jr, Oona Chaplin and Alan Alda…..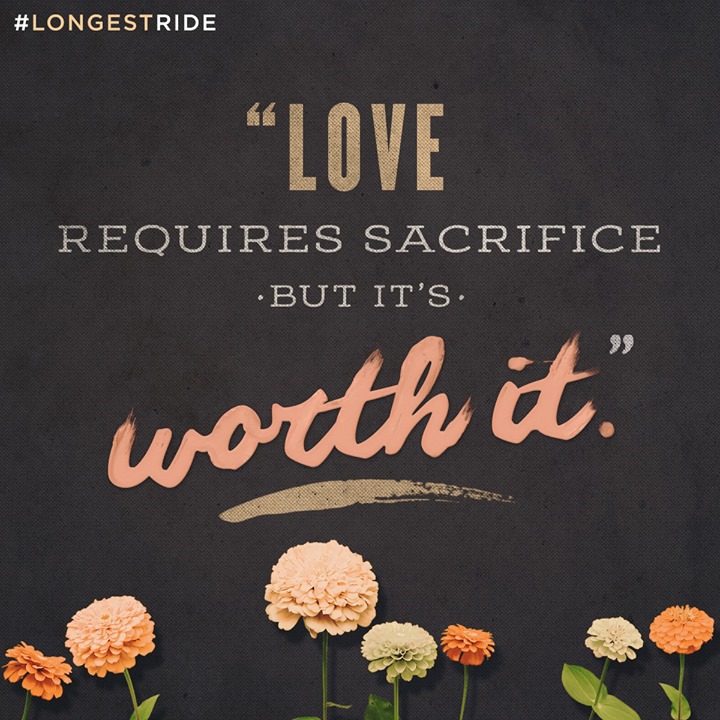 Official Websites – #LongestRide
Like The Longest Ride on Facebook
Follow on Twitter,  Google+, Instagram
Subscribe on YouTube
Visit the Official Website
#LongestRide
♥BUY THE BOOK♥