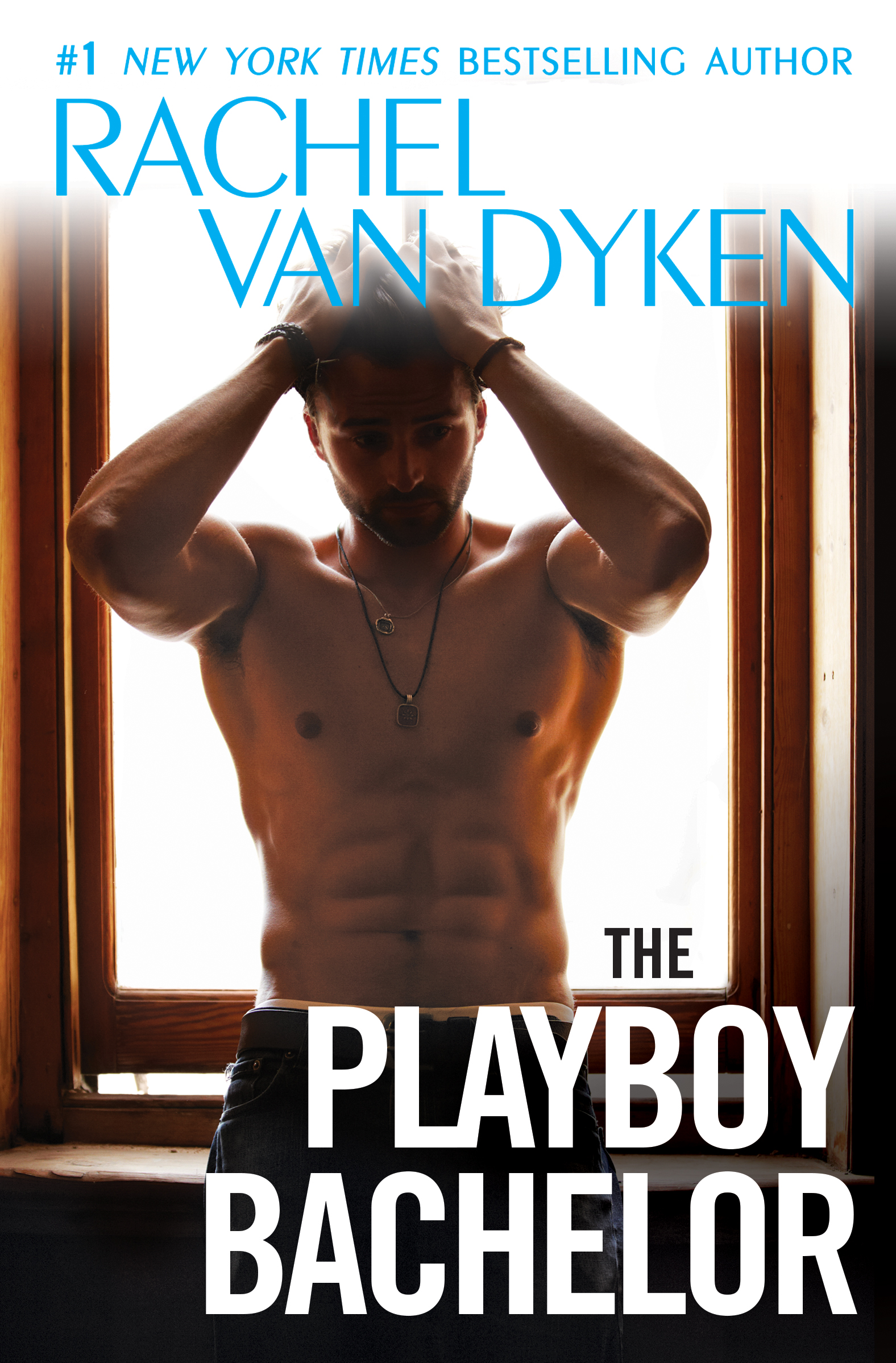 The Playboy Bachelor

by Rachel Van Dyken
on April 11, 2017
Pages: 352
Buy on Amazon, Buy on B&N, Buy on iTunes, Buy on Kobo
Goodreads

She's no Sleeping Beauty. And he's definitely no prince . . .

Margot McCleery could have lived her whole life without seeing Bentley Wellington again-her ex-best friend and the poster boy for Hot, Rich Man-Whores everywhere. But Margot's whiskey-augmented grandmother "buys" Bentley at a charity bachelor auction, and now suddenly he's at her door. Impossibly charming. Impossibly sexy. And still a complete and utter jackass.

Bentley's just been coerced by his grandfather to spend the next thirty days charming and romancing the reclusive red-haired beauty who hates him. The woman he abandoned when she needed him the most. Bentley knows just as much about romance as he knows about love-nothing. But the more time he spends with Margot, the more he realizes that "just friends" will never be enough. Now all he has to do is convince her to trust him with her heart . . .
Enjoy an exclusive sneak peek into The Playboy Bachelor (which is LIVE NOW!!!!) and make sure to enter the giveaway below!!! We love Rachel Van Dyken's sexy men!!!

"Oh, God." There he was, a blur in the bottom of the pool. It had been nearly two minutes, maybe more?
With jerky movements, she pulled the prosthetic off her right leg, set it aside like she'd done numerous times when she went for a swim, and jumped in.
Her lungs nearly burst when the cold water hit her skin. Margot opened her eyes to see Bentley sitting still as a statue at the bottom of the pool arms outstretched, eyes closed.
She swam toward him as best she could, and hooked her arms beneath him before using her good leg to shoot them to the surface.
When they reached the top, he coughed out a breath, chest heaving, and then blinked at her as if she'd lost her mind. "Can I help you?"
"You!" Margot choked out, still grasping his naked skin with her hands. "You were drowning!"
"I was?" His chest heaved, his lips were a bluish pink.
"You were!"
"The hell I was!" His response was defensive, all masculine arrogance wrapped up in one tightly toned package. His eyes darted from right to left before finally settling on her mouth.
"You were down for more than two minutes!" She slapped him in the chest then did it again since he didn't flinch. And then one more time since the bastard was smiling!
"Aw, Red, were you worried about me?" His grin widened even further as his hands snaked around her body and pulled her tight against him.
"No." She clenched her teeth and shoved against his chest. "I just didn't want to go to prison over your murder!"
"Oh, so that's what this is." Bentley winked. "You don't want to get blamed for drowning me. Imagine what your grandmother would say. She pays ten grand for my presence. I fail at cheering you up. And you drown my sorry ass in your million-dollar pool."
She narrowed her eyes and poked him harder in the chest, her finger lingered against his warm skin, and then her palm. "You have to admit it's a good idea. Maybe I'd get away with it."
His eyes locked on hers. "Maybe."
I will not smile.
Margot shrugged, her hand still on his chest. "I doubt anyone would miss you."
His eyes flashed like she'd hit a nerve. "You're probably right. I have a very severe Gatsby complex…I live to entertain the world only to die with nobody by my side."
Guilt nagged her as the truth of his words rested between both of their wet bodies.
And then she realized, way too late, if she didn't keep him talking, he was going to realize she had one leg, not two. She hated the idea of moving, of pulling her hand away from the spot near his heart where she could count his beats and know he was alive. Even if he was an arrogant ass, he was alive. And he felt good, so good.
"Maybe you should get a cat," she suggested cheerfully as she slowly removed her palm and tried to keep him talking.
Bentley licked his lips and slowly parroted, "A cat?"
"So you're not lonely."
"I know the reason. I'm just curious why you'd suggest a cat for a bachelor."
"I may be a dog." She narrowed her eyes. "But if I'm a dog, you're a cat. Arrogant and lazy."
"There was a compliment in there somewhere if I search hard enough, right?" His arms tightened around her body.
Not good. She could feel every hard line of his body. His hands slowly slid down to her hips.
She sucked her lower lip between her teeth as a mixture of anxiety and heat washed over her. Her prosthetic may as well be a beacon—the chair blocked only part of it. She'd been insane with worry, and she hadn't thought past saving him.
Saving him.
Ah! What was she thinking? Men like Bentley never needed saving.
Her eyes darted back and forth between the leg and Bentley.
His eyes were questioning and then he was turning his head, just enough to see part of the prosthetic.
"No!" she yelled, grabbing his face between her hands and smooshing his cheeks together like she was a crazy aunt getting ready to pinch them.
"No?" The word came out muffled, since her hands were still squishing his face. God, he felt good, he even smelled good, not like chlorine but with a hint of pine and soap.
"Kiss me," she blurted, releasing her hold on his cheeks enough so he could talk without sounding like his tongue was swollen. "Now."
"Let me get this straight." His grin was so aggravating she wanted to scream. "You rescue me when I don't need rescuing, insult my reputation, offer to buy me a cat—"
"I didn't offer to buy you a cat."
He pressed a finger to her lips and kept it there. "And now you want me to kiss you?" He removed his finger and whispered, "I need a good reason. I know it doesn't seem like it, but I rarely kiss women on the mouth—it's too personal."
She frowned. "Well then, where else do you kiss them?"
He bit down on his bottom lip and looked down. Thank God at his angle it would be easy to miss what she so desperately wanted to keep hidden. "Oh you know," Voice husky he slid his hand further down the side of her hip and then trailed a finger across her stomach. "Places."
"I hate you."
"Hate's never a good enough reason, Red." He shrugged and started pulling away. His hands hadn't even left her and already the loss of his warmth was crushing.
Not yet. He couldn't see the prosthetic yet. Not when they were having a moment—however misguided. Not when he was looking at her like that. Just not now. She wanted the fantasy. She wanted the book boyfriend with the happily ever after for at least a few more seconds. It was inevitable he was going to see the missing leg.
And then, the pity would come.
And she would hate him all over again.
"I'm writing a kissing scene!" she blurted, mentally kicking herself for screaming it in his face. "And the guy's a complete jackass . Since my only experience with jackasses is you…" Her voice was shaky, just like her body. Could he tell how much she wanted him? How much she hated that her response was this—raw. "I-I figured you were the only one who could show me what it's like." Good one, Margot. Do you really have to sound so…desperate?
"What what's like?"
"A kiss. From a jackass."
"Got the jackass part." He treaded water and then grabbed her by the arm and pulled her deeper into the pool until they were on the opposite end, his body pressed against hers. At least his eyes were still locked on her face. "And you've never been kissed?"
She rolled her eyes. "Not by someone like—"
"If you keep insulting me, this kiss won't ever happen, Red."
"Don't call me that," Margot whispered. Was she so weak that she'd forgive his abandonment for one kiss? "Please?"
"This kiss." His calculated gaze didn't make her feel any better about the situation. "How long does it need to be? How deep? Where do you want my hands?"
Margot's mouth dropped open. "That's not how kisses work! You can't just map out the kiss. That takes all the romance out of it!"
"Oh, so you want romance?"
"Yes! No! I mean. I didn't say that!" Her face flamed, and she sagged in defeat. Admitting she wanted romance kind of felt like she was on the losing end of the little battles they'd been having, like she was giving him an in. And if he got in, he'd only hurt her again.
"I was joking," he said, just before his lips brushed hers. His tongue slid across her bottom lip and then sucked it for a few seconds before he slid it into her mouth and deepened the kiss.
Her lips softened beneath his gentle coaxing, and his hard thighs pressed against hers as a deep hunger awakened within her.
Oh, this was bad.
So bad.
And very, very good at the same time.
Heat flared beneath her skin as his thumbs pressed against her hips, his hands holding her in place as if he was afraid she was going to disappear.
He broke off the kiss, his eyes cloudy, distant. "That was my first kiss on the mouth in a month."
"Oh." She had a hard time breathing out the word. It was embarrassing enough how hard she was inhaling and exhaling, like she'd actually done something other than bobbed there and let his tongue invade her mouth while he strummed her body like an instrument. The man had barely touched her, and she felt him everywhere. Between her thighs, against her skin, in her mouth.
"Can you write that?" He dipped his head, capturing her lips again, this time more aggressively as he floated backward and took her with him.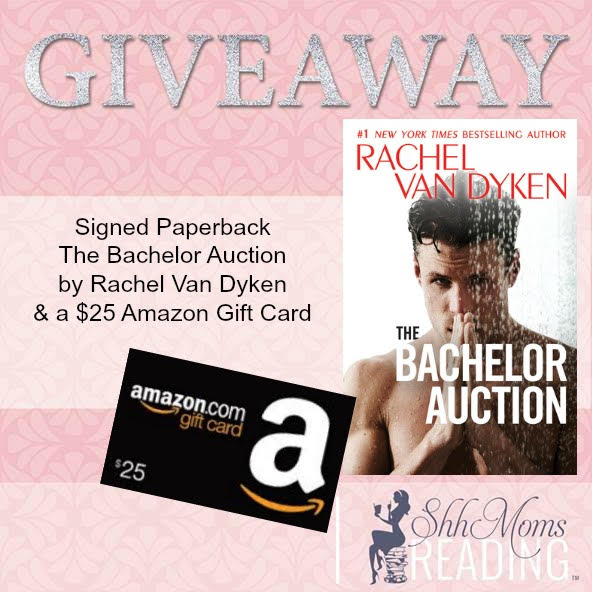 *giveaway now over – congrats to Carissa R*
Enter to win a signed copy of The Bachelor Auction and a $25 Amazon Gift Card (open U.S. ONLY)
All you have to do is (any of the following):
➡ share this post and giveaway on your social media account(s) (Facebook, Twitter, Instagram, etc). Sample message below:
The Playboy Bachelor is #LIVE #ExcerptAndGiveaway #SecondChanceRomance @shhmomsreading @RachVD
➡ Add The Playboy Bachelor onto your GR TBR https://www.goodreads.com/book/show/33296584-the-playboy-bachelor
➡ Stop by Rachel's FB page, give her a like and let her know Shh Moms Reading sent you and how much you are looking forward to reading The Playboy Bachelor https://www.facebook.com/RachelVanDyken/
 Please make sure to post a link to your shares below (the more you do the more chances to win!). One winner will be chosen Sunday April 16th. Thank you for sharing!