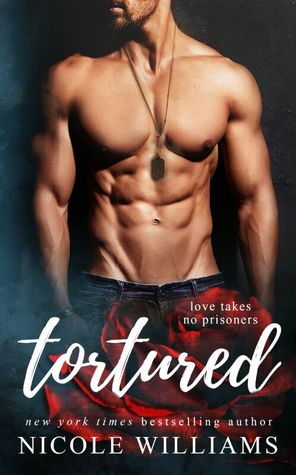 Tortured

by Nicole Williams
on April 9, 2017
Buy on iTunes
Goodreads

When he left for a twelve-month deployment, she knew it would feel like forever before they saw each other again. She didn't realize how right she was.

When Lance Corporal Brecken Connolly gets taken as a POW, Camryn hopes for the best but steels herself for the worst. In the end, steel was what she needed to survive when he didn't. She moves on the only way she knows how—gilding herself in more steel.

Years go by.
She builds a new life.
She leaves the old one behind.

Until one day, she sees the face of a ghost on the news. Brecken seems to have risen from the dead, but she knows she can't perform the same miracle for herself. While Brecken was held in a torture camp for the past five years, she's been trapped in her own kind of prison. One she can't be saved from.

The man she mourned comes back to join the living, but the girl he wanted to spend his life with isn't the same woman he comes back for. Brecken isn't the same person either. The past five years have changed them both. While he's determined to put the pieces back together, she's resolved to let hers rot where they shattered.

Broken or not, Brecken wants her back. He'll do anything to achieve that. Even if it means going against the warden of Camryn's personal prison—her husband.
Available exclusively on iBooks – TORTURED is a 5 STAR #MustRead!!! Coming April 9th – Happy Birthday to me!!! Enjoy a sneak peek into the book below and make sure to enter the giveaway – GOOD LUCK!

"Then fuck the scars," he whispered, half of his mouth turning up. "They don't define us. We define them."
Whether it was courage or stupidity, something had me reaching for my shirt. I didn't think I breathed as I pulled it up my body, removing it over my head with my jacket. My instinct was to cross my arms over myself, to curl into a lesser self, but I fought it. I let Brecken's eyes steady me as I dropped the clothing onto the floor.
He wet his lips, taking a large stride toward me, but he stopped in his tracks when I reached behind my back to undo my bra. Quickly peeling each strap down my arms, I let it fall to the floor with the rest and forced my arms to rest at my sides as he stared at me.
"Blinking." I fought a smile from the way he was looking at me. "It's good for the eyes. Keeps them from drying out, that kind of thing."
"It's not my eyes I'm worried about." He managed to blink a few times as his fist came to his chest. "It's my damn heart." He pounded on his ribcage a few times, like one knocked on a door. "If this thing gives out before we finish, I'm going to be seriously pissed."
Still fighting a smile, my thumbs hooked under the waistband of my leggings. "Then we'd better hurry."
"Okay." Brecken was fighting with his belt then his jeans. They clearly couldn't come off fast enough. "At least this time."
"Stamina confidence?"
"It's been six years, Blue Bird." He balled up his jeans and tossed them over his shoulder. "That's a lot of celibacy to make up for."
Having him tease along with me, seeing him smile and behave like the boy I'd fallen in love with lowered whatever inhibitions were still weighing me down. Lights on, more scars and bruises between us that an entire division of rugby players, so many obstacles waiting outside that door that we might never make it past the first step . . . my love for the human being standing before me overcame all of that. His love for me overcame it.
I'd heard it said that love conquered all, but I'd never believed it until that moment.
After peeling off my leggings, I took a deep breath when my fingers looped around the sides of my underwear.
Brecken started to tug on his boxers. "Me first?"
My teeth sank into my lip, and I shook my head. Then I slid my underwear over my hips, down my thighs, until I let them fall when they reached my knees.
"Holy fucking hell." A breath rushed out of Brecken's mouth as he fell back a few steps as though he'd been shoved.
"Isn't that an oxymoron? Holy hell?" I settled my hand into the bend of my waist, painting on what I hoped was confidence.
His fist went back to his chest, thumping on it. Almost like he was giving himself CPR minus the mouth-to-mouth.
"You're not going to have a heart attack on me, are you?" I slid closer when he kept thumping at his chest.
"Not planning on it, but if I do, just keep going. Don't stop. I'll be smiling in heaven. Or hell. Or wherever a tortured soul like mine winds up."
I wasn't hiding my smile anymore. "Your turn." My eyes dropped to his boxers.
He had them off his body and in a ball sailing across the room in one and a half seconds flat.
Now it was my turn to feel chest pains. I restrained myself from grabbing at my chest and pounding at it, but damn, that man had always had a body capable of making a girl lose her mind. Six years later, nothing had changed. I didn't see the scars and breaks when I looked at him, nor the burns and brands. I didn't see his limp as he moved closer or miss the muscle that had deteriorated. I saw him. Brecken Connolly. The person I'd planned on spending a lifetime with but would have to settle for spending the next twenty-eight days with. Or twenty-six now.
The reminder had me rushing toward him, not about to waste one moment of a second. I'd slow down time until a minute became a year, a day a decade. By the end of this, we'd have our lifetime.
When the end came, I'd have no regrets.
"You're not saying anything." Brecken moved toward me. Naked. Scarred. Beautiful.
My gaze returned to his. "Holy fucking hell."
A deep chuckle resonated in his chest. "Packs a punch, right?"
"This is the part where you close your mouth and make love to me."
He stalked closer until a few steps separated us. "I have to open my mouth to kiss you." His eyes dropped to my lips. "At least to kiss you the way I want to."
"I guess you can open your mouth for that."
He stepped into me, pressing his body into mine, backing me against the wall. A sharp breath rushed out of me when I felt how hard he was against me. Not just what resided between his legs—presently pressed into the softness of my stomach—but the expanse of his chest, the planes of his abdomen, the muscles running down his legs. He was hard, strong, and felt capable of saving me from whatever the world decided to heave at me. If I could just stay tucked into the shelter of his body, I'd be safe. I'd be happy. I'd know peace.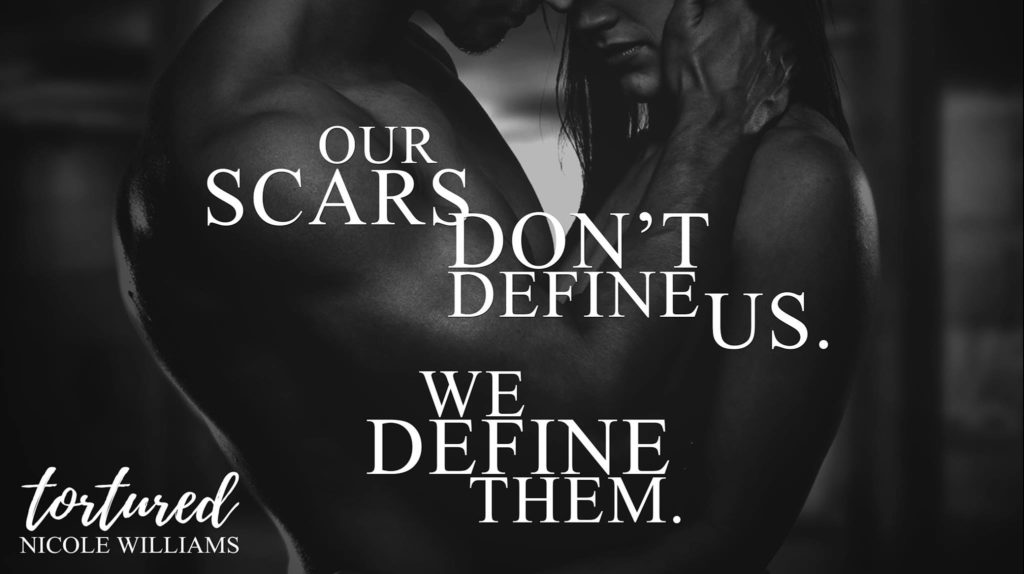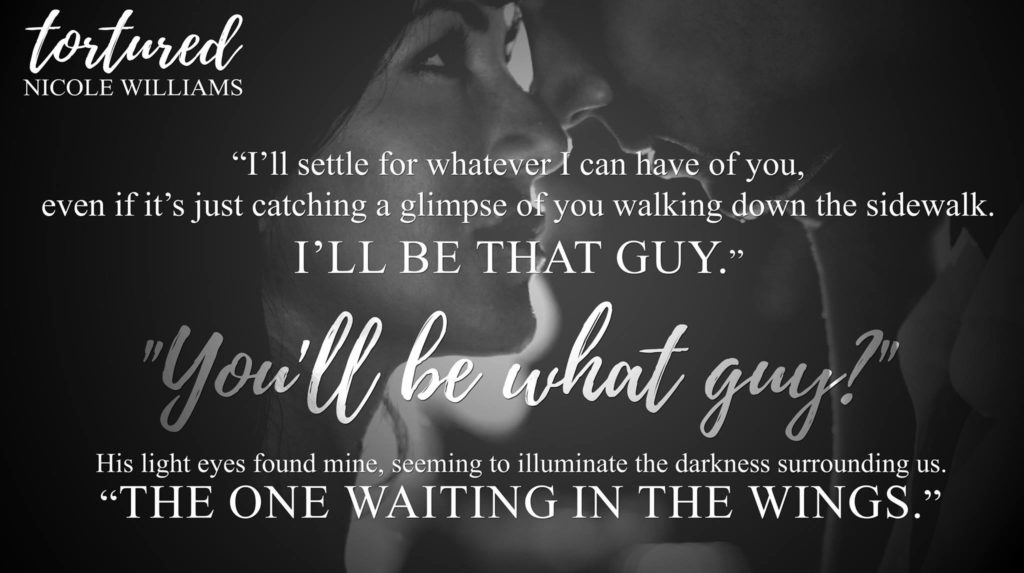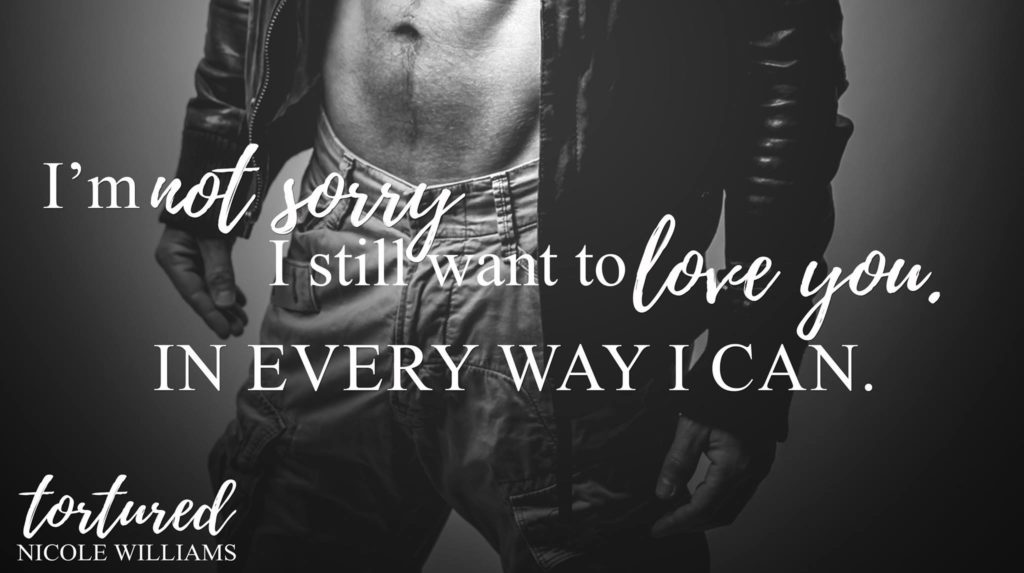 *Giveaway now over – congrats to Carissa*
Enter to win a signed copy of TORTURED (open U.S. ONLY)
All you have to do is (any of the following):
➡ share this post and giveaway on your social media account(s) (Facebook, Twitter, Instagram, etc). Sample message below:
Tortured is #ComingApril9th #ExcerptAndGiveaway #BreckenWantsHerBack @shhmomsreading @nwilliamsbooks
➡ Add TORTURED onto your GR TBR https://www.goodreads.com/book/show/34451499-tortured
➡ Stop by Nicole William's FB page, give her a like and let her know Shh Moms Reading sent you and how much you are looking forward to reading TORTURED https://www.facebook.com/authornicolewilliams/
 Please make sure to post a link to your shares below (the more you do the more chances to win!). One winner will be chosen Sunday April 9th. Thank you for sharing!