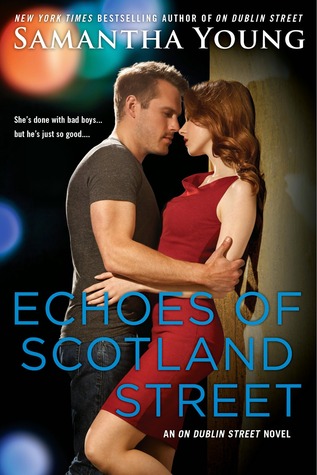 Echoes of Scotland Street

by Samantha Young
on October 7, 2014
Pages: 384
Buy on Amazon
Goodreads


From the New York Times bestselling author of On Dublin Street comes a seductive story of forgiving the past and making up for lost time.…

Shannon MacLeod has always gone for the wrong type of man. After she drifted from one toxic relationship to the next, her last boyfriend gave her a wake-up call in the worst possible way. With her world shattered, she's sworn off men—especially those of the bad-boy variety.

Cole Walker is exactly the sort that Shannon wants to avoid—gorgeous, tattooed, charming, and cocky. But his rough exterior hides a good man who's ready to find "the one." He's determined to pull Shannon from her self-imposed solitude to win her heart.

As Shannon opens up in the face of Cole's steady devotion, the passion between them ignites to blazing levels. But when Shannon's past comes back to haunt her, her fears may destroy the trust Cole has built between them—and tear them apart for good.…
Echoes of Scotland Street tells the story of Cole Walker.  I was so thrilled when it was announced that Cole was getting his own story and this book did not disappoint.  Cole Walker, all grownup and WOW just wow! The young teen we meet in Down London Road had grown into a wonderful man, one influenced by the men of this series most of us have come to love.
This story introduced the reader to Shannon MacLeod. A woman who has chosen the wrong men as partners in the past and has paid for those mistakes in more ways then one. Shannon is working to re-build her life in a new town as her prior decisions have left her life a mess and left her brother Logan in prison.  P.S I want to pause and say I loved Logan; yes I loved a man behind bars, read the book and you will see why.
The connection Cole and Shannon share is something the reader and the characters around them can feel. The use of secondary characters to illustrate this was really well done!
But sadly Shannon judges a book by its cover and its flirty ways; yes, I wanted to strangle her when she first rejected and judged Cole.  Cole is not what he appears and his flirting is so pure and from a place of truly desiring Shannon.
This book ties Cole into the On Dublin Street cast and allows the reader to see how he has become such a wonderful man. The cast was masterfully weaved into this book and Cole's friendship with the women was really used well (again not telling).
I truly loved seeing the whole gang in this book, it was like sitting and watching good friends hang out and a 42 year old Braden Carmicheal, loving his wife, supporting her career and being a great dad made me swoon even more for this forever atop my favorite male lead list!
The end of this book brought a smile to my face!
And I am happy to be say Logan, Shannon's brother is getting a story!!! I can't wait to see this heroic man get his happy!
---
So what exactly is a video blog tour, you ask? Well, Samantha visited the Penguin offices earlier this summer and filmed a series of short video clips with her talking about her novels, writing romance, etc. We are among the few privileged participating blogs that received an exclusive short video clips to post during the tour and are sooooo excited for you to see it – check it out below!!! You can also stop at the other blogs to see what else Samantha discussed. Enjoy!!! xo
October 6 – Natasha is a Book Junkie
October 6 – Rock Stars of Romance
October 7 – Smexy Books
October 8 – Cocktails and Books
October 9 – Scandalicious Book Reviews
October 10 – All Romance Reviews
October 14  – Fiction Vixen
October 14 – Fiction Fare
♥READ THE SERIES♥
Book 1 – On Dublin Street
Book 1.5 – Until Fountain Bridge
Book 2 – Down London Road
Book 2.5 – Castle Hill
Book 3 – Before Jamaica Lane
Book 4 – Fall from India Place
Book 5 – Echoes of Scotland