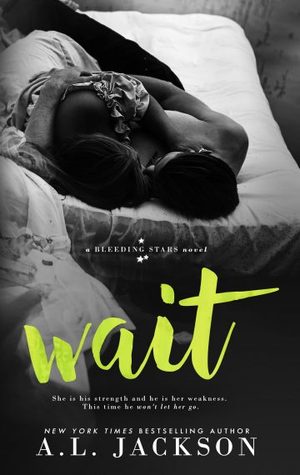 Wait

by A.L. Jackson
on August 23, 2016
Buy on iTunes
Goodreads

From NYT & USA Today bestselling author comes a new Bleeding Stars stand-alone novel…

She is his strength and he is her weakness. And this time he won't let her go.

Edie Evans is gorgeous.
Sexy.
Kind.
She's also the definition of off-limits.
But that didn't stop me from sneaking into her room to comfort her at night.
But guys like me? We destroy everything, so it should have been no surprise when I destroyed us, too.
The night I sent her running, I thought I'd never see her again.
Until I saw her standing like a vision in the crowd.

Austin Stone is dangerous.
Alluring.
Tempting.
He broke my heart and I refused to give him the chance to do it again.
It's been years since I've seen him, and now I can't do anything but stare at the gorgeous, tattooed man playing onstage. I should run. I know I should. But like a fool, I run straight back to him.
Our desire is overpowering.
Our need unrelenting.

She is my hope.
He is my weakness.
We should have known a passion this intense would burn us right into the ground.
Enjoy a sneak peek into WAIT by A.L. Jackson below and make sure to enter the giveaway for a chance to win a signed paperback of this book!! Good luck!

"You about ready to tell me who she is?"
I swallowed over the lump that suddenly felt prominent in my throat. Like that regret was compounding. Growing bigger. Pressing. I wondered just how long it would be until it exploded.
"An old friend."
Labeling her as only that? It felt like another damned betrayal.
Because she'd been everything.
But betraying?
That's what I did best.
"A friend?" His tone was all kinds of incredulous. "Sure didn't look that way to me." He tossed it out like an accusation, his words like darts nailing me to the wall.
I spun toward him. In surrender, I threw my arms out to the side. "Fine. You want to know who she is? She is someone important. Someone I hurt. Two nights ago was the first time I've seen her in years."
Not since she'd packed her things and ran. It was the night I'd gone and taken the secret she'd offered me like a gift and tossed it out like it was yesterday's news.
I was supposed to protect it.
Protect her.
Instead I hadn't done anything but leave her to be trampled underfoot. Revealed what he was never supposed to know.
In discomfort, Damian shifted, hesitant as he hedged the subject. Figuring he would set me off.
Smart boy.
God knew I was one misstep from coming unglued.
"She's really pretty, yeah?"
A disoriented chuckle rumbled in my chest.
Pretty.
Not even close.
She was fucking gorgeous.
The kind of gorgeous that had me twisted in knots, the exterior my own special brand of perfection. It was like the girl had been created just for me. A replica of my every fantasy.
But it was the inside that left me a jumbled mess.
The gracious and the good.
The girl was the only one who shed a light strong enough to pull me from the dark. The one who held the power call me from the blackened waters where my lungs were filled.  At the cusp of succumbing.
Right where I belonged.
But that girl…that girl had given me air.
A reprieve from the unending storm.
I raked an agitated hand through my hair. Fuck. Just the memory of her standing there two nights ago threatened to harden my cock, and that right there should be warning enough.
Here I was again. Wishing I could plow right through all those lines I was forbidden to cross.
Itching to taste. To touch. To take and take and take.
To get lost in the warmth of her body and the comfort of her eyes.
My stomach twisted, thinking about the way she'd looked when I'd seen her Tuesday night.
How she still managed to affect me.
My dick had gone hard while all the hard, brittle, broken places inside wanted to go soft.
To melt beneath the sweet and the pure.
"Come on, man. Just…go…talk to her." Damian shrugged like the solution was simple.
I huffed. "Talk to her? She made it pretty damned clear she didn't want to see me, let alone talk to me. And it's not like I have her phone number and can just dial her up."
With his index finger, Damian scratched behind his ear and averted his gaze to the floor. The way he always did when he was feeling guilty. Finally, he looked up. "You know Deak knows her, right?"
I froze. A scowl marched across my face as his words sunk in. "What do you mean, Deak knows her?"
Eyebrows drawn, Damian cocked his head as he began to explain. "That guy? The one you looked like you were about two seconds from tearing apart?"
I gave a short nod.
Like I could forget.
"He owns the surf shop where Deak helps out sometimes. Name's Jed. Turns out your girl works there too, works the register at the shop. Rooms with him and his sister at a little place a couple miles from here. Apparently Jed said something to Deak about her freaking out about some guy playing at The Lighthouse. Deak put two and two together. Asked me this morning if I knew how you knew Edie Evans. Said something about her being a sweet girl who didn't need any more trouble."
Anger burned through my veins.
Rooms.
Was she sharing his bed?
Turning away, I raked a hand down the back of my neck, rubbed at the tight muscles, not sure if I had it in me to process what that fact meant.
Maybe fate was too damned late.
"Never seen you this spun up, man. She's different than the rest?" Damian asked.
I knew what he meant. Wanting to know if this was just about me wanting to get my dick wet. If she was like the girls I blew through town after town.
Wishing for someone or something to fill the void.
Knowing it was impossible.
But at least for a few sex-fueled moments I could forget.
It'd never been about that with Edie. Even though that's what had fucked it all up in the end.
My need for her had grown to a place where I couldn't see straight. Couldn't think straight. Because of it I'd burned what we had straight into the ground.
"Yeah, man. She's different."
So different.
So different and perfect and right.
Too perfect for me.
But that didn't mean I didn't ache for her with every messed-up part of me.
He huffed out a sigh. "Seems to me you have some amends to make."
Guilt throbbed in my conscious, heavy and hard and suffocating. I looked toward the ceiling, the words raw when I forced out the confession. "I've made more mistakes than I could ever make up for."
There were some mistakes you couldn't take back.
Damian might think I was good guy.
He was wrong.
"Then you'd better get busy, my friend, because hanging out here acting like a straight-up asshole isn't going to win you any points."
There were so many mistakes I'd made that I could never redeem.
But maybe…just maybe…this one I could vindicate.

Trailer Direct Link: https://youtu.be/nGE9WnZJ9Ow
Pre-Order on iBooks and get it a day early!
Be notified as soon as WAIT goes live everywhere August 23, 2016 http://bit.ly/NewsFromALJackson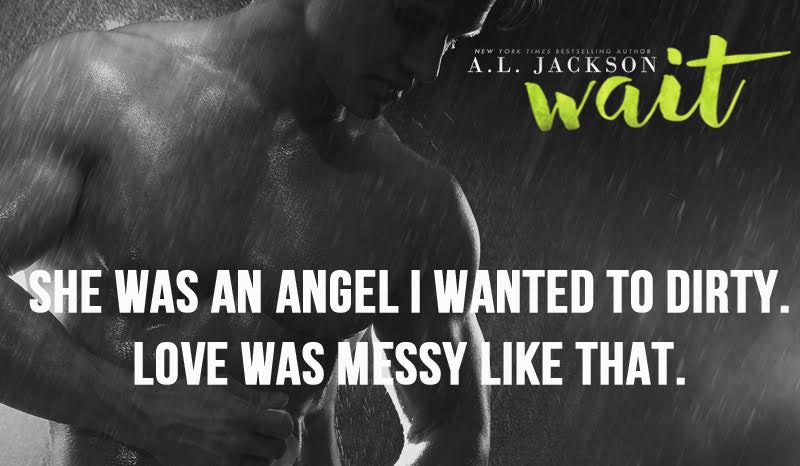 *Giveaway now over – congrats to Dee Swan*
Enter to win a signed paperback of WAIT (open US ONLY)
All you have to do is share this excerpt and giveaway on your social media account(s) (Facebook, Twitter, Instagram, etc). Sample message below:
 Wait is coming #Aug23rd #BleedingHearts #Hope #EdieAndAustin #Giveaway @shhmomsreading @aljacksonauthor
 Please make sure to post a link to your shares below. ONE winner will be chosen Monday August 22nd. Thank you for sharing!