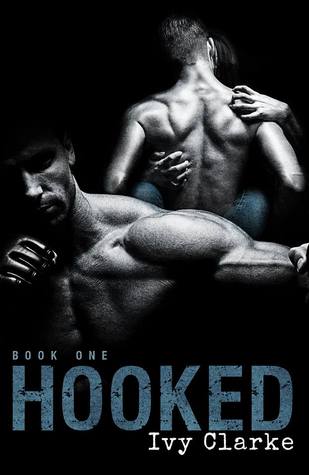 Hooked

by Ivy Clarke
Goodreads

Nine years, and you'd think I'd be able to sit in front of him without feeling a damn thing, but it's all there—the fear and pain, the shame and the lust. The lust is the worst of it because I don't know anything about this man other than the fact he's still fighting.

But hell, he'd always been fighting.

Fighting to make his own mark on the world, fighting for his parents' approval of me, fighting just for the rush of proving himself. But for all I know, now that he's famous maybe there are dollar signs behind each choke-hold. Behind each perfectly executed left hook.

Two things are for certain … after nine years, he's back in Albuquerque. And stepping into Jace "The Hook" Hunter's gym—hearing him call me "Rosalie" in that beautiful, rough voice—rips my soul out.

But I'm desperate.

Now it's my turn to fight.
Check out an excerpt from new author Ivy Clarke and her debut novel coming out at the end of this month – Hooked! Make sure to enter the giveaway below. Good luck!
*Disclaimer: May be edited or deleted prior to publication. 

"Can you just train me now?" I demanded, my throat hitching. Combing my fingers through the black waves tumbling over my shoulders, I twisted away from him. "Can we not talk about the past? About … us?"
From behind me, Jace chuckled, his husky voice cocky. Mocking. The sound crept over me, stole my breath away. Made something as simple as putting my hair into a ponytail a difficult task. I should've known this was a bad idea the second I laid eyes on him and found out he owned the place.
"You want me to just pretend you're nothing but a client?"
I heard him walk closer to me, and a moment later, felt his rock hard body brush against the contours of mine. Don't be stupid, Rose, I warned myself. God, don't be stupid. He ripped your heart apart. Now, take what you can get from him so nobody else can rip your body apart.
"Yes," I replied coolly, turning my head slightly to peek over my shoulder and into amused honey-colored eyes. I held back the shiver, giving myself a half-hearted promise I'd never swoon over Jace Hunter again. "I want you to treat me like I'm any other woman who came into your gym."
Returning my focus to the row of punching bags hanging in front of the wall directly across from us, I re-knotted my hair on top of my head, but he pushed my hands aside. A gasp caught in my throat as his fingers threaded through the ebony locks.
"For me to treat you like nothing but a client," he started, coiling my hair, as I stood perfectly still, completely breathless. Lord, his hands—Jace's hands turned me into a seventeen-year-old girl again, and they set me on fire. "You'd need to tell me being around me does nothing for you."
"It doesn't."
Reaching around, he snagged my hairband from my fist, pulling it through my hair. A raspy sigh spilled from my lips. He laughed again, but this time, I felt it. Felt his soft, full lips against my ear. Felt his tremor of amusement rush through my own body.
Felt my pulse race out of control.
Eventually, he spoke, his words more damning than his chuckle. "I probably should've mentioned you're still a shit liar, Rosalie."