Killer Queen

by L.H. Cosway
on October 20, 2014
Goodreads

Willkommen, Bienvenue, Welcome…

Come inside The Glamour Patch club to see the star of our show, Miss Vivica Blue.

Do you want to read my diary you nosy little devils? Have a glass of champagne (you'll need it) and get comfortable because you're in for some crazy shenanigans brought to you straight from the horse's mouth.

I can be whatever you want me to be: boy, girl, a little bit of both.

If you have a problem with a man in a dress then best be off with you. If males in make-up give you the willies, then I'll say au revoir and don't let the door hit you on the way out.

So, who are we left with? Ah, a fine collection of curious souls. I want to tell you a tale of love, because those are the most glorious kind. I want to tell you about real love, a love that transcends labels and gender stereotypes.

The moment I first laid eyes on my Freda I knew that we were kindred. Well okay, I also knew I wanted to get into her pants, but that's beside the point. My world was a grey place. I was at my lowest ebb. Then she came along and patches of colour began to spring forth. One day the daffodils were yellow and before I knew it, colour was everywhere, lighting up my life.

Love is not about how we appear on the outside, it's about the soul contained within.

Our story was not a conventional one, but it was ours, and that's what made it shine.

Killer Queen is a companion novel to L.H. Cosway's contemporary romance, Painted Faces. It contains scenes that take place before, during and after the original story. It can also be read as a standalone.
Be on the lookout for the cover reveal coming next week – you won't want to miss it!!! IT'S GORGEOUS!!!!!!!!!!!!!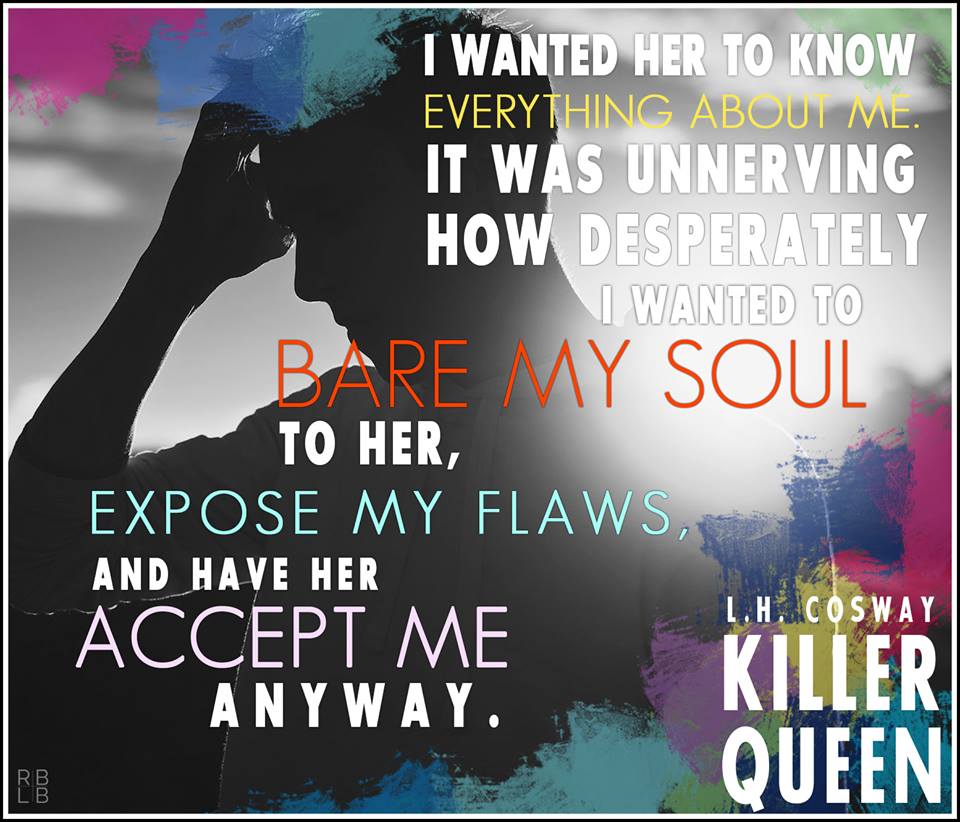 Later that day I was leaving my apartment yet again, this time to go and meet with the landlord and sort out some paperwork. And yet again there was a woman standing outside the door to apartment number 23. It wasn't Nora, though. I instantly recognised the curls, but they were wet and bedraggled. I found it attractive in a strange way. This was Freda, and I took my time in sizing her up.
She'd obviously just been caught in a shower, her t-shirt soaked through. When she turned to me I saw that her nipples were hard and peeking through the fabric. Nice, very nice. Obviously, it was because of the wet material. I didn't think she was turned on. She looked more pissed and frustrated. I really wanted to congratulate her on such a fine display of nipple visibility, but thought it might be a tad inappropriate. After all, I hadn't even said hello yet.
I smiled at her and she stared back at me.
"Hello there," I said and took a step forward. I held my hand out to her and she glanced down at the plastic shopping bags she was holding. I let my hand drop, rubbing it against my trousers and continued, "You must be Freda. Your flatmate Nora invited me in for a cup of tea earlier. Lovely girl."
I thought I saw her blush a little and it got my blood up. Finally, she spoke, "Fred, you can call me Fred."
Instantly, I really liked the fact that she chose to go by a boy's name. It appealed to my gender bending nature. She put her shopping bags down and came and shook my hand. I enjoyed the feel of her skin on mine. Soft. I felt like I might be staring at her too intensely, because she seemed uncomfortable just then. I would have killed to know what she was thinking. Did she find me attractive? I wanted her to be attracted to me more than I had any women in a really long time, and I didn't quite know why.
I kept a hold of her hand, wanting to prolong the contact, but then she let go. Thinking that humour might work, I said, "Okay Fred, you can call me Vivica."
She smiled at me then, a shy, slightly cynical smile. She didn't laugh, though, and I desperately wanted to hear her do so. My reaction to this woman was becoming unnerving.
"Cool, if we become close friends can I call you Viv?" she replied with a twinkle in her eye.
♥READ THE BOOK THAT STARTED IT ALL!♥