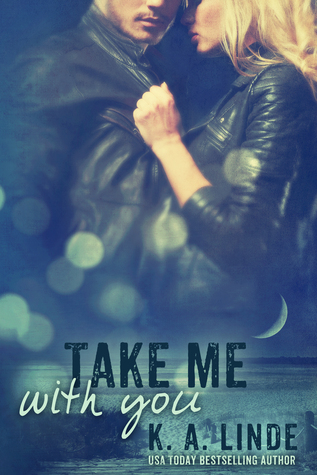 Take Me with You

by K.A. Linde
on January 27, 2015
Buy on Amazon
Goodreads

Grant
All of my demons are coming to head.
I thought Ari could push them back.
I thought I could conquer my vices with her at my side.

I thought wrong.

Aribel
Fear is my new constant.
I thought I could conceal it, contain it, control it.
I thought that now that I had Grant the worst was over.

I thought wrong.

But if we're going to survive, wherever you go…take me with you.
We are so excited to be hosting the tour for K.A. Linde's TAKE ME WITH YOU next week. Enjoy a sneak peek into the book and enter for a chance to win an ARC giveaway below! Good luck!

Grant practically bounded across the room until he was directly in front of me. Then, his hands were cupping my cheeks so tenderly that it was as if he thought I might break in half. Without a word, his mouth dropped down on mine, and the kiss was as light as a feather. It was a question, a soft and delicate question, one he had never asked before—permission.
When I didn't pull away from him, he received his answer. The kiss deepened, and he coaxed all the anger out of me. He drew it out as if sucking venom from an open wound. He kissed me so heatedly and lovingly that not even a drop remained. All that was left was a bottomless well of emotions of how much I loved and missed him.
When I came back into the moment, I heard the catcalls and yells from the people around us. It was then I remembered that we were in a crowded room, surrounded by people, and Grant had kissed the breath out of me. I flushed from head to toe at the attention, but he wouldn't let me pull away.
"I'm sorry," he whispered. "I shouldn't have blown up on you. I shouldn't have done anything. You're all that matters."
I stared up at him in confusion. "Who are you, and what have you done with Grant McDermott?"
He laughed that beautiful glorious laugh, and a smile lit up his whole face. It was that damn smile that had won me over in the first place.
"Run away with me," he murmured.
"What?"
"Run away with me. Let's get out of here."
"Where are we going?"
"Anywhere. Everywhere."

Kyla is giving away an ARC copy of TAKE ME WITH YOU. Enter for a chance to win by sharing the the link to this Teaser post on your social media sites (FB, Twitter, Tsu, Instagram, etc). The more shares, the more chances to win! Leave a message at the bottom of this post with the links to your shares. ONE WINNER will be chosen on Sunday January 25th 10am EST. Please tag @authorkalinde and @shhmomsreading in your post. GOOD LUCK!