We are so excited to share an excerpt from COME TO ME QUIETLY with you.  This is an AMAZING book – A.L Jackson at her finest!  You will fall in love with Jared and Aleena like we did.  <3  Add to your TBR list below and be on the lookout for its release on January 7th!

Aleena Moore is content with her life. She has goals and dreams and an easy smile. She also has a secret she holds locked inside.
Jared Holt believes he doesn't deserve to love or be loved. He destroys everything he touches. Haunted by the mistake that shattered his life, he's fled from the memory of that pain.
Jared doesn't know why he's compelled to return, but finds himself drawn back to the place where it all began. The exact place where it ended. When he runs into his childhood best friend, Aleena's older brother Christopher, he agrees to share Christopher and Aleena's apartment while he looks for a place of his own.
Aleena is no longer the little girl Jared remembers from his past and evokes feelings in him he never wanted to feel again. Terrified of destroying her, he fights to keep her away. But her touch is something he can't resist—the touch that sealed his fate.
Their pasts are intertwined and their futures uncertain. The only truths they know are the secrets they whisper in the night.

Jared

Fingertips trailed along my jaw and wound in the hairs at the nape of my neck.
With a harsh shake of my head, I asked her the same question I'd been asking myself for the last month. "What are we doing, Aly?"
She tightened her hold and whispered along my jaw, "Whatever feels right."
I released the air from my lungs and gave in. Devoured her mouth. I sucked her bottom lip between both of mine. Her jaw slackened as she fully succumbed to my kiss. Colors flashed behind my eyes as I let my weight cover her, chest to chest, breath to breath. I caged her, her tiny body pinned below mine as our mouths collided, reckless, hard, and demanding.
Heat blanketed us, flames and fire and need. I'd never wanted anyone like this, had never ached to bury myself in someone this way. I wanted to lose myself there, disappearing forever in this blissful delusion.
Aly was panting when I pulled away. She gasped and clutched my head when I dipped down and took the rosy bud of her breast in my mouth. "Oh my God. . .Jared," she breathed, her words shooting straight through me.
Writhing, she moaned, and I lifted my weight to my knees so I could drag my flattened palms down her sides. Her muscles jumped and ticked, and she arched as I sucked at her. Almost frantic, her hands tugged at my hair.
I eased, gently kissed along the underside of her breast, then ran my nose back up over the sensitive skin. Her hands loosened and she sighed as she massaged her fingers at the back of my scalp. My kiss traveled the valley of her chest, and I took the opposite breast in my mouth.
Her hands fisted in my hair again. This time, Aly begged, "Please."
Shit.
And again I was asking, "What are we doing?" because I was hard and straining and so was Aly and all of this seemed so fucking crazy. Because I wanted her. I wanted her more than I'd ever wanted anything in my life, this consuming need that made my head spin and heart pound.
Slipping my hands under her back, I ran them all the way down to cup her perfect round ass and pressed her a little harder into me.
Aly whimpered, a frenzy alight in the depths of her green eyes. She rocked against me, purposed and strong. "Please."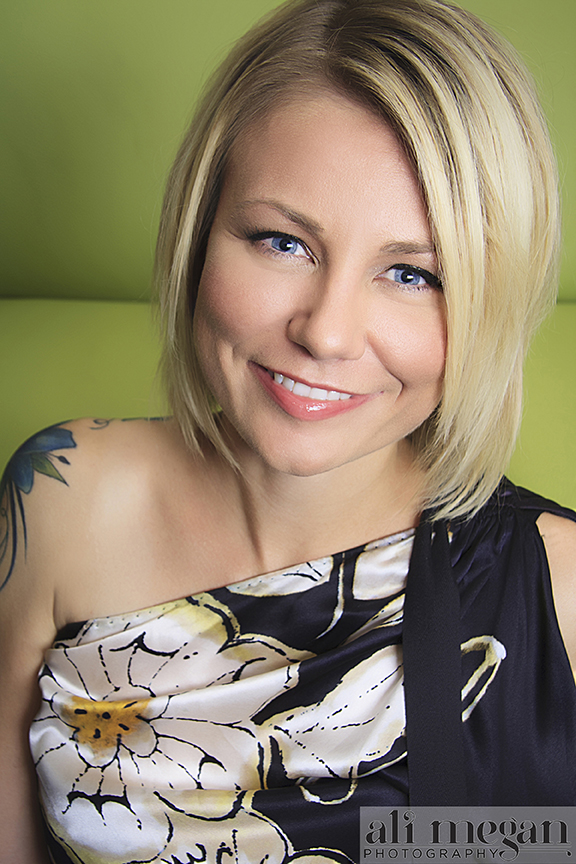 A.L. Jackson is the New York Times bestselling author of Take This Regret and Lost to You, as well as other contemporary romance titles, including Pulled and When We Collide.
She first found a love for writing during her days as a young mother and college student. She filled the journals she carried with short stories and poems used as an emotional outlet for the difficulties and joys she found in day-to-day life.
Years later, she shared a short story she'd been working on with her two closest friends and, with their encouragement, this story became her first full length novel. A.L. now spends her days writing in Southern Arizona where she lives with her husband and three children. Her favorite pastime is spending time with the ones she loves.
You can pre-order here