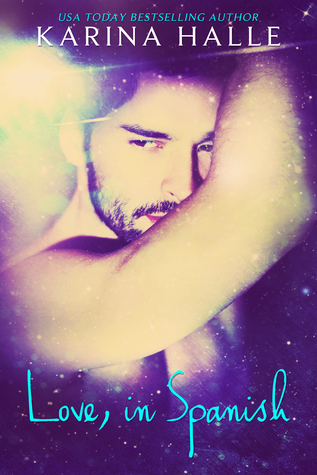 Love, in Spanish

by Karina Halle
on November 11, 2014
Buy on Amazon
Goodreads

The companion to the highly emotional, scandalous and USA Today Bestselling love story - LOVE, IN ENGLISH - is finally here! Love, in Spanish is a Love, in English follow-up novel told from Mateo Casalles' POV. While Love, in Spanish touches on some events that happened in LIE (you know the ones!) it is a whole new story set a year later that continues with Vera and Mateo's "happily ever after." Note: It should be read after Love, in English and it is mostly new material (aka not just rehash of LIE).

***

"She sat beside me on the bus – and she changed my whole life."

Successful, wealthy and absurdly handsome – Spanish ex-football player Mateo Casalles seemed like he had it all. A high-society wife, an adorable little girl, and flashy apartments in Madrid and Barcelona only sweetened the deal. But there was more to Mateo than met the eye – a life of uncertainty and regret that colored his black and white world.

That was until Vera Miles came into his life like a shooting star. Tattooed, wild and young, Vera seemed like Mateo's polar opposite at first. But you can't choose who you fall in love with and the two lost souls did everything they could to be together, all while suffering the grave consequences.

Now with Mateo divorced and living in Madrid with Vera, there is a whole new set of challenges and setbacks facing the couple and rocking the foundation of their star-crossed relationship.

Unfortunately for them, the brighter the star, the faster they burn.

***Love, in Spanish contains the first two chapters of Where Sea Meets Sky, a full-length Love, in English spin off starring Vera's brother, Josh Miles, coming March 2015 from Atria Books***

I love the way her body gives into my hands, like I can mold her into anything I want. But all I want is her, forever in my bed, just like this, her passion awoken by mine again and again. She arches her back, knees coming up to give me better access, and I slip my fingers out and position my cock there instead.
I push in deliberately, inch by inch, and let the sensation flood through me. This is so beautiful and so final. My eyes close, and when I go deep, as far as I can go inside of her, it feels like we are one and will stay one and nothing will pull us apart.
My feelings are lies, but they will do for now.
I have to control myself so I will not come before we are both ready. Even if we were both ready, I wouldn't want this to be over so fast. I breathe in deeply with each slow, wet thrust.
"How do I feel?" I ask her, my voice richer, darker, wrapped up in desire. "Because you feel like the heavens."
She grins lazily, her eyes closed. "You feel like Mateo."
"And this is good, yes?" I drive myself in deeper, and she lets out a moan.
She opens her lustful eyes to stare up at me. "Yes," she says breathlessly. "The best I'll ever have."
A lump forms in my throat, and I quickly swallow it down. She will also be the best I'll ever have, and I may never have her again.
I push through the pain. It is the only way out. I fuck her faster now but still in control, desperate to drive away the sorrow that's waiting beyond, wanting to just feel this way and nothing else, but not wanting to rush. It is push and pull, and everything inside me is building, building, building until I am on the edge and so is she.
I am so afraid to let go.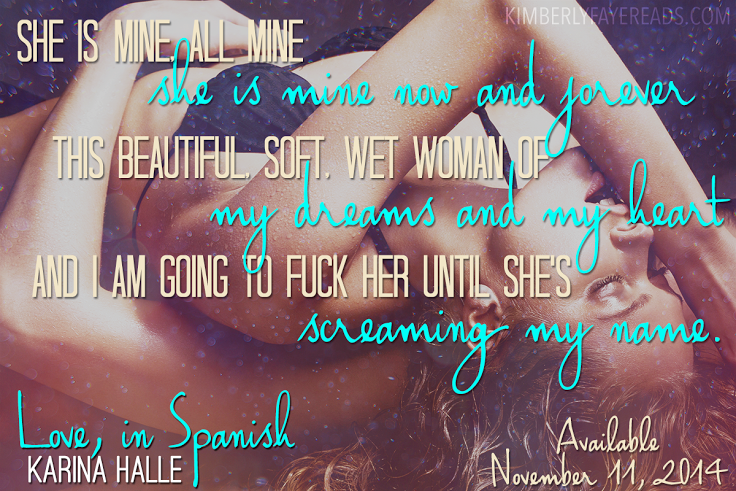 ♥READ THE BOOKS♥
Book 1 – Love, In English (only 99 pennies at time of posting)
Pre-Order Book 2 – Love, In Spanish