Denise LOVED this new book from Daisy Prescott titled MISSIONARY POSITION. Add it to your TBR list below.  Available on all retailers on June 10th.
Enjoy an excerpt from the book below and make sure to enter the giveaway!  Good luck!
---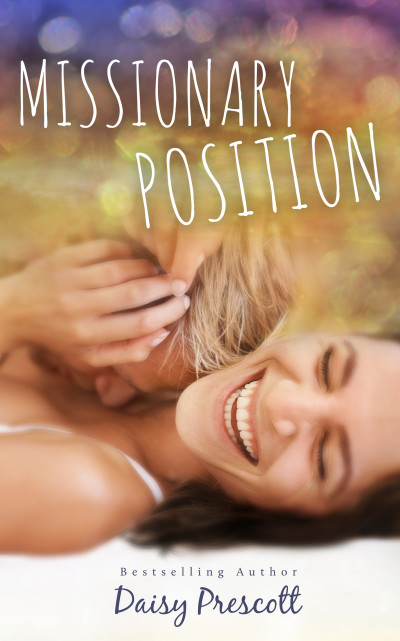 Sex? Absolutely
Love? Not my thing.
I didn't do love or butterflies, but I loved him.
I was screwed, and not in a good way.
Selah Elmore is a smart, independent woman who knows exactly who she is and what she wants. She loves her life being a professor and popular pirate erotica author. However, when she leaves the Pacific Northwest to spend six months studying sculpture in West Africa, she learns she doesn't know a thing about love.
Cocky, suit-wearing Gerhard charms her during a stopover in Amsterdam, but dashing, adventurous Kai sweeps her off her feet in Ghana.
Sparks fly on three continents when perpetually single Selah discovers there's more to love and life than she ever imagined.

A handsome young man wearing a crisp, white shirt rolled to his elbows and a black vest greeted me, placing a napkin and small bowl of bar kibble on the cool marble in front of my stool. Bless him. I ordered a dirty vodka martini and inhaled the bar snacks. The bowl was empty before the bartender finished making my cocktail. It was a very small bowl. Tiny.
My stomach no longer empty, I took a sip of what was possibly the best vodka martini ever and moaned, not loudly, but loud enough the bartender smirked.
"Enjoying your drink?"
I turned toward the voice.
Stormy seas.
"Hi." Mr. Navy Suit looked between me and the bartender, waiting for me to respond.
"Of all the gin joints," I mumbled to myself.
"Kiss me as if it were the last time," Stormy Seas quoted my favorite line from Casablanca.
I blinked at him, speechless.
"Let's try again." He smiled down at me. Even on my perch on the barstool, he still towered over me. "Hello."
"Hi." My brain still worked.
"Are you alone?" He gestured to the stool next to mine.
"Yes. No. I'm meeting someone."
His smile tugged at one corner of his mouth.
"American?"
"No, he's Dutch."
He chuckled. "No, I meant you. You don't sound Dutch."
"It was my accent that gave it away? Not my dark hair, olive skin and Lilliputian height?"
"You're sitting down."
"Oh, right."
"So you are American?"
"Yes. And I'm guessing you're Dutch."
"Was it the accent?" He mimicked me. His eyes sparkled like sun on dark water.
"That and the package."
He coughed. I tried not to look at his crotch after my word slip, but failed. I couldn't see anything. Bastard suit jacket.
"I meant your height and overall Dutchness."
He bit his bottom lip and nodded for me to continue.
"You look Dutch. Tall, fair, blue eyes. Put on some wooden shoes and a pointy hat, put your finger in a dyke, and you'd be straight out of a children's book."
I had said finger and dyke in the same sentence to Navy Suit. I hoped he didn't catch it.
By the way his eyes bulged, obviously he did.
"You must be Selah," he said, shaking his head with a chuckle. "Anita said you were funny."

Before writing funny contemporary romances about adults, I dreamed of being an author while doing a lot of other things. Antiques dealer, baker, blue ribbon pie-maker, fangirl, freelance writer, gardener, pet mom and wife are a few of the titles I've acquired along the way.
Born and raised in San Diego, my husband and I currently live in a real life Stars Hollow in the Boston suburbs with our dog, Hubbell, and an imaginary house goat.
Ready to Fall, my second novel, features John Day, the hot, sexy neighbor in my debut novel Geoducks Are for Lovers. Both can be read as stand-alones. I'm busy researching my next novel, which will not feature any bivalves.
---
Other Books by Daisy Prescott
Geoducks Are For Lovers

Ready to Fall