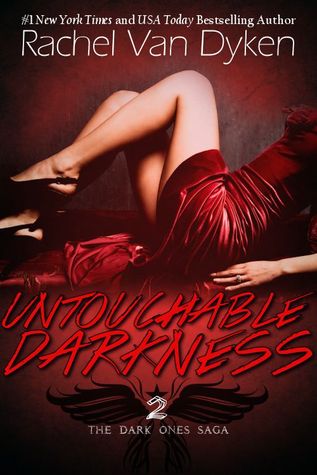 Untouchable Darkness

by Rachel Van Dyken
on December 29, 2015
Buy on Amazon, Buy on B&N, Buy on iTunes, Buy on Kobo
Goodreads

To love a Dark One is to invite death...

It is wrong to love her.
It is worse to want her.
It is sin to consume her.
I desire all three.

I've been given thirty days to prove my love to another immortal--as a human. Cursed to use nothing but the side of myself I've always despised to win her affection. I am Cassius, the King of the immortals, A Dark One.
And today I tasted fear for the first time.
How can I win her when my human emotions over take every ounce of logic I possess?
A darkness is brewing.
One I cannot stop as a human.
One that Stephanie, my loves visions, have shown, will be my end.
Thirty days ago I was King of the immortals.
Today I know fear.
Today I know how I will die.
By her hand.
The woman I love.
This one sounds sooooo good! Enjoy an exclusive look at Untouchable Darkness by Rachel Van Dyken which comes out on December 29th. Enter the giveaway below for a chance to win a signed paperback! Good luck!!!!

He nodded, his eyes drinking me in. "I'm here out of an intense desire to help you—and to make sure you don't kill the rest of your family in one of your adolescent mood swings."
"I'm not a child."
"Says the little girl who created a spike out of ice with the intent of stabbing me in the chest, all because her feelings were hurt."
"You were mean."
"It was necessary."
"How do you figure?"
"How else am I supposed to help you?" Cassius leaned up on his elbows. "If I don't allow you to see the darkest parts of yourself?"
"That's what you want? To see my darkness?"
"No." His eyes flashed. "I teach you how to fight the darkness—so you can recognize the light."
My breath hitched.
Warmth trickled throughout my chest as I stared at his mouth. His eyes gave nothing away—and everything at the same time. He kept his expression indifferent, yet I could hear his heart race.
It sounded like mine felt.
I pressed a hand to his chest.
He covered the hand with his.
With a sigh I leaned down and pressed a kiss to his cheek, then brushed my lips against his mouth.
He didn't kiss me back.
Rejection washed over me. Obviously I'd read the situation completely wrong. His heart was racing but not for me.
"Don't." His hoarse voice rattled my confidence even more. "Don't kiss me—not unless you mean it."
"What?"
"Kiss me when you're calm…not when you've just come down from what any human would consider the ultimate adrenaline high. Then you'll mean it. But don't kiss me out of curiosity, out of thankfulness, or even out of attraction. It doesn't work that way."
Ashamed, I looked down, unable to keep eye contact because I hated that he was right. I loved the man.
But he was right.
"And anytime you'd like to get off of me that would be great," he finished, grinning. "Because as much as I'd like to compliment you on your lithe body—you're about two minutes away from crushing my liver."
With a scowl I jumped off him, but when he tried to follow, I pushed him back onto the bed.
He grunted and tumbled over the other side.
I smiled to myself and started walking toward the door. "Hurry up, human. We don't have all day."
"You forget," he said from the floor. "You may be a Dark One, but you gave up your immortality the day you saved my life."
"I'd conveniently forgotten that part, since it was magically given back to me when you disappeared."
"I haven't…forgotten." Cassius reached for my arm and led me out of the room. "Now, I think I need to eat before we begin."
"How do you think you need to eat? You're either hungry or you're not."
"I think this pain is hunger." Cassius rubbed his stomach with one hand and frowned. "And that bird looked delicious."
"Okay…" I patted him on the back, "Humans these days don't have to shoot their own birds, let's just ask Mason to cook something, he's probably bored to tears anyway."
We walked by the window.
The bird chose to land on the tree closest to us.
Cassius tensed.
"When was the last time you ate?" I asked.
"Ate?"
"Food."
He licked his lips. "Dark Ones don't need food we eat because food tastes delicious."
"As a human," I clarified.
He shrugged. "I haven't."
"No wonder you want to go all Elmer Fudd on his ass."
"Elmer Fudd?" Cassius shook his head in confusion. "Is that a figure of speech for eating birds?"
"No." I patted his shoulder. "It's Bugs Bunny."
"Bugs or bunny? They can't be one in the same."
"Maybe you do need to watch some TV with everyone—"
I managed to lead him away from the window, though he turned around twice. I may be stronger, but it was still awkward trying to push him down the stairway when he kept trying to turn around and make creepy eye contact with the feathered creature.
"Someone say TV?" Alex was leaning against the bottom part of the stairway, his naturally bright smile even more amused than normal. "And Bugs Bunny is a rabbit."
Cassius shrugged. "Of course the bunny is a rabbit. I was confused about the bugs part."
"It's his name."
"But he's a rabbit—bunny." Cassius argued.
"Humans name pets."
"Funny." Cassius smirked. "They name pets, I keep them as pets…"
"Still talking a big game for being one of them." Alex grinned. "And sister." He peered up at me with loving eyes. "I think the best thing for you right now would be to get Cassius caught up on pop culture."
Cassiius groaned. "I'm not stupid. I know about the Backstreet Boys."
Alex burst out laughing. "Oh this may be my favorite moment—of my entire existence. Right up there with the time I watched Ethan take his first bite of pizza thinking the sauce was blood."
A giant scowl formed on Ethan's face, and he gripped the edge of the table where he was seated. "Well, if you hadn't lied about it…"
"Best. Day. Ever." Alex winked.
Genesis finished setting the table by folding white napkins beneath the forks; it was cute that she did it, even though the only people who ate were her and sometimes Mason.
At least now Cassius could join the ranks.
"Sorry, Cassius." Mason tossed a plate at Genesis, she caught it mid air and placed it at the head of the table. "Backstreet Boys aren't really the in thing anymore."
"Fine." Cassius rolled his eyes. "I'll just go to the store and grab a few CD's and why is everyone looking at me like I've lost my mind?"
Ethan shook his head. "You've been that busy? Unable to even turn on a TV? Do an Internet search? You have more money than the very country you live in, and you can't afford cable?"
Cassius walked away from me and sat at the head of the table. Funny that he'd take his usual seat. I guessed he was still our King even if he was a bit under the weather. "When would I have time? With the Vampires fighting, the werewolves hiding, the demons whining…"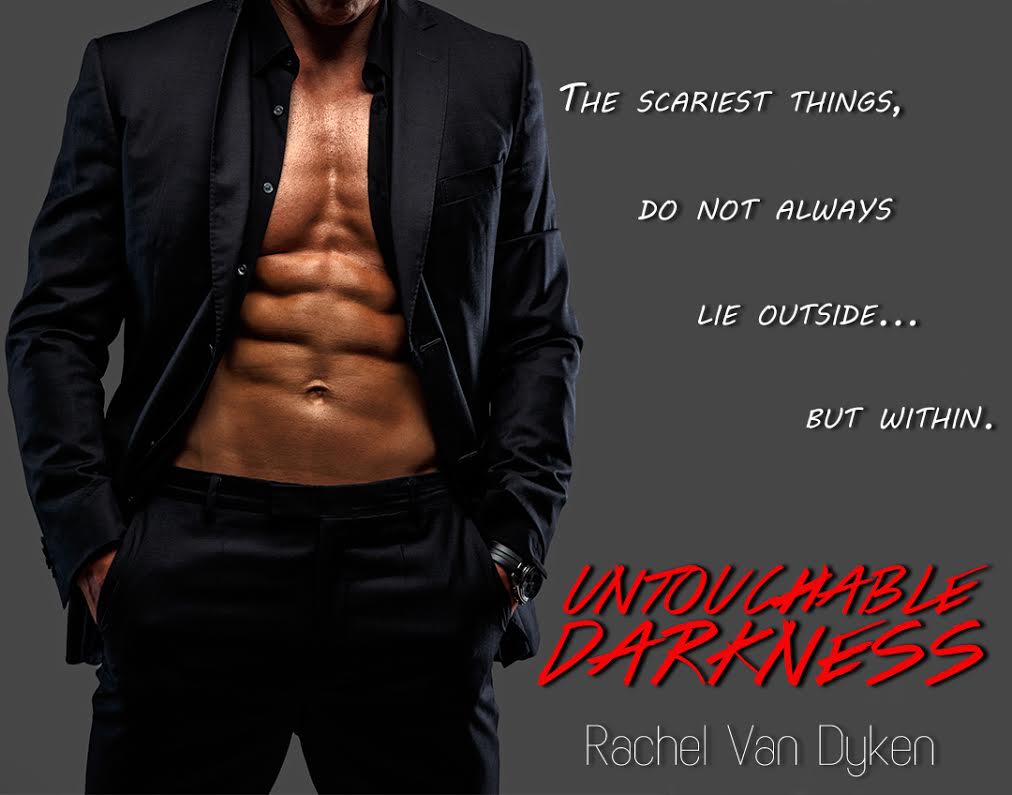 Enter to win a signed paperback of Untouchable Darkness (US Only)
All you have to do is share this exclusive promo post on your social media account(s) (Facebook, Twitter, Instagram, etc). Sample message below:
#UntouchableDarkess #ExclusiveExcerpt #Giveaway #ComingDec29th #ToLoveADarkOneIsToInviteDeath @RachVD @ShhMomsReading
Please make sure to post a link to your shares below. ONE winner will be chosen on Saturday December 26th at 10am EST! Good luck! And thank you for sharing!
♥ Buy the Books ♥
Book 1 – The Dark Ones
Preorder Book 2 – Untouchable Darkess