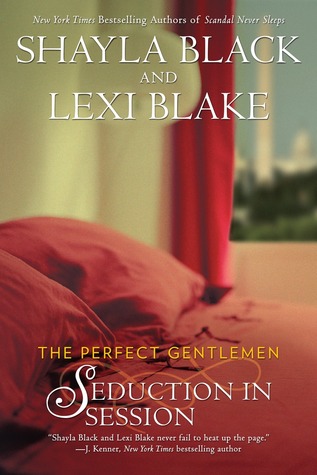 Seduction in Session

by Shayla Black, Lexi Blake
on January 5, 2016
Pages: 400
Buy on Amazon, Buy on B&N, Buy on iTunes, Buy on Kobo
Goodreads

Privileged, wealthy, and wild: they are the Perfect Gentlemen of Creighton Academy. But the threat of a scandal has one of them employing his most deceptive—and seductive—talents…

Recruited into the CIA at a young age, Connor Sparks knows how dirty the world can be. Only when he's with his friends can he find some peace. So when an anonymous journalist threatens one of the Perfect Gentlemen, Connor vows to take down the person behind the computer, by whatever means necessary—even if it means posing as his target's bodyguard.

Publishing a tabloid revealing Washington's most subversive scandals has earned Lara Armstrong the ire of the political scene—and a slew of death threats. To keep herself from ending up a headline, Lara hires a bodyguard, a man as handsome as he is lethal.

When the bullets start to fly, Lara is surprised to find herself in Connor's arms. But as they begin to unravel a mystery that just might bring down the White House, Lara is devastated when she discovers Connor's true identity—and finds herself at the mercy of forces who will stop at nothing to advance their deadly agenda.
Enjoy an exclusive excerpt for Seduction in Session by Shayla Black and Lexi Blake. This one sounds soooooo good! #SoHot #ComingJan5th
♥ Preorder the Book ♥
Amazon | Amazon UK | iBooks | Barnes & Noble | Google Play | Kobo | Amazon print

He pressed his body close, pinning her to the wall. His hard cock nudged her belly. "Say it again."
Connor had told her in the beginning what he wanted—warmth and affection. She could give him all she had. She rose up on her toes until her mouth rested bare inches from his. She wanted to breathe the words into his skin so he soaked them up. She suspected he hadn't had a lot of love in his life. She wanted him to know that had officially changed.
"I love you," she murmured.
She'd barely spoken the words before he slammed his mouth down on hers and pinned her to the wall with his big body, holding her beneath him to take his onslaught. He dragged his tongue over her lower lip, demanding entry. She didn't deny him. No, she opened herself up fully to the crazy, heady experience of being loved by this man. And it was love, she felt sure.
He devoured her like a starving man at a feast, holding her so tight she swore he'd never let go. The sizzling ache for him consumed Lara. When Connor made love to her, he sank himself in to the core of her being, and she felt as if they were the only two people in the world. Two who had merged to become one.
He tugged at the zipper of her jacket. "Take it off or I'll rip it off. Anything you want to keep better hit the floor in ten seconds or less because that's how long it's going to take me to get inside you."
Her hands shook as she quickly unzipped the jacket and tossed it away. He gave her just enough room to kick aside her sneakers then wriggle out of her pants and undies.
He shoved at his jeans, pushing them down to his thighs and setting his cock free. "Turn around. Hands against the wall."
"Connor?" She felt ridiculously vulnerable wearing nothing but a shirt and a bra.
He turned her. "Hands against the wall."
She pressed her palms flat and had to force herself to breathe when his fingers slid across her bare backside, traced the line between her cheeks, and ran along her swollen slit.
"You're wet." He groaned as he parted her labia, sliding a finger deep. "Is that why you rubbed against me on the bike? Were you wet and trying to steal an orgasm from me like a cat in heat?"
She knew she should be offended, but when his voice went guttural and his words turned to filth it just made her hotter. If any other man talked to her like that, she would slap him and leave. With Connor, she spread her legs so he could have more access. "I liked the bike."
"That's not all you like." He nuzzled her neck, his lips blazing a trail of fire to her ear. "That's right. Spread those legs wide for me. Get that pussy ready because I'm not waiting. You put me through hell tonight and I can take it out by punching something or by filling you so full of cock you can't see straight. Which would you like?"
♥ Book One ♥
Scandal Never Sleeps
Amazon US | iBooks | Barnes & Noble | Google Play | Kobo