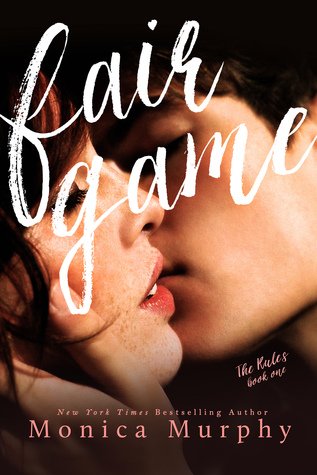 Fair Game

by Monica Murphy
on May 12, 2015
Goodreads

Bad enough Jade Frost's boyfriend drags her to a boring poker game. Even worse that he actually threw her into the betting pot during an intense round…and lost. Talk about the perfect excuse for Jade to make him her ex-boyfriend.

Now she supposedly belongs to the ultra rich, extremely gorgeous Shep Prescott. He could have anything he wants yet he seems to be in hot pursuit of her. No matter how rude, how snarky, how impossible she acts, it doesn't stop him. More like her horrible behavior seems to make him want her more.

When she finds herself starting to fall for him, Jade's confused. There's more to Shep than the carefree rich charmer he portrays. No way could he want a serious relationship with her…or could he?
Enjoy a sneak peek into Monica Murphy's new book FAIR GAME releasing on May 12th. 
Pre-Order on iTunes

"Hi," I say, my voice cracking like I'm going through puberty and I clear my throat, pissed that my thoughts are constantly straying to my general immaturity. How the hell am I ever going to impress this girl if my mental state is set back in my middle school days?
She smiles, pushes her wavy hair back so it falls behind her shoulder, exposing her neck and I'm hit with the overwhelming need to kiss her in that exact spot where her pulse throbs. Breathe in the scent of her skin, let my lips linger, maybe even lick her to see if she tastes as good as I think she will…
"Hi." Her voice shakes the slightest bit, as does her smile and I realize she's nervous. Cute. I'd like to put her at ease but hell.
I'm a little nervous too.
"You ready to go?" I ask as she exits her room, coming to stand closer to me. I can smell her now, sweet and clean and I clamp my lips shut, breathing through my nose, trying my best not to inhale her.
I really want to fucking inhale her.
She casts a wary glance over her shoulder at her roommate before returning her attention to me. "Yes, I am."
"You kids be safe," Kelli calls as we start down the hall. "Use protection. Make good choices!"
"She's seen Pitch Perfect way too many times," Jade mumbles, making me laugh. Her cheeks flush pink. "And ignore her use protection line."
"Why? I always use protection." I shove my hands in my pockets so I won't make a grab for her because having her this close is doing something to me. Making me want to grab her and do inappropriate things to her.
"Right. Of course you do." She glances at me, her cheeks still flushed, her eyes full of fire. "Not that they'll be any need for protection tonight, considering we're not going to have sex."
Disappointment crashes over me and I push it aside. She just threw down the first challenge of the evening. "You've already got the entire night all figured out, huh?"
She nods as we make our way down the hall toward the front entrance. Swear to God the doors swing open as we pass, girls peeking their heads out, mouths agape. As if they knew I was going to make an appearance tonight and all my adoring fans showed up to see me. It's annoying. It's freaking nerve wracking because if one of them is someone I've been with before, and she opens her mouth and says something…I'm screwed.
Jade will leave me in the dust. And I haven't even kissed her yet.
I really, really want to kiss her. Those lips…are the stuff of fantasies. Plump and full, her upper lip a little puffier than the bottom one, and slicked in a flattering pink color that isn't too glossy. When their lips are covered with that sparkly shiny shit, it's not pleasant to kiss. At all.
But I would love to kiss all that lipstick off her mouth. Breathe deep her scent. Run my lips down the length of her neck. Wrap her hair in my hand and tug the slightest bit, make her gasp, make her moan, make her pull me in closer…
"I don't put out on the first date," she says haughtily, her nose tilting upward. Snobby you can't touch me waves radiate off her but I see right through them.
It's a front. A form of protection. A wall she believes will keep me from scaling over and getting to the true Jade.
Yet another challenge. I almost want to rub my hands together and tell her I'm ready to start the climb. Though she'd probably take it the wrong way and slap my face.
"That's a shame," I say with a heavy sigh. She shoots me a look and I smile at her, reaching out to push open the door as I come to a stop. "Ladies first."
She studies me, her gaze roaming all over me and my skin goes hot. What does she see? I wish I knew. Or maybe I don't want to know. "Thank you," she murmurs as she exits the building, giving me a prime view of her ass in that too short skirt and holy shit, I've never been so turned on by the back of a girl's thighs in my life. They're slender and pale and I narrow my eyes, looking for a birthmark. A scar. A mole. Something I can remember those thighs by.
And then I see it. See them. A scattering of freckles on the back of her right thigh, they remind me of stars.