Christine is excited to read this one! Check out an excerpt from the book below and enter for the giveaway – good luck! When You Are Mine releases on June 17th – add it to your TBR!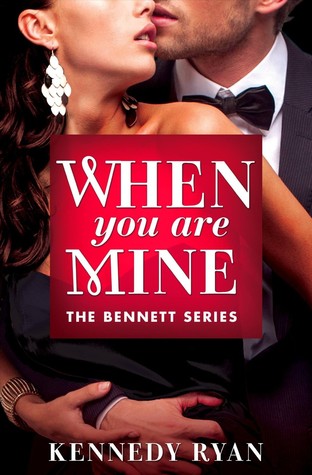 Forever is a heartbeat away . . .
Kerris Moreton knows how to make things work. Bounced from foster home to foster home as a kid, she adapted; when opportunity arose, she thrived. Now, about to open her own business and accept a marriage proposal, Kerris is ready to build the life she's always wanted. The only thing missing? A passionate connection with her would-be fiancé, Cam. Kerris wants to believe that sparks are overrated-until Walsh Bennett lights her up like the Fourth of July.
. . . but what about love?
As one of the East Coast's most eligible bachelors, Walsh enjoys financial independence, fulfilling work with his family's nonprofit, and plenty of female attention. But lately he's been distracted by the one woman he can't have. Lovely to look at and even sweeter to know, Kerris is the soul mate Walsh never thought he would find. The problem is, his best friend found her first . . .

"You visiting someone in the children's ward?" He paced his long steps to match her shorter ones.
"Actually, a few someones." She slid a hand into her back pocket over the subtle swell of her bottom. "I volunteer here. We do crafts, mostly making jewelry. Necklaces, bracelets. Nothing fancy, but it seems to cheer them up."
He nodded, searching his mind for something that would make her linger. She saved him from asking something truly idiotic with a question of her own.
"Are you visiting someone?"
"Yeah. Her name's Iyani." Walsh looked up the hall toward the little girl's room. "She's one of the kids from our orphanage in Kenya. She has a brain tumor. We thought it had been taken care of, but it's back. The prognosis isn't good, but I knew she'd have a better shot with the medical care here than there."
"You really care about those kids, huh?" Kerris lobbed him an admiring glance.
"Of course. In addition to our own orphanages, there are several all over the world that we support. I'm involved with them all."
"So you have a thing for orphans, huh?" Kerris's smile drew him in and warmed him up. "Is that why you and Cam get along so well?"
"I don't know what Cam told you, but things didn't start off so smoothly with us." Walsh couldn't help but smile remembering his early years with Cam. "He was at one of our camps here in North Carolina. I was down from New York spending the summer with my mom. Cam and I hated each other immediately."
"He didn't tell me that part. Just that you guys ended up attached at the hip."
"Men are not attached at the hip." He scoffed with affronted male dignity. "But we were close by the end of the summer. A few fights, several pranks, and lots of trash talk later."
"I know he feels really lucky to have found you and your family."
"We felt lucky to find him. I always wanted a brother. He was it."An awkward silence fell between them when they realized their destinations would take them in different directions. Walsh knew that he shouldn't, but he looked for an excuse to prolong…again.
"I know you have your crafts class, but do you have time to meet Iyani?"
"I'd love to." She glanced at the watch on her wrist. "I have a few minutes." They entered the sterile room, both watching the little girl swallowed by the large
hospital bed. Walsh made a note to brighten things up next time he came.
"Mr. Bennett!" Iyani stretched her IV'd arms toward him, like little wired pencils. "You came."
"I told you I would." He gave her a quick hug and a smile. "And I brought someone to meet you."
Walsh noticed Kerris blinking away tears at the sight of the little girl whose smooth, dark skin contrasted against the stark white sheets like coffee against milk. Soft, dark curls were just starting to grow back on her smooth scalp, but a scar streaked its way along one side of her head like an angry lightning bolt. The other side looked swollen, the growth below pushing against the skin. In contrast to the battle-scarred head, her bright smile and shining eyes glowed with simple joy.
"She's so pretty," Iyani said in her softly accented voice.

There were several signs that Kennedy Ryan would be a writer, but making up stories with a mop as her long-haired heroine while the other kids played kick ball may have been the most telling. After graduating with her journalism degree from UNC-Chapel Hill (GO, HEELS!), she found various means of gainful employment having absolutely nothing to do with said degree, but knew she would circle back to writing, in some form or fashion. Some day. After years of working and writing for non-profit organizations, she finally returned to her first love – telling stories. Her debut novel, When You Are Mine, the first of The Bennett's trilogy, releases through Grand Central's Forever Yours imprint in June 2014.
Kennedy writes contemporary romance and women's fiction. She always gives her characters their happily ever after, but loves to make them work for it! It's a long road to love, so sit back and enjoy the ride.
In an alternative universe and under her government name Tina Dula, she is wife to the love of her life, mom to to her son, and a friend to those living with autism through her foundation Myles-A-Part.