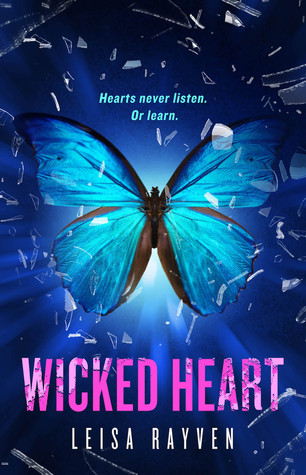 Wicked Heart

by Leisa Rayven
on May 3, 2016
Pages: 304
Buy on Amazon
Goodreads


Liam Quinn is talented, gorgeous, and one of the biggest movie stars in the world.

He's also the only man Elissa Holt has ever truly loved.

After being out of her life for six years, he and his gorgeous fiancé are set to star in the new Broadway show Elissa is stage managing. The only trouble is, when late night rehearsals bring Elissa and Liam together, the line between what is and what could have been gets blurred, and one moment of weakness will lead to a scandal that echoes around the world.

Elissa knows that falling for Liam again would be a tragedy in the making, but as any good romantic will tell you, love doesn't always follow the script.
Happy Release Day to Leisa Rayven and Wicked Heart! I absolutely LOVE LOVE LOVE 2nd chance romances – full review, an excerpt and a chance to win a copy of Wicked Heart (US/Canada only) below! Good luck!!!

So by now you know I LOVE second chance romance stories. The angst, the anticipation and tension, that connection and attraction for that other person that can't be denied, that feeling that this person is "the one" and the reader's hope that the characters will stop at nothing to be together again.
I LOVE that heart pounding, nervous feeling I get when I read these types of books and this is EXACTLY what I felt while reading Wicked Heart by Leisa Rayven. I completely loved Bad Romeo and Broken Juliet but this book elevated Leisa's status from must read author to "I will drop everything and read your books, anytime, anyplace. I will read your grocery list too!!" It was that good 😉
So what's it about?
Well, we met Elissa Holt (Ethan's sister) in the prior books and we are now finally getting her story. It's been six years and Elissa is again face to face with the only man she has ever loved – movie star Liam Quinn. Liam is back at Elissa's theater taking on a role in a new theater production costarring with his fiancé Angel. Liam is the guy who got away, the one who said he would always be there for her until he broke her heart and fell for his costar, and left her behind for fame and fortune.
In Wicked Heart, readers are taken on a journey from the beginning of how Elissa and Liam met and dated, through the heartache and pain of breaking up, to the present where both characters are trying hard to stay away from each other despite the old feelings that are so hard to ignore.
I completely adored all of the characters in this book – from the all professional stage manager Elissa, to the swoony heartthrob Liam, to his kind and sweet fiancé Angel, to all of the secondary characters. Each so well crafted, adding layers onto the story that just made me fall deeper and deeper in love with this story and rooting for the perfect ending for everyone.
I have to be honest and say that my heart was really put through the ringer with this one because I was so torn on how to feel…my heart ached, I cried, but I laughed and loved too. Will Elissa ever be able to put her trust in love again?
Well of course, I won't be telling you what happens but I will say this….I was a little surprised about the unexpected shocking twist..Oh Leisa you are wicked to screw with my heart and emotions…but I LOVED EVERY MINUTE! OMG!
Wicked Heart is emotionally charged, angsty, funny and above all else completely EPIC! This is a Leisa Rayven trademark unputdownable read that grabbed onto my heart and soul from the very first page to the very very end. And while this story is not something that hasn't been done before, it was written with Leisa's magic touch – her ability to create a story that weaves its way into your mind and body until you forget all else and want to stay immersed into a story that you know will pull at your heartstrings. Wicked Heart is a story that I will never forget.

FOOL ME ONCE
Present Day
Pier 23 Rehearsal Rooms
New York City
Tingles up my spine. Blood hot and fast beneath my skin.
Goddammit. This isn't good.
Why is this still happening to me after all these years?
I'm not a girl who swoons easily. I'm really not. If I were to describe myself I'd say I was passionate but logical, fiery but methodical, spontaneous but organized. All of these traits might seem like contradictions, but they make me a damn good stage manager, and I'm not too humble to say that at the age of twenty-five, I'm one of the most respected show runners on Broadway. Producers know they can depend on me to stay calm in a crisis. I run my shows with military precision, and I demand strict professionalism from everyone, especially myself.
My rules for a stress-free work environment are nonnegotiable: Treat everyone with respect, be firm but fair, and do not ever get romantically involved with someone in the show I'm running. For most of my career, I've had no problem following my own rules, but there is one thing that can derail my equilibrium in one fell swoop.
Well, not so much one thing as one person.
Liam Quinn.
As I sit in the private cinema with my production team and watch the shirtless man on the screen take down an overwhelming number of enemies, I'm embarrassed by how hot my skin feels. How my breathing is shallow, and my thighs are pressed together. How I drink in every angle of his face and body. How I thrill to the flex of every perfect muscle.
But even more than that, I'm embarrassed how the passion of his performance makes me fantasize about doing passionate things to him. Not just sexual things, but they're certainly high on the list.
To put it simply, he makes me swoon like it's his damn job.
He's the only man who's ever affected me like this, and it's safe to say I hold it against him. It's inconvenient and rude.
He runs toward the gorgeous redhead on the screen and pulls her into a passionate embrace. The redhead is Angel Bell—recent cover model for People's "Most Beautiful Women in the Known Universe" and basic all-round Goddess. Perfect body. Perfect boobs. Perfect face. She's playing a seraph princess. Liam is her scorching-hot demon slave. They've just about destroyed the world trying to be together, and now Liam's kissing her like he'll die if he doesn't.
Goddamn, that man can kiss.
I cross my legs and sigh. This is insane.
I'm not against being aroused in general, but being aroused by this particular man is a recipe for disaster. The last time I let myself have these feelings for him, it didn't end well.
I feel a hand on my arm and turn to see one of Broadway's most respected directors, Marco Fiori, leaning over. His eyes are bright with excitement, and it's clear I'm not the only one who's noticed Liam's … assets.
"Quite the specimen, isn't he?" Marco whispers.
I shrug. "If you like that sort of thing, I suppose." My raging hormones scream that we do like that sort of thing. We like it a whole helluva lot.
The only trouble is, we can't like it, because Liam's an actor, and we don't date actors. Also, in a few weeks, I'll be his stage manager. Also, he's engaged to his gorgeous costar.
Oh, and perhaps the most important reason is, once upon a time, we had a short but passionate-as-hell relationship and I've never recovered.
Somehow, I've managed to lock away the heartache he caused, possibly because I blame myself as much as I blame him. But the desire? That's still roaming free, storming through my composure like a bull in a china shop.
Yep.
This is going to be an interesting project. It will be a miracle if my professionalism and I make it out alive.
*   *   *
From WICKED Heart by Leisa Rayven. Copyright © 2016 by the author and reprinted by permission of St. Martin's Press, LLC.

*Giveaway now over – congrats to Ellie*
Enter to win a copy of Wicked Heart! (US/Canada ONLY)
All you have to do is share this excerpt and giveaway on your social media account(s) (Facebook, Twitter, Instagram, etc). Sample message below:
Wicked Heart is LIVE #StarCrossed #EpicLove #TopFave @LeisaRayven @shhmomsreading
 Please make sure to post a link to your shares below. One winner will be chosen Sunday May 22nd. Thank you for sharing!