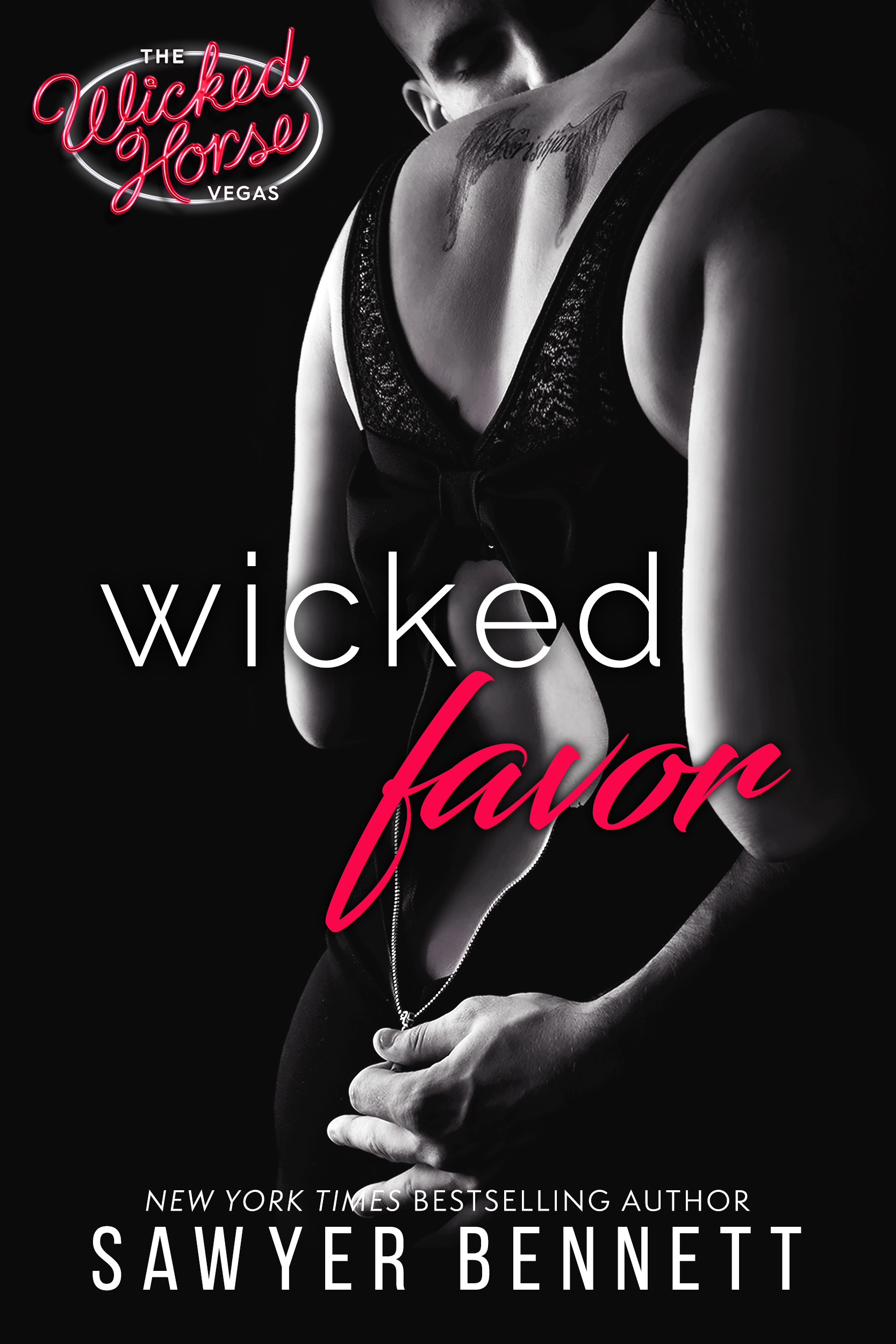 Wicked Favor

by Sawyer Bennett
on June 5, 2017
Buy on Amazon, Buy on B&N, Buy on iTunes, Buy on Kobo
Goodreads

New York Times bestselling author, Sawyer Bennett, is happy to introduce a new Wicked Horse club in Las Vegas and you're cordially invited to attend the grand opening...

As the owner of The Wicked Horse, an elite sex club located along the Vegas Strip, Jerico Jameson never spends the night alone. Gorgeous, ripped, and totally alpha, Jerico doesn't grant favors and will rarely give you the time of day—unless he wants you in his bed. So when the sister of his sworn enemy shows up asking for help, saying no should be easy. But when Jerico takes one look at her and sees an opportunity to help this beautiful woman while exacting revenge on her brother, he's not about to pass that up.

Beaten and bruised, Trista Barnes is running out of options, and Jerico is her last chance to get out of the mess she's in. She doesn't know why Jerico despises her brother so much, but as long as he can help her, she doesn't care. Jerico offers her safety while opening her up to a sinful world she never knew existed.

As she succumbs to Jerico's erotic charm, Trista lets herself fall into the wicked world of guilt free pleasure with no regrets. Under his strong alpha hand, she blooms, and so does Jerico's possessiveness. But what happens when Trista finds out she was a pawn in Jerico's game all along, and that the price for his favor was steeper than she ever imagined – her heart.
We are so excited to share with you a sneak peek from WICKED FAVOR by Sawyer Bennett. Make sure to enter the giveaway below for a signed copy of this book!

Jerico
For three nights, I've watched her.
By any definition, I'd totally be considered a stalker.
But from the comfort of my office, I can pull up the security feeds on my monitor and take note of the subtle changes in Trista as she works the condiment tray. Truth be told, I don't need her working that job and have a much greater need for her to go back to cleaning, but fuck if she doesn't look a hell of a lot sexier in a thong than a turtleneck and pants.
Part of my training in the military was gathering intelligence, so I can pick up on the slightest of details that could tell me a very important story, and there were a lot of changes I noticed over the last three days with Trista as she settled into her job routine.
The most important and pleasing thing was that Trista's stopped hiding her sexual curiosity. When she first started working here, she looked around a room in a vague way, not taking in too many details. I think she was afraid to watch.
Afraid of what it would do to her body.
But that has definitely changed.
Now, Trista watches what the patrons are doing. Sometimes, she stares for long moments and much to my delight, the kinkier the acts, the longer she stares. My trained eyes take in her chest rising and falling to keep up with what I'm sure was a racing pulse. She'd adjust the straps covering her breasts in a very minute way either because the pressure on her nipples was too much, or because she wanted to create some friction.
Naughty, naughty girl.
My favorite though was when she would cross one long leg over the other and squeeze her thighs together as she watched, and I had no doubt her clit was probably pulsing with desire.
Trista was getting braver too. She never once took any man up on an offer to join, and there had been some I'd seen. I had told her she could if business was slow, but I also made a spectacle in front of Willis that she was off limits. Perhaps Trista thinks she's off limits to everyone, and it's fine by me if she wants to think that.

*Giveaway now over – congrats to Jackie Uzzell*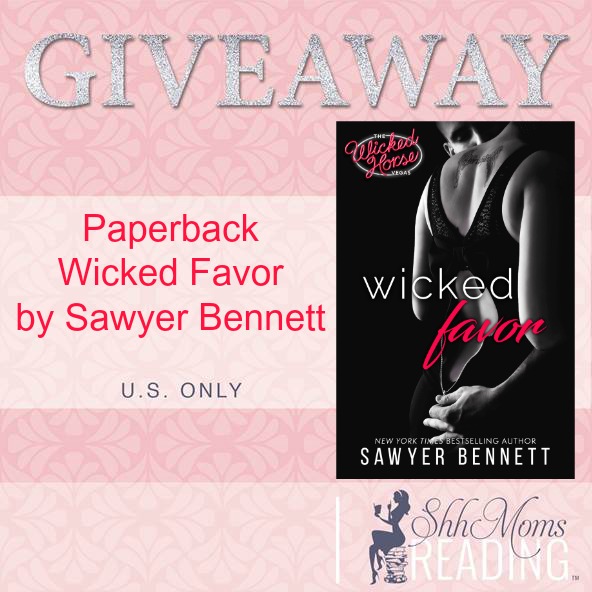 Enter to win a signed copy of WICKED FAVOR (open U.S. ONLY)
All you have to do is (any of the following):
➡ share this post and giveaway on your social media account(s) (Facebook, Twitter, Instagram, etc). Sample message below:
Wicked Favor is #ComingJune5th #ExcerptAndGiveaway #WickedHorseClubVegas @shhmomsreading @bennettbooks
➡ Add Wicked Favor onto your GR TBR https://www.goodreads.com/book/show/34537412-wicked-favor
➡ Stop by Sawyer's FB page, give her a like and let her know Shh Moms Reading sent you and how much you are looking forward to reading Wicked Favor https://www.facebook.com/bennettbooks/
 Please make sure to post a link to your shares below (the more you do the more chances to win!). One winner will be chosen Wednesday, May 31st. Thank you for sharing!
ABOUT THE WICKED HORSE BOX SET

Never in your wildest dreams could you begin to imagine all the filthy and depraved things that go on inside The Wicked Horse. Step inside to make every one of your dirty fantasies come true.

GET MORE INFO HERE

More Books Coming Soon in this Series

WICKED WISH

The Wicked Horse Vegas (Book 2)

By Sawyer Bennett

Release Day August 15, 2017

STANDALONE

Wicked Wish:

New York Times bestselling author Sawyer Bennett heats up Sin City when the Wicked Horse comes to Las Vegas. Stop by and visit the Wicked Horse Vegas to fulfill your Wicked Wish and to make your darkest desires reality.