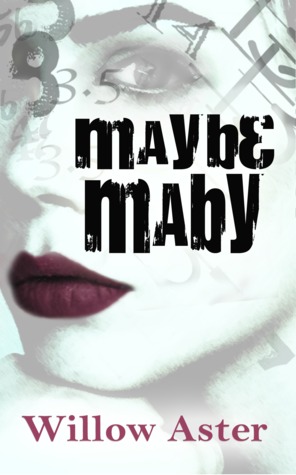 Maybe Maby

by Willow Aster
on July 13, 2014
Buy on Amazon
Goodreads

Mabel Armstrong is on the verge of giving up. But just when things feel bleakest, there seems to be a shift in the universe. People come out of the woodwork. Her ex won't leave her alone. An old friend finally tries to become more. Even the cute guy at the coffee shop starts paying extra attention.

Maybe Maby is a heartbreaking, and at times, hilarious story about coping with loss, finding love in New York, and learning to recognize hope in the middle of it all.
We LOVED Maybe Maby by Willow Aster so much that we are participating in Willow's Blog Hop Promo Week to highlight more information about the book, the author as well as key elements about the book to give you an inside peek on what all the hype is about.
Enjoy our EXCLUSIVE guest post from Willow below about Love Triangles (Warning: Touchy Subject ALERT!)
And make sure to enter the giveaway below for a chance to win an E-Book copy of this book!
Follow along the blog hop promo week by checking out A.K.A The Book Harlots Review tomorrow or by using the following schedule.  Also included are the topics Willow will touch upon during the week – we hope you will join us for a special week with Willow Aster!
7/20 – Shh Moms Reading
7/21 – A.K.A The Book Harlots Review – Q&A with AKA The Book Harlots
7/22 – Three Chicks and Their Books – Q&A with Three Chicks and Their Books
7/23 – Word – Pet Peeves
7/24 – Bookslapped – Me Vs. The Heroines I Create
7/25 – Wolfel's World of Books – Maybe Maby Voicemails
7/26 – Reading Books Like a Boss – Inspiration While Writing Maybe Maby
7/27 – Willow Aster's Website
Touchy Subject Alert:
Love Triangles

This is a hot topic for some readers, so much so that they won't read a book if there's even the hint of a love triangle in there. I know there are all kinds of different variations, but I'd like to talk about the one I have in my book Maybe Maby. I'm going to try to write it without giving away too many details, but to try and tell you the reasons behind why I wrote it this way.
First of all, it isn't even a love triangle in my eyes because I knew right off who Maby needed to belong with, I just wasn't sure if she would get her act together and accept that. (Yes, the characters sometimes have a mind of their own, whether I like it or not.) But I can see why it's perceived that way to everyone but me. 🙂
Breakups are happening constantly. Sometimes it's because someone cheats or betrays their partners, but often, I feel that relationships go wrong because one or both people were 'settling' in the first place. Many stay in relationships that they're not happy in because they think it's what they deserve, not because it's what they want. The warm fuzzies might have never happened, or if they did, they ended long ago, once the insults started flying. Low self-worth sabotages so many things, and a loving relationship is typically at the top of that list.
On the other side of this, there can also be perfectly okay relationships that could last forever … you know, the safe kind that are pleasant but have never had any spark. And because I have to cover all the bases, there are even relationships that have a spark, but still no real substance. Great sexual chemistry but can't have a real conversation? You may knock it, but people stay in relationships like this.
That's settling.
With Maby, she is so aware of all her flaws that when she meets someone who is all she could ever dream of and will never think she deserves, she wants to protect him from herself.
Second, third, or fourth best can seem the safest option, but really, in the long term, it's a disaster waiting to happen for everyone involved.
So, as my friend says: "Make smart choices!"
No settling allowed.
Life isn't always cookie-cutter clear. Sometimes life gets messy and you have to try something before knowing whether it's going to work or not. This is where I hope readers will be understanding of Maby. She might make mistakes, but at least she's honest about trying to find her way.