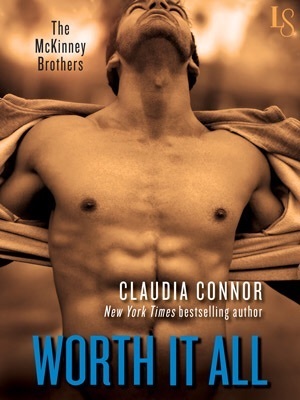 Worth It All

by Claudia Connor
on April 19, 2016
Pages: 264
Buy on Amazon
Goodreads


She's fighting for control. . . . Paige Roberts learned to fend for herself growing up. Now she's doing everything possible to give her daughter, Casey, the stability she never had. But when the vivacious five-year-old decides she's done wearing her prosthesis, Paige faces her toughest challenge yet: trusting a handsome, brooding stranger who simply wants to help.

He's struggling to connect. . . . JT McKinney lost more than his leg in a car accident that stole his dreams of pro football. Eight years later, he's made a new life for himself far away from his old one. His business is developing cutting-edge prosthetics and he's more than happy to turn his attention to machines instead of people. Still, he can't shake the feeling that something's missing.

Will they take a chance on love? . . . When JT gets the chance to help Paige's daughter, he takes it. He never planned on the two of them tearing down his walls or teaching him to believe in himself again. Paige might not believe in happily ever afters, but JT wants more than anything to be her prince. They'll both have to let go of the past if they want a future.
Worth It All by Claudia Connor is a wonderful read about the power of healing. This book is easily read as a standalone as it is set years after the prior two books.
The McKinney brother who stars in this one is JT (Jake). JT is much younger than the others so he grows up a bit in that time gap.
As the blurb reveals, JT McKinney lost his leg in a car accident, the details of that car accident and all the ways Jake needs healing because of that event, make for a powerful and engaging read.
Worth it All finds JT living clear across the country from him family. He moved there to try heal and started a very successful business and now resides on the West Coast away from his family.
JT's first glimpse of Paige was so well done, her actions in the moment spoke to him.
Paige is hesitant to embrace what Jake has to offer and given her past, the reader will finally understand her reservations:
"Something inside her sparked, maybe a tiny, forgotten piece of some faraway girl who used to believe in fairy tales. Because Jake had a way of making her want things she didn't even believe in."
If you enjoy books with children, be prepared for Casey to steal the show. This little girl's place in the story, the healing she requires, the love and connection she has for Jake all worked so well in this one.
How JT's business is developing cutting-edge prosthetics tied into this story often and had me smiling from ear to ear!
And I loved how the McKinney family placed into this one toward the end the healing they bring to Paige, JT and Casey made this a book that will stick with me for sometime.
The end of this book is so well done! I adored the character development that took place with JT before he settles into such a wonderful happy with the family is so deserves.  Jake going out and making that family happen made me love him even more.
 ♥READ THE SERIES♥
Book 1 – Worth the Fall
Book 2 – Worth the Risk
Book 3 – Worth It All