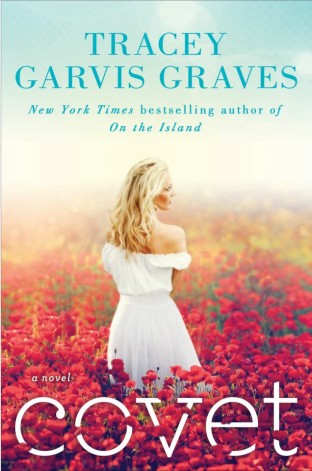 We are so honored to have received an ARC copy of this book from the publisher.  Please note that this is Women's Fiction and covers some heavy topics.  It is a WONDERFUL read and if it is not on your TBR list, you MUST add it today!
Enjoy my review!
This book is scheduled for release September 17th and you can pre-order it here!
---
5 STARS and MORE!!!
Synopsis
From the author of the New York Times bestseller On the Island.
What if the life you wanted, and the woman you fell in love with, belonged to someone else?
Chris and Claire Canton's marriage is on life support. Downsized during the recession and out of work for a year, Chris copes by retreating to a dark place where no one can reach him, not even Claire. When he's offered a position that will keep him away from home four nights a week, he dismisses Claire's concern that time apart could be the one thing their fragile union can't weather. Their suburban life may look idyllic on the outside, but Claire has never felt so disconnected from Chris, or so lonely.
Local police officer Daniel Rush used to have it all, but now he goes home to an empty house every night. He pulls Claire over during a routine traffic stop, and they run into each other again at the 4th of July parade. When Claire is hired to do some graphic design work for the police department, her friendship with Daniel grows, and soon they're spending hours together.
Claire loves the way Daniel makes her feel, and the way his face lights up when she walks into the room. Daniel knows that Claire's marital status means their relationship will never be anything other than platonic. But it doesn't take long before Claire and Daniel are in way over their heads, and skating close to the line that Claire has sworn she'll never cross.
Christine's Review
I have loved Tracey since her debut novel On the Island. I was SOOO lucky to receive Covet as an ARC from the publisher and could not wait to dive right in. Isn't the cover just gorgeous!!
Claire and Chris Canton have always had the perfect marriage until Chris was laid off from his job. For a year, Chris looked for work and though they tried to live within their means, life as they knew it and their marriage suffered considerably. Being the man in the house, I am sure that Chris struggled with not being able to provide for his family and feeling like a failure and because of this went into depression pulling further and further away from his wife and children.
I admired Claire as she took one-off jobs as a graphic designer to help pay bills around the house. Through it all, she did her best to be the strong one in the relationship; to maintain some normalcy for her children and to hide from them the fact that their parents were not happy or in a good place. Claire tried to communicate with Chris and I admired her persistence but it was heartbreaking to watch her become so lonely.
When Chris finally gets a new job, there is frequent travel involved taking him away for days at a time from his family. Not only that but to prove himself to his new boss, Chris works like a machine all day and all night pulling him even farther away from his loved ones.
As I read this book, my heart breaks for Claire because I know how hard it is to be a parent with someone there helping you, but to be the only one to do everything made me want to jump into the book to give her a hand. I wished with all my heart that Chris would get out of his funk and talk to her and to tell her how he felt. Because maybe with some communication, it would not have been so bad or hurtful to Claire.
Through all of this, Claire meets Police Officer Daniel Rush one day during a traffic stop. Claire and Daniel develop a friendship. Daniel listens, looks at her and she matters. Claire has suffered from loneliness for a while at this point and develops an emotional connection with Daniel. And vice versa.
Without giving anything away about this book, can Claire and Daniel ever just "be friends." Or will Claire and Chris be able to rekindle the love that they once had? You will have to read this book to find out because I cannot tell you one thing!!
This was a 5+++ STAR book for me. I went through every emotion imaginable as I devoured this book in a day and a half – it was that good that I could not put it down. I have to admit that after reading it, I did develop a case of book hangover because I could not get over the story or the characters as it touched a part of me because it was so relatable, realistic and so well done. This is everyday life – it's not your normal romance with your HEA and I was very ok with that. Tracey has a magical way with words and this book was just written so beautifully.
I will say that I am not a fan of books that have adultery in it. But this wasn't what I expected at all. This is a story of love, marriage, facing hardships and forgiveness. No one ever says that marriage or life in general is easy. There are always bumps in the road. Through this, we learn to be resilient and realize what's truly important in life which is that love and family always come first. These things are life's blessings – not money or fame. This is a story of being someone who matters, who is cared for, listened to and love. And it goes both ways for both individuals in a marriage. All other things will come and go but you will always have love and family.
I think all of us understand the saying that the grass is greener on the other side or that you always wish for what you can't have. This is THAT story and so much more. Not everything is what it seems and you see that very well in this book. And yes I am talking about that seemingly perfect neighbor next door. This was told in 3 POV's – from Claire, to Chris and Daniel. It was interesting for me to see all of their different perspectives. I LOVED how Chris and Claire first met – it was sweet, carefree and I had a smile on my face throughout. It was so easy for me to fall in love with them. I also loved learning about Daniel's backstory and his life and some of the hardships that he also faced. He was a good man and I fell a little in love with him too.
Some things happen in this book that literally had me saying OMG and gasping out loud. But when Claire finally makes her choice, I felt that it was the right choice with all my heart. It's important to remember to live life with no regrets and this book reminded me of that and so much more.
So I know that this was lengthy but I felt that I had so much to say. Thank you to Tracey for another AMAZING read – you know who I want more of and I hope that you will write that story one day. Another job WELL DONE – CONGRATS to you! <3
About the Author

Tracey Garvis-Graves is the author of On the Island and Covet. She lives in a suburb of Des Moines, Iowa with her husband, two children, and hyper dog Chloe. She blogs at www.traceygarvisgraves.com using colorful language and a snarky sense of humor to write about pop culture, silly television shows, and her suburban neighborhood.