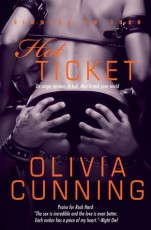 We are really excited about Olivia Cunning's upcoming February 5th release of Hot Ticket! 
 
See below for a special offer from Sourcebooks for the release and IF THAT'S NOT ALL….Enter using Rafflecopter below for a giveaway of a prize pack of Olivia's books (Backstage Pass, Rock Hard and Double Time).
---
4.5 STARS!!!
Summary
There are things in bassist Jace Seymour's past that he is unwilling to share with anyone. To cover his guilt and anguish, he seeks dominatrix Mistress V (Aggie) to temporarily placate his inner turmoil. Aggie doesn't have much use for men–besides the power rush she gets when they're begging for mercy at her feet–but Jace isn't like her usual clients. His cool defiance and unexpected dominance in the bedroom drives her to distraction and quickly steals her heart. When circumstances threaten Jace's position in Sinners, Aggie must help him regain his rightful place in the band while showing him that time and love can heal all wounds.
Denise's Review
HOT TICKET tells the story of Jace Seymour, Sinner's bassist. In Backstage Pass and Rock Hard, the reader is given a glimpse of Jace as shy with only a hint of a dark past and sexual preference. As Jace's story is told in HOT TICKET, the reader is provided with the heart wrenching and powerful backstory that formed the Jace we see in the first two books of this series.
HOT TICKET overlaps with a few scenes in Backstage Pass and then moves forward in the Sinners story. In HOT TICKET, Jace pursues the talents of dominatrix Mistress V (Aggie), the leather clad woman he is mesmerized by during Brian's bachelor party.
Jace and Aggie's first interactions are captivating. Aggie is not used to having feelings for men other than the powerful rush that comes from dominating them. Watching these two get to know each other and slowly open up was engaging and entertaining.
Jace's backstory is multiple layers and heartbreaking at almost every turn during his young life. For me, this was the most emotional read of the series. Jace's story is powerful and complex but one that in the end will warm your heart.
Aggie and Jace's acceptance of each other was wonderful to see. They wanted to understand each other, not change each other, and this felt genuine to the characters Olivia Cunning created. Aggie works to show Jace that time and love can heal all wounds. Jace's transformation was realistic and powerful.
The use of the other characters in the book was fun; there is a scene between Brian and Jace that is so male and very well done. Ms. Cunning also did a wonderful job laying out the relationship between Jace and the Sinner's Drummer Eric Sticks; the interactions will leaving you wanting "Sticks" story as the next read.
This book is really 4.5 stars.  The .5 star deduction is due, not because of the author or the story, but to the publishing sequence. The Sinners on Tour books were released out of sequence (as it relates to the timeline) so I knew the ending to Jace's story due to having read Double Time (the previously released story, which is Trey's story), making HOT TICKET more like a prequel.
I do plan to re-read Double Time after Eric's story is released, allowing me to experience the story the way the author intended this series to flow and it will likely be even more enjoyable since all the pieces will have fallen into place in the correct timeframe.
About the Author
Combining her love for romantic fiction and rock 'n roll, Olivia Cunning writes erotic romance centered around rock musicians. Raised on hard rock music from the cradle, she attended her first Styx concert at age six and fell instantly in love with live music. She's been known to travel over a thousand miles just to see a favorite band in concert. As a teen, she discovered her second love, romantic fiction — first, voraciously reading steamy romance novels and then penning her own. Growing up as the daughter of a career soldier, she's lived all over the country and overseas. She recently moved to Galveston, Texas.
Twitter oliviacunning
Website http://www.oliviacunning.com
Facebook http://www.facebook.com/pages/Olivia-Cunning/243110557677
Goodreads http://www.goodreads.com/author/show/4062698.Olivia_Cunning
 
---
SPECIAL OFFER FROM SOURCEBOOKS!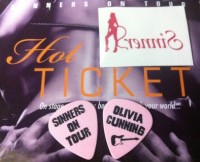 We have a special offer going on for the release of Hot Ticket by Olivia Cunning which comes out on February 5th!  If you pre-order the book, we will send you an exclusive Sinners logo tattoo and one sexy Sinners hot pink guitar pick! But you have to hurry because we only have 1,000 of them available! You have until January 31st or until quantities run out!
Here is what you do:
1.  Pre-order the book (print or eBook) through any retailer (Barnes & Noble, Amazon, Indiebound, BAM, etc.)
2. Email your proof of purchase (receipt or picture of the receipt) to HotTicket@sourcebooks.com. Don't forget to include your home address (US & Canada only please) so we can send you the tattoo and guitar pick! Yes, if you've already pre-ordered it months ago, that counts, you just have to show your receipt.
3. You will get an email back confirming when the items have been sent out.  If you were not one of the first 1,000 people, you will also be alerted.
4. Enjoy Hot Ticket when you receive it in February!
And as a bonus Olivia has decided to run a contest of her own. Here are the details:
---
a Rafflecopter giveaway