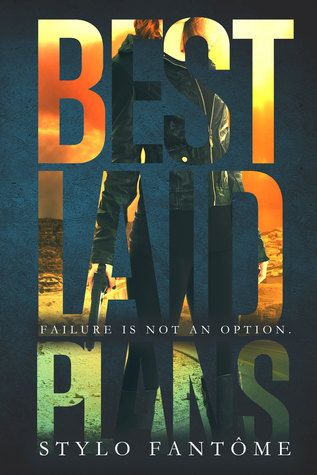 Best Laid Plans

by Stylo Fantome
on September 7, 2015
Pages: 322
Buy on Amazon
Goodreads


THE PLAN:

* Smuggle diamonds from Liberia to Morocco
* Make the trip in three days
* Don't get caught
* Don't kill each other
* Don't have sex with each other
* Don't fall for each other
* Stick to the plan

This is the story of what happens when an unlikely bond is formed between enemies, causing tensions to rise, and igniting a chemistry that threatens to burn them both. Together, they'll learn that sometimes even the best laid plans can fail.

If this NOVEL were a MOVIE, it would have an R rating from the MPAA. Contains: Violence, Grisly Images, Strong Language, Nudity, and Graphic Sexual Content.
I LOVED this book! Another book I devoured while on vacation, the sexual tension was HOT and the suspense was even BETTER!
I enjoyed the action packed adventure, every interaction and the energy that exuded from this book. You can tell as you turned the pages how well thought out this book was, how thoroughly researched as I felt that I was actually in the story, seeing every scene, every location in my own mind.
So what's it about?
Well, Marcelle De Sant (Marc) is a mercenary/hitman on a mission to steal diamonds and bring them to the Russian mob. Liliana Brewster (Lily) is a transporter who is supposed to take the diamonds out of Liberia into Russia. What starts off as a job followed by a HOT night together becomes something more as the two are forced to work together to get out of Africa.
Learning to trust will be huge for these two because of the lives they live but even more so, the deceit and lies and the bad guys that they are running from will make for some edge of your seat, nail-biting scenes, leaving you wanting more and more.
Best Laid Plans should be a movie! Vivid descriptions, multi-layered characters that I loved, Stylo has written another great book and I CAN'T WAIT to get book 2  (Out of Plans) which releases in December to see how it will all turn out.
A wonderful reading experience with twists and turns that left my heart racing, I look forward to reading where their journey will take them and if they can find that life that they so deserve.
Stylo gives us a list of 5 reasons why fans/new readers should pick up this book:
1. It's different and it pushes boundaries, which I think everyone could do with a bit of, now and then
2. They might learn something they never knew about a different country, and learning is good
3. It's a departure from my other works, but still has the erotica base that is my preferred genre (a.k.a. lots of steaminess haha)
4. It literally takes you on a journey
5. The summer is almost over – can't end it without one last blockbuster big action flick!