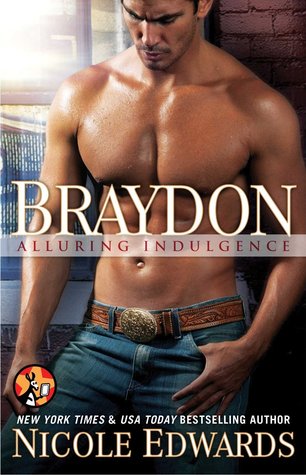 Braydon

by Nicole Edwards
on November 24, 2014
Pages: 338
Buy on Amazon
Goodreads


From New York Times and USA Today bestselling author Nicole Edwards comes the sixth searing adventure in her Alluring Indulgence erotic romance series, which follows the seven Walker brothers and their sizzling-hot love interests!

Braydon Walker has always shared everything with his identical twin brother Brendon—hopes, dreams, career choices, and yes, even women. Known for tag-teaming their love interests in every way imaginable, Braydon is surprised and unnerved when he finds himself wanting to keep their newest lover all to himself. Will the twins' relationship evolve to fit this new mold, or will Braydon's desire for independence tear them apart?
Braydon is the story is Braydon Walker, one of the 7 Walker Brothers, the one who has an identical twin named Brendon.
I want to pause and say if you have not read this series, I highly recommend you stop reading this review and go 1-click book 1 Kaleb.
Each book in the Alluring Indulgence series tells the story of one Walker Brother, and now 6 books in, readers have learned so much about these men that I recommend you start with book 1 before jumping into this one.
Braydon prior to this story was in the shadow of his twin, Brendon; B and B share everything, a home, career choices and yes, women. Which in Holiday with the Walkers made for a few smoking hot scenes! And that is truly what this story focused on…Braydon coming out from Brendon's shadow and finding himself.
I truly adored watching Braydon come to terms with what and who he wanted and then stepping up and grabbing ahold of that. Bray came into his own right in front of the readers eyes.
My heart broke for Brendon; he was so used to leading and being with his twin that when Braydon stopping following Bren, Bren somehow lost a piece of himself. There were times in the book my eyes were misty for Bren and masterfully in a way that had me not mad at Braydon or Jessie. The pain in this story is not about the heartbreak of breakup but again growing up and in some sense moving forward; moving forward on a path the twins never really thought about but one that truly does seem to fit.
Jessie's love for Braydon shined through, I think many readers, me included, saw hints of this in prior books and it was powerful to see this relationship become more.
As with many of the Walker men, sex prior to the I love you's is a bit messy as many of the lives and sex lives of these characters are intertwined. The positive part of that is that Jessie and Braydon wanting just each other, to be a relationship different that what the family first saw, is something most in the family could relate to.
As Braydon comes into his own, he finds his sexy voice and wow it is hot! I also want to add that I love how Braydon let Jessie take control sometimes and there is one scene that I found super hot as Jessie brings Braydon immense pleasure (yes you will know it when you read it).
This book has what I thought was truly the perfect happy for Braydon, the epilogue was so well done and truly fit these two.
The journey to Braydon and Jessie's happy pulled at my heart on so many levels and made me even more excited for Brendon's story.. though Sawyer first (yes excited for him too).
I do hope we get the backstory for Lorrie and Curtis, because the short snippet about Mrs. Walker that was shared in this one was so powerful.
Thank you, Ms. Edwards for the Walker family – they truly hold a special place in my heart.
If you love family sagas and have not read this one, I strongly recommend you 1-click Kaleb and start the journey today.
♥READ THE BOOKS♥
Book 1 – Kaleb
Book 2 – Zane
Book 3 – Travis
Book 4 – Holidays with the Walkers
Book 5 – Ethan
Book 6 – Braydon
Pre-Order Book 7 – Sawyer
Pre-Order Book 8 – Brendon