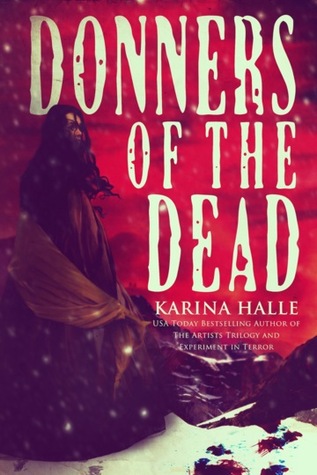 Today we welcome Karina Halle to our blog as she celebrates her new book DONNERS OF THE DEAD which released on 2/24/14. Make sure to enter for a chance to win some amazing giveaways using Rafflecopter below. Good luck!
---

***A Standalone Horror Romance coming February 2014***
Jake McGraw was unlike anyone I'd ever known. He was brash, rude, unapologetic and arrogant; chauvinistic, close-minded, and terribly stubborn. He was built like a tree, tall with a hard chest and wide shoulders and hands that looked like they could wrestle a bear. He was a cigar-chomping, scruffy-faced, beast of a man. I was pretty sure I hated him. And I know he hated me. But among the flesh-eating monsters in these snow-capped mountains, he was the only thing keeping me alive
The year is 1851 and pioneers in search of California gold are still afraid to travel on the same route as the tragic Donner party did years before. When the last wagon train to go into the Sierra Nevada mountains fails to arrive at their destination, Eve Smith, an 18-year old half-native girl with immense tracking skills is brought along with the search party, headed by an enigmatic former Texas Ranger, Jake McGraw.
What they find deep in the dangerous snow-covered terrain is a terrifying consequence of cannibalism, giving new meaning to the term "monster." While the search party is slowly picked off, one by one, Eve must learn to trust Jake, who harbors more than a few secrets of his own, in order to survive and prevent the monstrosities from reaching civilization.
***This is NOT New Adult***
It's worth mentioning that the author does state in the beginning that this book is based on the story of the Donner Party during the winter of 1846-1847 when this family faced starvation, murder and cannibalism to survive.  Though this is a true story, the author has taken some fictional liberties and so thus this story is not historically accurate.
So of course me being me, I had to research this event in American history and read about the hard yet horrific decisions that these people had to make in order to survive treacherous conditions.
Not to be taken lightly, I was completely entertained throughout my read while admittedly covering my eyes because I was scared out of my mind.  I read this book in one sitting.
This book is a prime example of all things that I love about Karina Halle books – the quality she gives us and the desire to continue reading well into the late hours of the night.  I could not put this book down despite the zombie thoughts racing through my mind.
I loved all of the characters in this book – main characters and secondary.  All adding depth and layers to the story to make it thrilling and exciting.  And yes, even though this story focuses on an expedition to find missing people, there is a romantic aspect that left me  extremely happy with how it ended…the added bonus of using real life events and using creative liberties to give us something that will keep you on the edge of your seat makes Karina brilliant in my mind!
Job well done as always!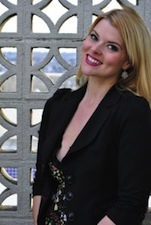 The daughter of a Norwegian Viking and a Finnish Moomin, Karina Halle grew up in Vancouver, Canada with trolls and eternal darkness on the brain. This soon turned into a love of all things that go bump in the night and a rather sadistic appreciation for freaking people out. Like many of the flawed characters she writes, Karina never knew where to find herself and has dabbled in acting, make-up artistry, film production, screenwriting, photography, travel writing and music journalism. She eventually found herself in the pages of the very novels she wrote (if only she had looked there to begin with).
Karina holds a screenwriting degree from Vancouver Film School and a Bachelor of Journalism from TRU. Her travel writing, music reviews/interviews and photography have appeared in publications such as Consequence of Sound, Mxdwn and GoNomad Travel Guides. She currently lives on an island on the coast of British Columbia where she's preparing for the zombie apocalypse with her fiance and rescue pup.