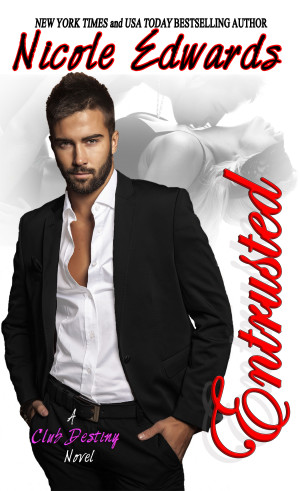 Today we welcome Nicole Edwards to our blog as she celebrates her new book ENTRUSTED!
Make sure to enter the giveaway below! Good luck!!!
---

Elijah Penn
Handsome. Successful. Single.
And looking for a polyamorous relationship.
It has been four years since his wife died, but Elijah knows that there will never be another woman who will claim his heart and he isn't willing to replace her. He isn't interested in marriage, but he is interested in something with a future.
Logan and Samantha McCoy
Attractive. Ambitious. Married.
And looking for a polyamorous relationship.
Logan and Samantha spent the last year and a half avoiding a very specific desire that neither of them can quite let go of. They aren't interested in a casual fling with a stranger, so they've been holding back.
Is it possible that the three of them have stumbled upon something that just might be the answer to all of their desires?
This is the third book about Logan and Samantha's relationship; yes you heard me right book 3; one novel and this second novella so please do not read Entrusted or this review until you read Conviction and Addicted!
This book is truly best if you read the whole Club Destiny series first. We hope you don't let the number of books deter you because these books form a wonderful storyline revolving around characters who will take up residence in your heart.
WARNING…. I am going to write this review under the assumption that the reader has read the Club Destiny series because I need to say that after reading Perception, I so wanted Elijah Penn's story! Perception introduces the reader to Elijah and also reveals that he is widow; having lost his beloved wife Beth to brain cancer and this left me wishing for a happy for him.
I adored this menage read; Entrusted truly had me understanding why Sam, Logan and Eli seek this threeway relationship; a happy that was right for all three of them.
I loved getting to know Eli; Ms. Edwards did an amazing job with his backstory and with showing the reader his past, his present and in the end a future that allows Eli to be loved without having to give-up his love for Beth.
The effort put into helping the reader understand Sam as she strives to understand what she wants out of life had me feeling her conflict and in the end believing her desire to make  a relationship with Logan and Eli her happily ever after. The evolution of Sam to this point in her life over the course of these books was so well done.
There was some outstanding use of secondary characters in this book! The men on the golf course; Luke, Logan's twin as the voice of reason with Cole chiming in, truly brought a smile to my face from ear to ear!
Entrusted also allowed the reader to see Logan adjusting to what this all means for him; as Logan watched his wife deal with what bringing a third into their relationship meant in the past and how very different this one might be, as a reader I truly felt like Logan was on board.
In the end Logan and Eli seem to form a bond; one deep rooted in a love for Sam but also one that seems connected by mutual trust.
Sam's truly understanding Eli's love for Beth; Beth's permanent place in Eli's heart had me knowing Sam accepted Eli wholeheartedly and with all of his being.
OK, yes the sex is hot. True to her reputation, Ms. Edwards burned these three hot; but she layered that heat with emotion which for me made it even hotter. The sex in this case was at times purely erotic, at times emotional, at times about respect and in the end it became just one component of the relationship these three develop.
Sam and Logan's journey has taken some time but it is their very unique happy that really works for them, it was an evolution for them and one the reader was able to bear witness to.
Ms. Edwards did an amazing job evolving their relationship over the course of these books; it felt true to them as they explored and expanded on what they wanted and what love and fulfillment meant to them.
In the end the happy Sam, Logan and Eli find truly felt right for them. And I love loved the final scene!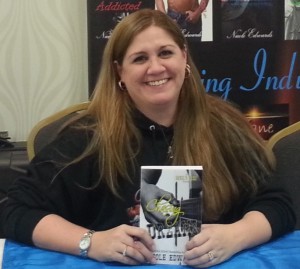 Nicole lives in Texas with her husband, Colt, three kids and four dogs. It's quite the household and most of the time you'll find her locked away in her office… writing. When she's not, you'll likely find her reading, swimming, or hanging out in the yard with the dogs, doing her best to keep them in line. (And no, it doesn't usually work)
Ever want to let that other part of you loose? The part that has secret desires and taboo fantasies? Well, that's what brought about Nicole Edwards. She's an alter ego. In truth, she's a full-fledged part of me. The secret part made up of sinfully hot desires and erotic thoughts. Get to know how Nicole's naughty mind works by checking out her books!
About me… hmmm…
Ok, I've been asked to provide a little bit of "real" information about myself. That's harder to do than you think it is, especially for someone who has difficulty talking about themselves. 😉 But, here goes…
I've been writing for as long as I can remember. Ever since I was a kid, I loved creative writing and as I got older, I got acquainted with those voices in my head and that led to putting my stories on paper. And now, here I am all these years later, spending my days doing what I love most. I decided to give myself over to writing full time in 2012 and I haven't looked back. I spent nearly 13 years in the corporate world and I have to say, this is a bit of a change (just a little) and I am loving every second of it.
I live in Texas with my husband and three amazing kids and our four beloved dogs. If I'm not writing, I'm usually reading. I devour everything I can get my hands on. I love romance of any type and being an Indie author myself, I'm always looking for new Indies to support. I haven't always been into reading, but about eleven years ago, I picked up a book – I'm pretty sure it was by Nora Roberts – and from there, I haven't stopped. Before I began writing full time, and my characters started taking up so much of my time, I was reading about 200 books a year. That has dwindled somewhat, but there isn't a day that goes by that I don't read.
An interesting fact… I don't watch television – aside from the occasional news anyway. I will go see a movie or two rarely, but for the most part, I get all of my entertainment from a book. Some of my favorite authors include J.R. Ward, Suzanne Brockmann, Lora Leigh, Jane Rylon, Lori Foster, and Jaci Burton just to name a few.
---
Club Destiny Series Reading Order
Book 1 – Conviction (paperback)

Book 2 – Temptation (paperback)

Book 2.5 – Addicted

Book 3 – Seduction

Book 4 – Infatuation

Book 4.5 – Captivated

Book 5 – Devotion

Book 6 – Perception

Book 7 – Entrusted