Today we welcome M. Leighton to our blog as she celebrates her new book Everything For Us which released on September 3rd.
Enter for a chance to win some amazing giveaways using Rafflecopter below!
---
4 STARS!!!
Synopsis
When it comes to passion this hot, it's all or nothing.
Olivia Townsend's wealthy cousin Marissa had everything a girl could ask for—a great job, a privileged life, and all the friends she wanted. Or, at least, all the friends money could buy. But one case of mistaken identity has turned her privileged world upside down.
An abduction gone wrong lands her right in the lap of the sexiest, most dangerous man she's ever met. To Marissa, he's an enigma, but one to whom she's irresistibly, inexplicably drawn.
With him comes a new world of freedom and passion, of dark shadows and dangerous secrets, a world where nothing is what it seems—except for the blind passion that Marissa can't escape—or maybe even survive.
Excerpt
It's not such a bad thing, my attraction to him. It's the emotional distance I feel from him that's bugging me. I suspected he'd be in and out of my life like a flash of lightning—bright and electric and then gone without a trace—but on some level I must've expected him to be a little more open with me, a little more…feeling. But it's like the only thing he feels is my physical presence, my body. And, of course, anger. Lots and lots of anger. It's always there, hovering just beneath the surface. It's like nothing is stronger than that, no feeling or person or emotion.
I think he loses himself in me much the same way I lose myself in him, only his is much more temporary and transient. As soon as his mind strays from our physical connection, from desire, he's right back in his miserable past and his equally miserable present.
Denise's Review
Do not read this review (or Everything For Us) unless you have read book 1 Down To You and book 2 Up to Me as I would hate to ruin the readers experience of either one of those wonderful books.  I can not write this review without revealing some of that is in book 1 and 2 so please note SPOILERS BELOW!
Everything for Us starts right where Up To Me ended and you find yourself as a reader pulled right back into the story.
Everything for Us gives the reader a real look at Nash Davenport, the real Nash. And if you have read this series you know I mean the person not some metaphor for a character opening up.
I will warn you Nash's backstory will break your heart… his journey into adulthood was hard, and is really about a young man just trying to survive – literally keeping himself alive. Nash lives the question what would you do to stay alive and what it does to this man's soul will pull at yours.
Nash warmed my heart as he opened his soul to Marissa.  Yes, Marissa the mean cousin to Olivia that most of us loved to hate in book 1.  Ms. Leighton redeems Marissa big time in this book, you feel her remorse and attempts to make amends. Marissa truly strived to live a life she now choses for herself not one her father chooses for her.
As the story moved forward you will often find Cash and Nash working to keep their identifies intertwined in an attempt to solve their Mother's murder and get this father out of prison.. so read carefully and enjoy the ride.
Nash's journey is painful and will often have you pondering if this man can move forward from the hell he has endured, wondering if his spirit has truly been too broken to love back.
Let me just say, Ms. Leighton gives the Davenport twins an ending that left me with a huge, huge grin from ear to ear!
About the Author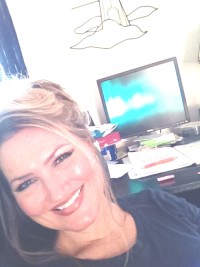 M. Leighton is the New York Times and USA Today bestselling author of The Wild Ones and The Bad Boys romance trilogies. She is a native of Ohio, relocated to the warmer climates of the South, where she lets her mind wander to romantic settings with sexy Southern guys much like the one she married and the ones you'll find in her latest books. When her thoughts aren't roaming in that direction, she'll be riding horses, swimming in ponds and experiencing life on a ranch, all without leaving the cozy comfort of her office.