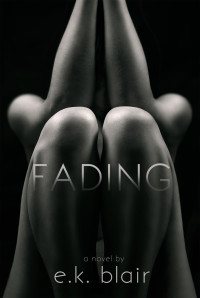 Today we welcome E.K Blair to our blog as she celebrates her debut novel Fading which released on June 19th.
Enter for a chance to win some amazing giveaways below.
---
4 STARS!!!
Synopsis
Can a guilty conscience keep wounds from healing?
Fine arts major, Candace Parker, grew up with a mother who thinks image is everything, and her daughter's perfection will never be good enough. About to graduate college and pursue her dreams of becoming a professional ballerina, Candace decides it's time to let go and have a little fun. But fun is short-lived when a brutal attack leaves her completely shattered.
The memories that consume and torment Candace are starting to destroy her when she meets Ryan Campbell, a successful bar owner. He feels instantly connected and tries to show her that hope is worth fighting for. But is Ryan harboring his own demons? As walls slowly begin to chip away, the secrets that are held within start to become painful burdens.
At what point do secrets become lies?
(17+) This book contains mature subject matter that is not suitable for those under the age of 17.
Book Trailer

Fading by E.K. Blair book trailer from Novel Idea Inc. on Vimeo.
Excerpt
Ambulance

I stare up at the bright white light that is above me in the cab of the ambulance and focus on my breathing.

What just happened? Is this even real?

"Miss, how do you feel? Can you tell me if anything hurts?" he asks.

How do I feel? I don't know how I feel. I don't even know what the hell just happened. I feel scared and numb. I feel everything and nothing all at once. I feel like this is a dream—a goddamn nightmare that I can't wake up from. I don't understand. I'm so confused. Fear and misery rip through me and create a new emotion that I can't even begin to describe. My heated tears roll continuously down the side of my face as I remain staring at the white light.

"Miss?"

"I don't know," is all I can manage to say, my only attempt at a response to his very confusing question.

I move my eyes downward to look at my body, and I am covered in a grey wool blanket. Suddenly, I remember that I am naked beneath this blanket. Embarrassment wells up inside of me, and I begin to sob uncontrollably.

"I want to go home!"
Christine's Review
This was a well written debut novel from E.K Blair.  I was totally captivated by this book by the end and am very much looking forward to book 2 in this series.
Candace studies ballet in college and has great friends in Kimber, Jase and Mark.  Her relationship with her parents is somewhat strained as they have high expectations of her, feel that her major is not "good enough" and feel that at her age she should already have a long term boyfriend that she wants to be married to.  Because of her mother's obsession with her having a boyfriend, she sets her up with a son from an affluent family named Jack.  Jack is not the typical person that Candace would be attracted to but she decides to give it a try because he seems to be a nice guy.  Unfortunately in life, not everything is at it seems and despite coming from a great family and being a member of a ritzy country club – Jack does the unthinkable to Candace and her life is changed forever.
Rather than rely on her best girlfriend Kimber, Candace turns to her good guy friends Jase and Mark for support throughout this difficult time.  This did not make any sense to me because being a good friend, Kimber has not done anything wrong for Candace to avoid her.  I struggled a bit with Candace's character as a lot of her choices didn't make sense to me.  She was young and naïve and I did have some trouble connecting with her.  I felt badly for her and for everything that she had been through and I wish so badly that I could have connected with her at a deeper level.
Now when Candace meets Ryan, a friend of Jase and Mark's who owns a local bar – holy hell this guy is perfect!  He is sweet, protective, doesn't rush or push Candace and seems to have her best interest at heart.  Unfortunately because of everything Candace has been through, she finds it very hard to trust Ryan though I love him from the moment I met him!  This will be a slow building romance but one that I enjoyed watching grow.
So will this broken girl ever be able to trust someone enough to let them into her heart?  Will she ever learn to live again or always just get by and exist?  And what will happen to her relationship with her best friend Kimber and will they ever be the same again?
You will have to read this book to find out!
This book dealt with many heavy issues – it was very emotional for me yet at times lengthy and drawn out.  I felt that it could have used some editing as there were some scenes I felt it was too long and found myself skimming at times in the beginning.  What really worked for me was that the prologue had me awestruck and sucked me right into the book.  I also enjoyed that despite being a little drawn out in the beginning that it really picked up for me about 50% into the book and I really became engaged in the story and what would happen next.
I enjoyed this story very much because I felt that it was very realistic.  I loved watching Candace and Ryan's relationship grow from an innocent relationship to actual love.  I felt it in my heart when she actually started to need him like what he always wanted her to do.  This story pulled at my heart and I just wanted this couple to work so badly!
I look forward to book 2 in this series to read Ryan's POV as I would love to see what his thoughts were throughout this book and see it through his eyes.
This was a very well done debut novel and I look forward to reading more from this author!
Dream Cast
---
About the Author