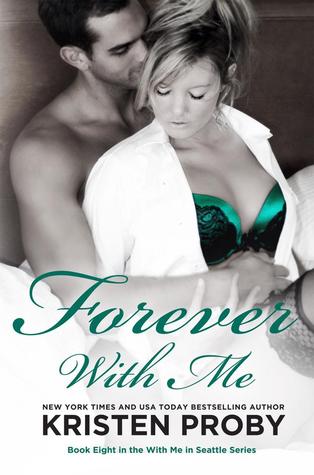 Forever with Me

by Kristen Proby
on December 2, 2014
Pages: 290
Buy on Amazon
Goodreads


From the New York Times and USA Today bestselling author of the With Me in Seattle Series comes the end of a saga…

Dominic Salvatore seemingly has everything a man could want. He's found a new relationship with his father and the entire Montgomery family. His vineyard, Cuppa di Vita, is a success. There's only one thing that eludes him: a certain driven, intelligent, and sexy as hell blonde named Alecia.

Alecia works tirelessly building her event planning business. It's the most important part of her life. Despite the beautiful, lavish weddings she organizes, Alecia is convinced that the idea of true love is a myth. While Dominic is a sexy, intriguing man, welcoming the handsome Italian into her bed, and her life, is a risk she's not so sure she's willing to take.

However Dominic isn't used to taking no for an answer, and it's not long before these two are burning up the sheets and discovering a connection that neither can deny. But will it be strong enough to last forever?

"I'm going to eventually make you understand how amazing you are,tesoro." – Dominic Salvatore
As I opened this book, the first thought that entered my mind was "there is nothing like a Proby book."
The dialogue Ms. Proby crafts is so rich and engaging; it's like the reader is a fly on the wall. She truly pulls the reader into this world. There were many times in this book, I felt like I was in the room with this cast of characters.
I want to pause for a moment and say I love the With Me in Seattle series; if you have not read this series, I highly recommend you pick up book 1, Come Away with Me, which is currently Free. And I recommend you read the series prior to reading this final book as much of the story is a build on things from prior books.
Now, Forever with me; readers met Dominic Salvatore in a prior book in the series as the illegitimate son of Steve Montgomery, one of the patriarchs in this series. While Alecia is an event planner who is seen in many of the prior books.
The hints are a connection between these two come to life in Forever with Me as Dominic's Vineyard Cuppa di Vita is the site for the wedding of Will and Meg (Play with Me) and Alecia is the event planner for this grand wedding.
OK another pause, I love Will; I love Will HARD; the reader is again reminded how playful Will is and how he adores Meg and would give her the world if he could; this football star again stole my heart (PS I LOVED Will in the epilogue too).
Back to the story…Dominic and Alecia's professional relationship blends into a hot personal one with some help from Jules and Natalie, Dominic's "sisters". The evolution of their relationships, the breaking through of pain from the past made for a wonderful read.
The use of the whole cast throughout this book not only warmed my heart but also created a family for Dominic and Alecia; families both of them deserved. There is a scene with Dominic and Steve towards the end that truly touched my heart.
The epilogue of this book was just WOW!  It was truly the cherry on top of an amazing series!
The voice used was NEW to the series and made for the perfect ending to a wonderful journey with this cast of characters that will forever live in my heart.
OUR SEATTLE LOCATION: Red Mill Burgers 

Here is an Explanation from Kristen of our location:

Red Mill Burgers is one of my very favorite places to eat in Seattle. The food? Spectacular. I'm quite sure that it's a heart attack in a bag, but it's the most delicious burger you'll ever put in your mouth. In fact, I'm salivating right now just thinking about it. Given how much Will loves his food, it made sense that this would be his favorite burger joint. And isn't it convenient that it's Meg's favorite too? These two crack me up.

I clear the e-mail from my screen and throw the phone in my handbag, climb out of my car and head into Red Mill Burgers, my favorite place to indulge in a big, juicy burger and fries.
I stand in the back of the line and contemplate the latest in a long line of rejection letters from the Seahawks. I am a nurse at Seattle Children's Hospital, and my teenagers would love nothing more than to meet their sports heroes. I thought celebrities got off on photo ops like this. All I'm asking for is a couple of hours. They don't have to spend the night, for Pete's sake.
I glance to my right, and sitting right in the middle of the tiny restaurant is none other than my college buddy Jules and her brother Will Motherfucking Montgomery.
Son of a bitch!
I love Jules. She and Natalie and I were good friends in college, so I will absolutely go say hi. I just wish I didn't have to speak to her arrogant ass of a brother in the process.
I place my order and saunter over to my friend.
"Jules?" I ask, my hand on her shoulder.
"Meg!" She immediately jumps up and pulls me into a warm hug. "Oh my gosh, I haven't seen you in years! How are you?"
I glance nervously at Will. "I'm doing very well, thanks. It's great to see you." She looks great, as always, but her eyes look a little sad. I wonder what's going on…
"Will, this is Megan McBride, a friend from college. Meg, this is my brother Will."
Will stands, his tall frame towering over me, and offers me his hand. Crap, I have to touch him? Digging deep, I find the manners instilled in me and shake his hand politely. "I know who you are."
He just nods and takes his seat again.
"What have you been up to?" she asks me.
"I'm a charge nurse in the cancer unit at Seattle Children's Hospital." I grin at her, keenly aware of Will's eyes on me, running up and down my body, over my loose-fitting white blouse, which is belted over black leggings, and my red cowboy boots. He makes me nervous.
"That's awesome! Good for you, girl. Are you still singing?" she asks with a smile.
"Uh, no." I shake my head and gaze down at the table. "Not since college."
"You sing?" Will asks, his eyebrows raised.
"She has a fantastic voice," Jules replies proudly. She always was so sweet and supportive.
"Thanks, but you know how it is," I respond with a shrug. "Life takes over and things get busy." And best friends leave you behind to start a band of their own.
Will and Jules exchange a look, and suddenly she hits me with, "Are you married?"
I let out a loud laugh. Not hardly. "Hell no."
"Can I get your number?" Will asks bluntly.
Arrogant ass. I'll bet women fall all over him everywhere he goes.
I narrow my eyes, unable to hide my contempt. "Hell no."
Will's jaw drops, and he smirks, then shakes his head. "Excuse me?"
"I don't think I stuttered," I respond, then lay my hand on Jules' shoulder and force a smile for my friend. "It was great to see you. Take care, girl."
"You too, Meg."
As I turn and walk away, I hear Will murmur, "What the hell was that all about?"
Jerk.
I collect my brown-bagged burger and fries and head back out of the restaurant to go home and enjoy my only night off this week. I pray I don't get called into work.

Series Reading Order
Book 1 – Come Away With Me
Book 1.5 – Under the Mistletoe With Me
Book 2 – Fight With Me
Book 3 – Play With Me
Book 4 – Rock With Me
Book 5 – Safe With Me
Book 6 – Tied With Me
Book 7 – Breathe with Me
Book 8 – Forever With Me