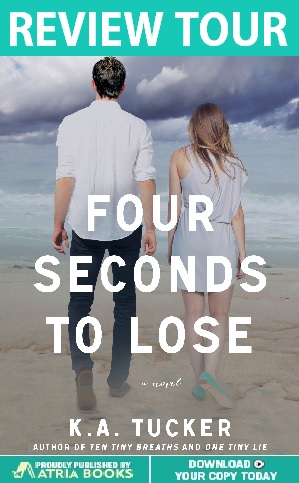 It's Coming!! K.A. Tucker's FOUR SECONDS TO LOSE is right around the corner! This contemporary romance novel releases November 4th, and we have a review for you so you can check it out! There's also an International giveaway below for a signed set of TEN TINY BREATHS, ONE TINY LIE and a galley of FOUR SECONDS TO LOSE. You aren't going to want to miss getting your hands on this new novel from K.A. Tucker. See below for my review and all of the information on FOUR SECONDS TO LOSE and K.A. Tucker, as well as where to find her. Then make sure to enter the awesome giveaway.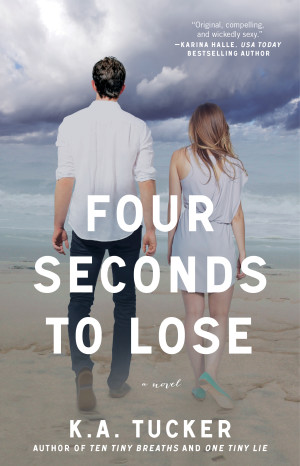 Synopsis
Owning a strip club isn't the fantasy most guys expect it to be. With long hours, a staff with enough issues to keep a psych ward in business, and the police regularly on his case, twenty-nine year old Cain is starting to second guess his unspoken mission to save the women he employs. And then blond, brown-eyed Charlie Rourke walks through his door, and things get really complicated. Cain abides by a strict "no sleeping with the staff" rule. But being around Charlie challenges Cain's self-control…and it's been a long time since any woman has done that.
Twenty-two-year old Charlie Rourke needs a lot of money, really fast, in order to vanish before it's too late. Taking her clothes off for men makes her stomach curl but Charlie tells herself that at least she's putting her acting and dancing skills to good use. And though her fellow dancers seem eager to nab their sexy, sophisticated, and genuinely caring boss, she's not interested. After all, Charlie Rourke doesn't really exist—and the girl pretending to be her doesn't need to complicate her life with romance.
Unfortunately, Charlie soon discovers that developing feelings for Cain is inevitable, that those feelings may not be unrequited—but losing him when he finds out what she's involved with will be more painful than any other sentence awaiting her.
---
Pre-Order Your Copy Today!
Denise's 4 STAR Review
Four Seconds to Lose brings readers back go the location of book 1 Ten Tiny Breaths, readers find themselves in Miami surrounded and learning more about the staff of Penny's the club Storm and Kacey worked it.   It was wonderful to re-connect with Cain, the uncharacteristic strip cub owner who cares for the women who works for him like they were his sisters.
Cain Ford has drawn lines in life and the biggest one is on intimate relationships with the women who work him; he knows first hand the complications that could bring.
When Charlie Rourke is introduced to Cain by Ginger his bartender, Cain finds his world spin in a different direction.  Charlie reminds him of someone he used to know, he is also drawn to this woman who is such a mystery all while able handle herself in almost any setting.
I enjoyed watching Charlie and Cain develop a bond; I enjoyed how Cain could read Charlie, he knew something was off about her; he accepted that, he was willing to earn her trust.
The relationship develops slowly but when these two finally connect it is intense and the reader can feel Cain's connection to "Charlie" and how she feels so different to him then any woman prior.
Both Cain and Charlie have heartbreaking and well crafted backstories; ones that had me wondering what's worse neglecting a child or using the love and trust of a child for your own gain.
When secrets are revealed and the trust unfolds how far will these two go to keep each other safe when the unfortunate hand both have been dealt come back?
Well, you should know me well enough to know I won't tell you  that.
I will say Ms. Tucker did a wonderful job creating two characters I truly enjoy.  I hoped that these two tortured souls could find a pure happy when they opened up their hearts to each other and learned that trust is truly a two-way street.
Each book in this series tells a different story, each one has a bit of a different feel to it, it takes a talent for an author to have such a range of expression. These books can absolutely be read stand alone.
My favorite in the series is One Tiny Lie (Livie's story) if you have not read it I highly recommend you read it today!
I am looking forward to Five Ways to Fall, Ben's story.  And given the use of Nate in this story…I hope his story comes after Ben!


About K.A. Tucker
Born in small-town Ontario, Kathleen published her first book at the age of six with the help of her elementary school librarian and a box of crayons. She is a voracious reader and the farthest thing from a genre-snob, loving everything from High Fantasy to Chick Lit. Kathleen currently resides in a quaint small town outside of Toronto with her husband, two beautiful girls, and an exhausting brood of four-legged creatures.