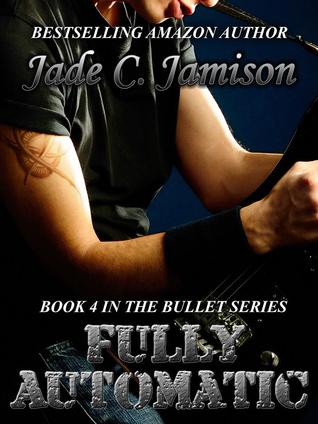 Today we welcome Jade C. Jamison to our blog as she celebrates her new release FULL AUTOMATIC!
Enjoy a BONUS SCENE below and make sure to enter to win an amazing giveaway using Rafflecopter below! Good luck!
---

You might think you know Brad's story, but think again. There's so much more to his story than what Valerie told. See Brad before Valerie came into his life and, when he was playing back burner to Ethan, see what Brad was up to when no one else in the band was looking.
Valerie might have thought she and Brad were inevitable and maybe, in the back of his mind, Brad might have felt that way too, but he didn't just sit around waiting for her. See the secret side of Brad that you had no idea existed. What kept the driving force behind Fully Automatic focused even while his heart was breaking?
Fully Automatic is book 4 in Ms. Jamison's Bullet series.  Now I know this sounds odd but to read this book you only need to read book 1 Bullet as books 2 and 3 take place after Fully Automatic book 4.
Bullet was a Top Read of 2013 for me and Brand Payne one of the Top Male Characters on my 2013 list so I have been anxiously awaiting his story or likely more accurately starting the journey that brought him to the amazing last words at the end of Bullet (yes lines I can still repeat almost one year later)
I want to pause here and say this is not Bullet from another POV; in Bullet there were many times we did not see Brad so although you do see some of the same scenes, Fully Automatic is Brad's story starting before he even meets Val for the first time.
I thoroughly enjoyed truly getting to know Brad. Ms. Jamison did a wonderful job at offering the reader a look into his life, his backgrounds, his passion and the love that was the underlying force in most of his adult life.
As Brad's journey evolves, his passion and determination to make the band a success endeared him to me even more than before. He truly was the driving force behind Fully Automatic.
The scenes that were re-told thru Brad's eyes were pivotal to his story that grabbed ahold of me and had me loving Brad even more than I did from reading Bullet.
At 65% into this book my heart…..ughhhh That scene gutted me again I love that this book has very few re-telling scenes from Bullet. But this one was necessary, and yes painful all over again as Brad's rage is tangible!!  And just like in Bullet, I get a mental picture that makes me sick to my stomach.
Brad Payne's heart was captured by Valerie at an early age, but as those who read Bullet know that, Fully Automatic brings this journey full circle and I highly recommend it!
The end of this book takes you the amazing scene from Bullet I referenced I above plus a long out happy that I loved and yes yet again had me wanting more!!
I am very much looking forward to band members Nick and Zane having their stories told in upcoming books in the series!
This is a must read series for me.


*DO NOT CONTINUE IF YOU HAVE NOT READ THE BOOK!*
I Already Did

Brad stood tall, Val's hand in his, looking at the guy who was talking in front of them. A few days earlier, he'd tried to get Val to marry him on a whim but there was a lot to do. She joked about getting married in Vegas, so he looked it up and completed an application online. That had been just three days ago, and now they stood in a little wedding chapel located on the strip and a man stood in front of them, saying the words.

Should Brad have been nervous? Maybe, but he wasn't. He thought back to the only other wedding he'd ever been personally involved in, and that one also involved Val. Brad was the best man, and Ethan had been a wreck.

Not Brad. Feeling like he was Val's had been all he'd wanted for as long as he could remember, and he'd considered Val his wife the day he'd moved into her house. The ceremony, the rings, the paper they'd have to sign—that was all just formality, something that made their union legal to the rest of the world, but she was already his wife.

So, instead of listening to the words of the guy running the ceremony, he was thinking about the surprise he'd planned for Val a couple of months ago. When they'd moved in together, they didn't move to his house, because it was too small, and, because her child Christopher already had his own room, moving into her house just made sense. But she had a lot of memories there that made it hard for them to think of it as "theirs."

They had been looking at new homes shortly after he'd settled in, and Val had fallen in love with a particular design in a new neighborhood off the beaten path. On the sly, Brad met with the builders, because he had other specifications, and their new home was being built as he stood in the chapel in Las Vegas. He wished it was ready already so he could carry her over the threshold when they returned to Colorado the next day.

It wouldn't be, though. It would be ready before the baby arrived, and, he supposed, that was all that mattered.

He looked down at Chris. The little boy held his mama's hand and took in the wonder of the chapel. It was glitzy and could maybe even be considered glamorous. At least there was a lot for Chris to look at so he didn't grow restless as the man in front of them recited words he'd no doubt said dozens of times before. But then they got to the vow part—the part where Brad and Val could speak. He knew they would have more to say after their personal vows, but Val, being a writer, had wanted them to share their own heartfelt thoughts.

Now Brad felt nervous as hell. They hadn't shared their vows with each other beforehand—Val had insisted they keep it a secret, and now Brad had to go first. He wasn't a writer like Val. He knew he'd never do his heart justice, but he hoped Val knew how he felt anyway. He took a deep breath and looked into her blue green eyes, drawing courage and love from them before beginning. He held a piece of paper with his vows, but he didn't know that he'd have to look at it, because he'd been thinking of the words since he'd written them down. "Valerie Ann Quinn, you are all I ever wanted, will be all I ever need. You are like water to me, because when I'm with you, I no longer thirst. You are like air to me because when I'm around you, I feel like I can breathe again. You are the sun to me, warming my heart. You are my soul mate, the other half of me that makes me complete, and I don't need anything else in my life. I will spend a lifetime with you and that won't be enough. I love you, Valerie. I always have and always will, and nothing will ever change that."

Two tears dropped from Val's eyes to her cheeks. She was smiling, though, as she looked into his eyes. "You know…I know writing our vows was my idea, but when I sat down to do it, I felt inadequate. Words will never say all that you mean to me, Bradley James Payne." She looked down at her child, as though to draw strength from him, but when she looked back at Brad, her lower lip quivered. She was so beautiful and Brad didn't care if she didn't want to say anything else. He was finally the man for this woman, and she was right—words were inadequate for what he felt. Her eyes searched his as she continued. "We have been friends for a long time, and we had feelings for each other that we didn't act upon. Well, I had feelings that I buried. You have always understood me…in an uncanny way, and I thought that made us friends only. We were too compatible. You were too good. You understood me too well. Friends can't be lovers, right? Well, that thinking was pretty stupid, because, when I finally let my heart and mind have a conference, they agreed that you were the man for me. You have stood by me through thick and thin, long after others had walked away. You listened to me. You cared. You supported me and encouraged me to be more than I ever dreamed of. You had faith in me before I had faith in myself. You understood me before I understood myself. You made me believe that the world could be mine if I took it. I love you, Brad. I don't deserve you, but I hope to change that."

He stroked her cheek. He didn't want her to feel like she didn't deserve him. They were partners now and he felt blessed to have her in his life. After years of waiting and wondering, Valerie Ann Quinn had finally chosen him, and he was now the happiest man on the planet. When his mother would ask about the ceremony a week later, he wouldn't be able to tell her anything that happened after the personal vows. He vaguely remembered signing the marriage certificate, but instead he'd drowned in Val's eyes and let her words settle in his soul. Val had told him in front of God and everybody that he was "the man" for her, and nothing else in life could compare to the way those words made him feel.
Jade C. Jamison was born and raised in Colorado, moved from one city/town to the next, and she's decided she likes it so much she wants to stay…although travel is not out of the question. She lives in a big town in Colorado (not unlike Winchester!) with her husband and four children. She is working on becoming a crazy cat lady. Okay, so maybe not.
Still want more? Jade has a bachelor's degree in English Literature and Theater, a master's degree in English, and a master of fine arts in Creative Writing. Obviously, she loves school and the student loan folks love her. She works in human services by day, teaches English and creative writing at night, and—in between playing soccer mom and community leader—writes like a fiend. Someday soon, she'll narrow it down to just writing, but let's get all those kids off to college first.
Series Reading Order
Book 1 – Bullet

Book 2 – Rock Bottom

Book 3 – Feverish

Book 4 – Fully Automatic

---