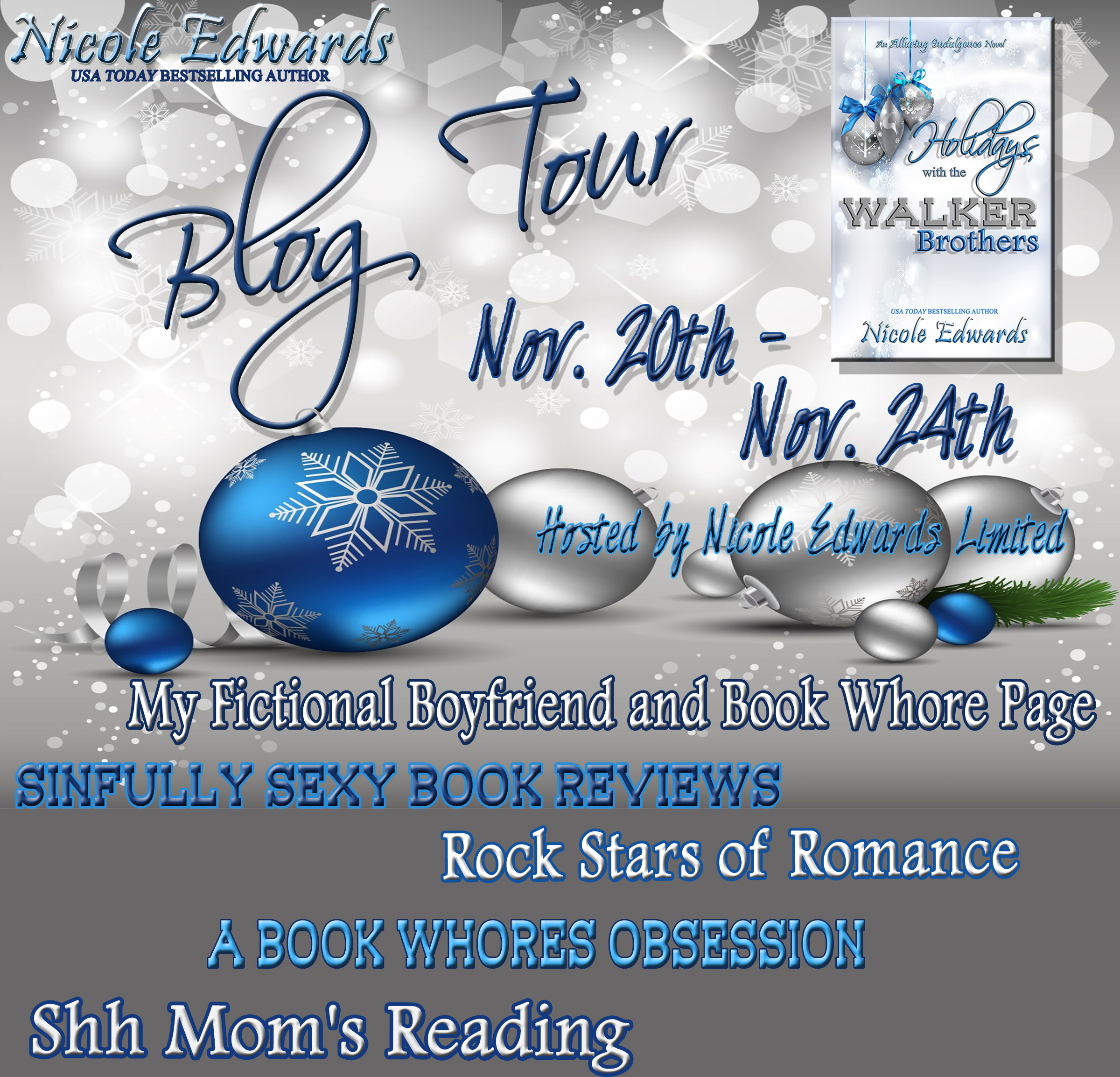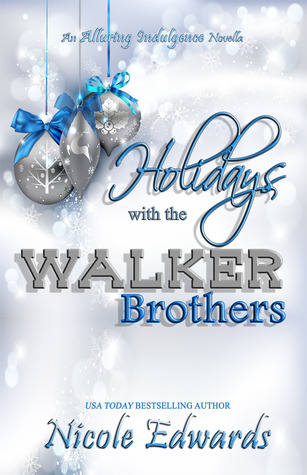 Today we welcome Nicole Edwards to our blog as she celebrates her new book Holidays with the Walker Brothers which released on November 19th. We are beyond thrilled to be a part of this tour. Check back later today for a special bonus from Nicole!
Enter for a chance to win some amazing giveaways using Rafflecopter below!
---
5 STARS!!!
Synopsis
Special Edition Holiday novel
Erotic Romance – Mature Audience
You are personally invited to spend the holidays with the Walker brothers and their families. As with any other time of the year, the seven brothers know how to heat things up while stirring up trouble, and between Thanksgiving and New Year's, they don't hold back.
See how Kaleb, Zane, Travis, Sawyer, Brendon, Ethan, and Braydon spend their days and nights through the holiday season. But just a warning… it doesn't snow much in Coyote Ridge, Texas and they may just be the reason for that.
Warning: This book contains sexy, smoking hot Texas cowboys that may melt the snow outside your window. If nothing else, it'll warm you up for the holidays. This book contains sexual encounters and graphic language that some readers may find objectionable, including, but not limited to: m/f, m/m, m/f/m, m/m/f encounters. Contains graphic material that is not suitable for anyone under the age of 18.
Denise's Review
I thoroughly enjoyed the holidays with Walker Family!!
All 7 of the Walker boys, their significant others, their parents and close friends make for a hot, heartwarming, engaging and yes leave you wanting a bit more read. A bit more because the brothers who still need to have their stories told are seen and heard from, so yes I want more!!
The book opens with Thanksgiving and moves the reader through the Holiday season with the Walker Family.
As this story builds, Ms. Edwards has me anxious to know what these couples bought each other as gifts and often times the real-life stress about finding the perfect gift rang through the reader.
Ms. Edwards must be exhausted from holiday gift shopping as she managed to somehow make each gift given appropriate and heart warming!  Truly speaking to the depth of emotions these characters feel for each other.
I adored the use of Mr. and Mrs. Walker in this book; Curtis is too funny with his boys and Lorrie well she has some scenes that warmed my heart and brought a smile to my face.
Despite the graphic warning about sex in the description, this book transcends that; the sex suits each couple.
Yes, you get Zane and his pool table again; yes you get the lovable Kaleb adoring his wife and you get the twins, yes you get Brendon and Brayden (no I am not saying anything else about the twins – read the book).
In all cases, the sex scenes add to the story for the couples we already know and love and it builds the story for a few of the men we need to still learn more about.
And in the case of Ethan… well let's just say I want his book even more than ever as it is clear this man can't run from his emotions much longer.
The reader is given a continuation of this family's life; you see the prior couples and you see glimpses of what is to come for the 4 Walker brothers whose stories still need to be told.
Sawyer is yet again too funny and his antics had me excited to see this man's heart finally find a home.
Ms. Edwards amazed me with her ability to give each character their own voice and each couple their own unique dynamic.
I am so excited for the 4 books still coming in this series; the twins Brendon and Braydon, Sawyer and Ethan… oh Ethan.. I can't wait for this story and for Ms. Edwards to release her first pure M/M; yes ladies Ethan is a gay man and this book will tell you who he is desperately fighting his attraction to!!
Ms. Edwards thank you for the amazing read! It truly brightened my Holiday season!
Alluring Indulgence has become one of my favorite series!
About the Author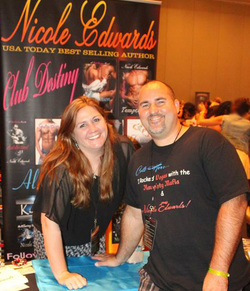 Nicole lives in Texas with her husband, Colt, three kids and four dogs. It's quite the household and most of the time you'll find her locked away in her office… writing. When she's not, you'll likely find her reading, swimming, or hanging out in the yard with the dogs, doing her best to keep them in line. (And no, it doesn't usually work)
Ever want to let that other part of you loose? The part that has secret desires and taboo fantasies? Well, that's what brought about Nicole Edwards. She's an alter ego. In truth, she's a full-fledged part of me. The secret part made up of sinfully hot desires and erotic thoughts. Get to know how Nicole's naughty mind works by checking out her books!
About me… hmmm…
Ok, I've been asked to provide a little bit of "real" information about myself. That's harder to do than you think it is, especially for someone who has difficulty talking about themselves. 😉 But, here goes…
I've been writing for as long as I can remember. Ever since I was a kid, I loved creative writing and as I got older, I got acquainted with those voices in my head and that led to putting my stories on paper. And now, here I am all these years later, spending my days doing what I love most. I decided to give myself over to writing full time in 2012 and I haven't looked back. I spent nearly 13 years in the corporate world and I have to say, this is a bit of a change (just a little) and I am loving every second of it.
I live in Texas with my husband and three amazing kids and our four beloved dogs. If I'm not writing, I'm usually reading. I devour everything I can get my hands on. I love romance of any type and being an Indie author myself, I'm always looking for new Indies to support. I haven't always been into reading, but about eleven years ago, I picked up a book – I'm pretty sure it was by Nora Roberts – and from there, I haven't stopped. Before I began writing full time, and my characters started taking up so much of my time, I was reading about 200 books a year. That has dwindled somewhat, but there isn't a day that goes by that I don't read.
An interesting fact… I don't watch television – aside from the occasional news anyway. I will go see a movie or two rarely, but for the most part, I get all of my entertainment from a book. Some of my favorite authors include J.R. Ward, Suzanne Brockmann, Lora Leigh, Jane Rylon, Lori Foster, and Jaci Burton just to name a few.