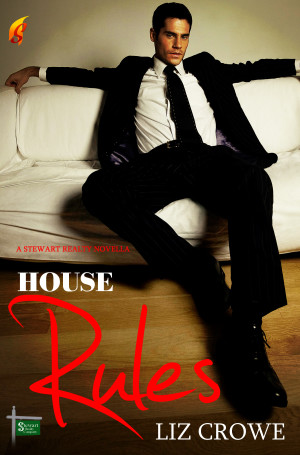 Today we welcome Liz Crowe to our blog as she celebrates her new book House Rules.
Enter to win an amazing giveaway using Rafflecopter below.
---
Synopsis
It takes a wealth of collected experiences, emotions, successes and failures to craft the personality of a true Alpha Male
Jack Gordon, real estate broker, licensed builder, Juris Doctorate, has had his fair share of strife. His ability to cope, to fall down and pick himself back up has lead him to a place where he believes he has it all. Friends, money, cars, more women than he can count, and a club in Detroit where he can exorcise his inner demons, fill his days and his nights.
When he walks up to a penthouse door on a hot Ann Arbor summer afternoon, frustrated, exasperated and ready to call it quits after hours of condo shopping with a wealthy couple, the last thing on his mind is meeting his destiny.
House Rules: The Jack Gordon Story. A prequel novella of the Stewart Realty Series.
Excerpt
The girl he'd been ignoring made a funny, exasperated sound somewhere between a snort and a sigh, breaking his reverie. He glanced at her again and did a double take.
She was curled up on the crappy student lounge couch in a corner of the main law building basement—a place he'd found and scoped out as his own for getting some work done between classes a few weeks ago.
"Yeah," he said, raking his gaze over her near-perfect form. She had big tits, which were a bonus, but since he was an ass and legs man he waited her out. His newfound inner radar started pinging the second her dark blue eyes met his. "I'm Jack."
"Hi, Jack. Jenna." She proceeded to ignore him for a solid hour, and he let her. Because he had already figured something out about Jenna. And knew she'd stick around and chat some more. He smiled when he sensed her nearby, hovering over him. "Um, can you make heads or tails of this?" She pointed to an open passage in her book.
"Maybe. I think I need coffee first. Join me?" He got to his feet and gathered all of his papers. She watched, her eyes widening, then met his smile with one of her own.
"Yeah, sure, Jack," she said, lingering over his name in a way that made him gulp as she stuffed her book in her backpack and shouldered it. The look on her face confused him some, but her body was sending clear signals that he intercepted and translated.
They walked, chatting about nothing in particular, and Jack got his first full look at her. She was about five foot four in flat shoes, with a curvy form, packed into nondescript dark denim jeans and red sweater that dipped into her impressive cleavage nicely. Her dark brown hair tumbled around her shoulders and her laugh was low, sexy. It rumbled around in his libido in a way that he recognized.
He'd spent last summer learning something about himself that shocked him at first. Then had settled into his new reality as a sexual Dom with an eagerness that made that first girl who'd invited him to club a very happy camper.
The owner of the small place in downtown Detroit was an older guy, good-looking still, and content to show him the ropes…and the handcuffs…the floggers… the whips and ball gags. He'd made a project of Jack actually, grooming him, he claimed, for greatness.
He grinned and took a step closer to the alluring, sexy Jenna as they stood in line for coffee. He could smell it on her like lingering smoke—her plain-as-day willingness to submit to him. She looked up and met his gaze.
The moment that should have been awkward made his cock slam into the back of his zipper. He smiled at the sensation. A corner of her full lips tilted up in a way he thought he understood. He figured that was the final sign. He was no expert yet but well on his way. While sensing the sexual energy of every female in a room was sometimes tiring, now that he could channel it, figure out which of them would actually provide him the outlet he required, it seemed that it all led him to this precise moment. And to Jenna.
She leaned closer to him in a way entirely inappropriate for having just met. Yet it was perfect. "I don't want coffee, really. I've been watching you all semester. Let's go to your place."
He swallowed hard. Something was off, or shifted to the left, just far enough for him to sense it and hesitate. He looked down into her deep blue eyes. Saw the way her breathing had ramped up. The pulse in her throat caught his gaze, beating, beating. And those lips…dear god they were tempting.
He forced himself to smile in a friendly, non-committal way. "I don't know, Jenna. Maybe I'm not ready." He raised an eyebrow. This was his scene. He was not about to let her call the shots.
"Oh I think you are." She turned just enough to shield her hand, the one she put right on his crotch.
He didn't move or shift away. He did, however, narrow his eyes at her on purpose, making sure she got the gist of his displeasure. "I'm not sure I said you could touch me yet. Jenna." He kept his voice low and slow, but his brain was starting to hum with a familiar sense of rightness. She lowered her gaze, tucked the offending hand back into her jacket pocket, and started to step back.
He gripped her arm, loving the way the heat transferred from her to him, and shot down his spine. "Don't move." He glanced around then putting his mouth near her ear, taking in a fresh breath of horny female. "I can sense that you know what I like…Jenna…." Her name felt exotic, unique, on his lips. "But just because you want it does not mean I'm giving it to you. Are we clear?"
Guest Post
When You Say "The End" and Mean It
By Liz Crowe

When I was writing Floor Time (which in its original form was a long book I broke into 3 for release in the final form) I had no idea that all the secondary characters I crafted to help boost reality for Jack and Sara would become nearly as compelling as those two. No, I was just going about learning my way in writing, getting edited, getting rejected and finally finding a home for these books. I mean, I knew I loved this cast of characters, but had no real idea that I would find such an outpouring of support—dare I say a "fan base"—for them.

But I'm the sort of writer who does not always listen to "the market" otherwise I would be penning the next great new adult dystopian epic chock full of BDSM lovin' CEO vampires who live on a dude ranch, guarded by Scottish highlanders in kilts who double as psychologists when the Dom Vamps need to unload about their abused childhoods. (I hear Harper Collins calling me already but I will have to tell them "no".)

When I realized the appeal that the first 3 books were having (Floor Time/Sweat Equity/ Closing Costs) I decided that I really wanted to tell the story of Sara's brother Blake and his lover Rob. So I did. Essence of Time broke some hearts including mine. But it also has become a fan favorite, and has won several readers choice and juried "awards" in the process.

So I kept going because, frankly, I was not about to let poor Craig Robinson, Sara's one-time Jack-replacement boyfriend dangle without some kind of resolution because he was a fabulous kid who had a pretty hot background that I wanted to share. And of course, the full circle he ends up making back with the woman he finally falls for is a lovely way to keep him around. Conditional Offer is a book that you really do need to have some background in the series to enjoy, but I promise you that Craig and Suzanne's book does not disappoint.

Once that was done, I simply had to go back and deal with the fallout from Essence of Time. There were people that I left, grieving, and I needed for them to heal. And I wanted to tell Jack's sister Maureen's story. So I did, in Escalation Clause.

Finally, I always knew that Evan Adams, the brewery-owning friend of Jack from law school and his wife Julie had a great history. I told it in Mutual Release. I wrote it as a stand alone, with BDSM elements that are a little different from the majority of the Dom/sub books out there. It has sold pretty well for me too. But I'm one of those small timers who will write, no matter if I end up with same dozen or so folks reading me, and no on else.

I've crafted a trilogy of side stories, a spin-off series more or less called the Black Jack Gentlemen that will release in August and September of this year. The Black Jacks are an expansion (fictional) soccer team in Detroit that our man Jack Gordon put together (players, meet money, meet town who wants a soccer team). The 3 books in this series could ALL be read as stand alones but reading them together will increase your depth of knowledge about the team that will have its own (real) website and black and red striped jerseys you can order personalized with players' names and numbers you meet through the books. I daresay that these 3 books are among my best yet. And I'm halfway through writing a 4th one as we speak.

However, I also envisioned that for the actual Stewart Realty series, there would be an End. That book is called Good Faith and is currently in revisions post Beta reading stages and will hit editing long about July. It releases on November and is a nice in-depth, juicy novel about the teenage and then grown up kids of the main characters from the original series. Jack, Sara, Craig, Suzanne, Evan, Julie, Rob and Lila are all in the book too. As a matter of fact, the first 1/3 of the book is about them, struggling in their later years with various personal and marital demons. But the bulk of the novel deals with their kids' lives and leans heavily on themes of addiction and recovery and relapse and how no matter how guilty you as a parent may feel about a child who can't seem to hold their act together, it doesn't change the fact that they are, in fact, your child.

As part of this final story arc, I wanted to pull some of Jack Gordon's early experiences forward as I feel that in order to fully appreciate the final novel, you need to see where he came from, from his point of view. Many of the stories contained in House Rules are familiar to fans of the series. The Jack Gordon exploits have been told in various other books but always from a perspective NOT his. As I was crafting the final novel, my annoying but otherwise hot 'n sexy muse, Hans gave me a little mental poke and reminded me that Jack's back story deserved it's own novella.

Hence, I share this book with you for free, or otherwise drastically reduced for YOUR enjoyment. You do NOT have to have read any of the previous books to value this novella. As a matter of fact, it's a damn good way to jump into my best selling series (not in romance but in "family saga" and "urban fiction" on Amazon).

And, as much grief as I get about this fact—it remains that the overall series is coming to an end. And I promise that you will see what I mean, once you read it. In the meantime, enjoy my man Jack Gordon for free or a buck. Then dive into the rest of the series with us!
Enjoy! Happy reading!
About the Author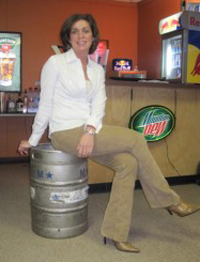 Microbrewery owner, best-selling author, beer blogger and journalist, mom of three teenagers, and soccer fan, Liz lives in the great Midwest, in a major college town. Years of experience in sales and fund raising, plus an eight-year stint as an ex-pat trailing spouse, plus making her way in a world of men (i.e. the beer industry), has prepped her for life as a successful author.
When she isn't sweating inventory and sales figures for the brewery, she can be found writing, editing or implementing promotions for her latest publications.  Her groundbreaking literary fiction subgenre, "reality fiction," has gained thousands of fans and followers who are interested less in the "HEA" and more in the "WHA" ("What Happens After?")
Her beer blog a2beerwench.com is nationally recognized for its insider yet outsider views on the craft beer industry. Her books are set in the not-so-common worlds of breweries, on the soccer pitch and in high-powered real estate offices. Don't ask her for anything "like" a Budweiser or risk painful injury.
For more information on Liz Crowe, please visit her website www.lizcrowe.com or www.brewingpassion.com (her author blog).  She enjoys interacting with her fans on her Facebook author page www.facebook.com/lizcroweauthor. Information for all of her books, including eBook and print formats (where available), can be found on her Amazon author page.
www.facebook.com/lizcroweauthor
www.facebook.com/groups/romanceforreallife
www.facebook.com/jackgordonrealtor
---
GIVEAWAY
a Rafflecopter giveaway

Tour Schedule
June 16, 2013 Tome Tender
June 16, 2013 My Fiction Nook
June 16, 2013 Romance Addict Book Blog
June 17, 2013 Twinsie Talk
June 17, 2013 Lucy Felthouse-Erotic and Romantic Fiction
June 18, 2013 Adria's Romance Reviews Blogspot
June 19,2013 Alphas, Authors & Books, Oh My
June 20, 2013 Shh Mom's Reading
June 21, 2013 I Love Lady Porn
June 21, 2013 Living Fictiously
June 22, 2013 Three Chicks and Their Books
June 23, 2013 Words of Wisdom from the Scarf Princess
June 24, 2013 Bookworm Brandee
June 25, 2013 She Book Blogs
June 27, 2013 So Many Books, Here's Mine
June 28, 2013 Read Your Writes
June 29, 2013 Tattooed Book Review
June 30, 2013 Busy Moms Book Review
July 1, 2013 Seaside Book Nook
July 2, 2013 Jessy's Book Club
July 3, 2013 A Love Affair with Books
July 5, 2013 Sandwich Making Book Bitches
July 6, 2013 I Feel the Need, The Need to Read