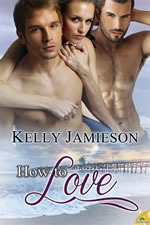 Today we welcome Kelly Jamieson to our blog as she celebrates her new book How to Love which released on June 25th.
Enter for a chance for some amazing giveaways using Rafflecopter below!
---
4 STARS!!!
Synopsis
Relationship, no…but threesome, hell yes!
San Amaro Singles, Book 2
Ever since Jules's new neighbor moved in, she's been undressing him in her mind. Mike is the fresh inspiration she needs to make her erotic photography studio a success, if she can convince him and his equally buff roommate, Carlos, to strip for her lens. And maybe indulge in a little off-camera fun as well.
But Jules isn't too worried. She doesn't do relationships, but she loves men and sex—and in her experience, most men are okay with that.
Judging from the raw emotions leaping from the images in Jules's gallery, Mike senses there's a lot going on beneath her flirtatious, slightly cynical exterior. He and Carlos are happy in their committed relationship, but they've always felt there's a piece missing. They want a woman. Jules could be that woman.
A threesome with two committed men? Sounds like an emotionally risk-free dream come true for Jules. But when they make it clear they want more, her deepest fears push to the surface, straining bonds forged in incredible heat to the breaking point…
Warning: The book features two hot men brave enough to climb cliffs, strip naked for erotic photographs, have sex in a portrait studio and on a cliff, and who have the courage to teach a commitment-phobic woman how to love.
Explicit Excerpt
"Okay, Jules?" Mike moved up behind her and his body heat radiated through her T-shirt. He set his hands on her waist and rubbed his face on her hair. She nodded.
Carlos stepped in front of her, now wearing only a snug pair of black boxer briefs, and started to unbutton her jeans. Mike slid her T-shirt up over her ribcage, nudging her arms, and she raised them so he could lift the T-shirt over her head. A delicious warmth filled her, her limbs going heavy, her eyes falling closed as their hands brushed over her body, removing her clothes. Mike's chest pressed up against her back, hot and hard, his hands sliding around over her stomach, holding her, so carefully.
Carlos helped her step out of her jeans, then stood before her. He lifted her chin with one hand and kissed her mouth, and she sank into the dream, into sensation, heat and touch, whispered sighs and soft breaths, the taste of Carlos on her tongue, her lips. His lips were fuller than Mike's, his kisses different but both so sexy.
Mike's hand slid lower down her belly, resting just above her panties, right where she ached deep inside, his mouth finding the side of her neck and laying hot, open-mouthed kisses there.
"Too much," she moaned, almost overwhelmed by their two big bodies, all heat and muscle, their hands, their mouths.
"Oh baby," whispered Carlos. "You ain't seen nothin' yet."
"I think that's a song."
He smiled. "It is. A great song."
Mike snorted behind her. "Bachman Turner Overdrive? Seriously? That is not a seductive bedroom song."
"Sure it is. I'd sing it for you, but…"
"Christ, no."
Jules let her head fall back on Mike's shoulder, amusement filtering through her once again.
"I'm a good singer," Carlos continued, bending to kiss her throat, then drag his tongue down her chest.
"I'm sure you are," she murmured. Her breasts tightened and sensation cascaded over her.
"No, he isn't." Mike nibbled her ear lobe. "He's a terrible singer. That never stops him, though."
"Sssh," Carlos said, nuzzling the inner curve of one breast, making her breath catch in her throat. "This is not the time to discuss my vocal abilities." Her nipples tingled in anticipation of his touch, and she lifted heavy arms to slide her fingers into his short hair. "This is about Jules."
"Oh." That was so nice. So, so nice.
Between the two of them, every nerve ending in her body buzzed, Mike's fingers playing with the edge of her panties, Carlos rubbing his beard against the skin between her breasts. She let her fingers slide through the roughness of Carlos's short hair. He nibbled at the upper curves of her breasts above the edge of her bra and she arched her back in response. Mike lifted a hand to cup her chin, pulling her head back even farther so he could kiss her mouth, deeply, hungrily. She moaned.
So much sensation, everywhere, surrounding her, consuming her with almost unbearable sweetness, pressure and need building low inside her. Her knees were weakening again.
Carlos reached around behind her to unfasten her bra, releasing her swelling breasts from the cups. She dropped her arms to let it slide off, still leaning back into Mike's embrace, her nipples tightening even more at the air brushing over them. "Oh, Jules," Carlos whispered, cupping her breasts, rubbing his thumbs over her nipples. "You're so beautiful."
She couldn't respond, blood pulsing hotly though her veins, her head spinning from it all. His gentle touches on her nipples, brushing his palms across them, had pleasure rippling through her, nipples so tight and aching she couldn't stand it. She drifted in an erotic haze of mindless sensation. Her entire body quivered and she made a needy little sound into Mike's mouth.
Denise's Review
Though being listed as a book 2, this book can easily be read Stand Alone.
Jules is a photographer who finds new and much needed inspiration in her sexy new neighbor Mike.
The attraction between Mike and Jules is tangible from the start. Though the reader quickly learns that Mike's roommate and business partner Carlos is also his life partner. These two men are buff, hot and honest; honest with each other about their love and their desire to hopefully find a woman to share their lives with. Mike and Carlos are such a nice balance in a relationship, they truly play off and support each other.
As Jules and Mike start to connect first sexually and then emotionally, Mike decides to keep his relationship with Carlos and their true wants from her at least for awhile.
It was quite entertaining to watch this almost blow up in Mike's face, as Jules' attraction to Carlos has her feeling horrible about herself; her inability to open up about her feelings coupled with Mike's lack of openness about the true nature of his relationship with Carlos almost costs them Jules before they even get started.
I have to say there is a scene with Carlos and Jules dancing where you can feel the connection through your Kindle.
Jules photography scenes were outstanding, so well written you could feel the depth of emotions in her photos, they reveal so much of her passion and talent.  And Mike's descriptions of the emotions they have been feeling were so well done, the reader is able to feel it themselves.
I truly enjoyed that this book was about characters further along in their lives with established careers and goals, as not only did Ms. Jamieson use Jules' career to move the story forward she also used the men's business. Mike and Carlos own an adventure tour company, this was used to help Jules learn trust and made for one very hot scene atop a cliff.
Jules is eventually taken by both men and is happy to be a third in their established and happy relationship. Her watching them love each other was so well done. Though the reader sees some encounters with the men prior, Ms. Jamieson masterfully allows the reader to watch the men's first real encounter in the book together through Jules eyes.
These three are hot together, if you have read Ms. Jamieson before you know what I am talking about, if you have not warning you may need a new pair of panties.
As the story build Jules family history reveals to the reader and the men were her underlying distrust of relationships comes from; Mike desire to help Jules move forward was heart warming while Jules pushes back is so frustrating and although you may want to strangle her to me that means the author wrote a wonderful story one that makes you feel a range of emotions.
When Jules is faced with the fact that these men want more, when Mike can't hold back anymore and admits his true feeling… will Jules be able to face her past, her fears, will she be able to accept the world may not accept them or will it cost them all everything?
Well, you will have to read How To Love to find out!
I truly enjoyed this story, I adored Mike and Carlos and the sex was smoking hot; so if you enjoy a menage read and are open to M/M touching I highly recommend this read.
I am very much looking forward to book 3 in this series Slammed.
About the Author
Kelly Jamieson is a best-selling author of over twenty-five romance novels and novellas. Her writing has been described as "emotionally complex", "sweet and satisfying" and "blisteringly sexy".
---
GIVEAWAY
a Rafflecopter giveaway

Participating Blogs HTML
6/25/2013
My Fiction Nook
6/26/2013
Books-n-Kisses
AJ's Reading Nook
6/27/2013
Kinky Book Reviews
Guilty Pleasures Book Reviews
6/28/2013
Cocktails and Books
Blackraven's Erotic Cafe
7/2/2013
Scorching Book Reviews
We Love Kink
7/3/2013
Read Our Lips! Book Review Blog
What's On the Bookshelf
7/5/2013
Hesperia Loves Books
Blackraven's Reviews
7/8/2013
Talk Supe
Lori's Book Blog
7/9/2013
Under the Covers
7/9/2013
The Risque Redhead Reads