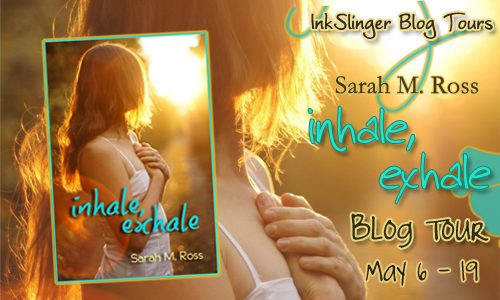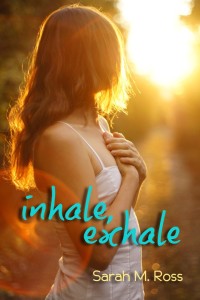 Today we welcome Sarah M. Ross to our blog as she celebrates her new book Inhale Exhale which released on May 4th.
Enter using Rafflecopter below for some amazing giveaways from the author.
---
Synopsis
Jillian had a plan: celebrate the end of her first year of college with an amazing summer full of beaches, barbeques, and bonfires. When her mom insists she needs a summer job, and her boyfriend spends more time with his band than with her, Jillian's plans go down the drain.
Grant had a plan: finish his Masters, get a great job at Google, and get the hell out of Georgia. He might be giving up some of the fun of his youth, but he knows his all work and no play method would be worth it when his dreams come true.
But things never go according to plan.
When temptation brings them together and tragedy tears them apart, Jillian and Grant will be forced to choose: fight for their dreams, or fight for each other.
Excerpt
"Dude, did you get a look at the new hottie Connie was bringing around this morning?" JT plopped down at the desk beside me, spinning around in two full circles before coming to a stop and booting up his iMac. He wore his customary wrinkled khakis with the company polo we all wore, his comic book tee shirt peeking out from under it.
I returned my focus back to my screen. "No, I didn't see anyone this morning since I got here early to recode this algorithm. You know—the one we were both supposed to start on an hour ago?"
"Sorry, man. My mom forgot to wake me. But seriously, Grant. You've gotta go check this girl out. Smokin' body, tight little ass, and that sweet Southern twang that hits me in all the right places, if ya know what I mean."
I rolled my eyes, ignoring his comments about the new girl. "JT, you're almost twenty-five. Why is your mom still waking you up? Or for that matter, why are you still living at home? It's just sad, dude."
JT flicked his pen cap at me using a rubber band as a slingshot. I ducked as it whizzed by and landed in my now-empty coffee cup.
"Whatever. I have it made. I don't have to cook or clean, all my laundry is done and folded when I get home, and it's free. Why would I give that up?"
There was no talking sense into him. "You live with your mom! How do you expect to ever get a girl like that?"
He swiveled toward me and bent slightly, placing his elbows on his knees and steepling his fingers by his chin. "Any chick who wants a piece of this," he paused, running his hands up and down his body like a Price is Right model, "better be down with my ma living with us. I mean, ever since Pops left, she's been real sad and shit. What kind of son would I be if I didn't let her take care of me and just moved out?"
"You'd be the kind of son with more than only his left hand to keep him company." I stood up, tossing my empty cup in the trash. I'd never understand how JT scored girls' numbers every time we went out. He dressed like a slob, had terrible manners, but yet girls still fell all over him. I asked him once. He winked at me and told me it was because he could pass for Joshua Jackson's twin brother (and often did to get laid). The bastard had all the luck.
"You're one to talk. I don't see you sportin' any arm candy. When's the last time you even had a date? Or hell, a one-night stand?" He crossed his arms over his chest triumphantly.
"Yeah, but that's by choice. I don't need the hassle or drama right now, and that's all these spoiled sorority girls bring. I've got to finish my Masters so I can get a job out in Silicon Valley and get out of the humid-as-fuck hell-hole that is Southern Georgia."
JT scooted back to his workstation. "Oh God, not this again. If I have to hear about 'The Plan' one more time, I might poke my eyes out with a spoon. I think I'd rather be forced to teach computer basics to the Senior Center than listen to that crap again."
"I'm not gonna make you hear it again, I'm just sayin' that you're two years older than me and I'm more of an adult than you. It might not be a bad thing to grow up a little, Peter Pan."
"What? And be like you? I've known people in retirement communities with more of a social life than you. All you ever do is work, study, and hide in that crappy apartment of yours. If it wasn't for rowing, I don't think you'd willingly socialize at all. Do you even remember what fun feels like?"
"I have fun," I protested. Well, I sometimes have fun. "And it's called being an adult. I have responsibilities. Goals. You know, other than getting shit-faced or seeing if I can remember some random girl's name in the morning. Maturity! You should try it sometime."
About the Author
Sarah Ross started her obsession with reading at an early age, getting in trouble for sneaking BabySitter Club and Nancy Drew books into math class in elementary school. She would read any fiction book she could get her hands on. Sarah knew it was an addiction when instead of grounding her from TV or music, her mom would take away her books as punishment (The Horror!). Her love of all things paranormal was inspired by her good friend Laurie, who convinced Sarah that books with vampires, witches, and all things shifter were amazing. After a little reluctance, she gave it a shot with the Sookie Stackhouse books, realized she was right, and the rest was history.
Sarah grew up in Pittsburgh, graduated from The University of Pittsburgh with a degree in English, and taught 8th graders to love reading as much as she does for several years. She will always be a proud member of the Steelers Nation, but couldn't take the cold and moved her frozen tush to Florida where she now lives with her family and two cats. You will find Sarah now with her trusty Kindle in hand and toes in the sand!