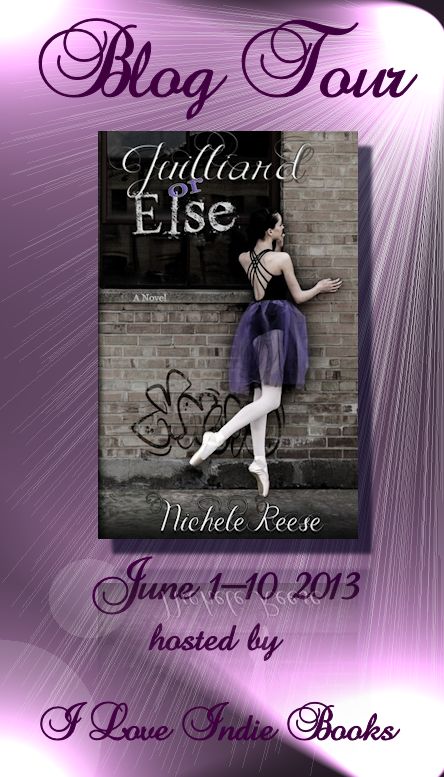 Today we welcome to our blog Nichele Reese as she celebrates her new book Juilliard or Else which released on May 23rd.
Enter for a chance to win an ebook of this great book below.
---
4 STARS!!!
Synopsis
This is a twisting story of young love torn in two.
Abigail McCall has been accepted into Juilliard for Ballet. Being nineteen, she's ready to move out of her tight shell at her parent's house and in with her new roommates. Abigail finds herself distracted with things she never saw herself doing.
'Hey, I'm Tucker.
That's all it took. His own name rolling off his tongue.'
With no job and coming from a broken home with a mother who doesn't care what happens to him, could you blame Tucker for being so secretive? The dark and mysterious Tucker has his sights set on the prim and proper ballerina. So he knows he has to change his self-destructive ways in order to keep Abigail in his life. This means, betraying his closest friends.
Obstacles are thrown at them.
They don't approve of the ballerina and the poor boy.
The world won't let Abigail and Tucker be together. What do they have to sacrifice to stay together…
Can the good come out in the bad? Or does someone always end up hurt and alone?
Tucker has nothing, but Abigail has everything to lose…
New Adult Novel. Contains adult situations, sexuality, some violence, and is suited for ages 18 and up.
Christine's Review
This was Nichele Reese's debut novel and wow!  I truly enjoyed everything about this book – Tucker and Abigail, the setting in NY, the emotions and connections I experienced throughout my reading experience and most of all the honest love I felt between these two characters.
The book opens in Tucker's POV – he is dealing drugs to make money to support himself in Bushwick Brooklyn.  For anyone who is from NY, we all know what this area is like – the crime, the drugs and the hardships that are a part of daily life.  Tucker has had a tough life growing up with a dead beat mother and a dad who beat him as a child and then left; never to be heard from again.  And when Tucker first sees Abigail McCall coming out of her car, it's like the world literally stops.
Abigail has lived a very privileged life – she is an only child and has never wanted for anything as her parents are very wealthy.  Her father is a prominent lawyer and is warm and loving and generous and her mother is just an honest to god bitch – with a capital B!  Her mother has very high expectations for Abigail and is as cold as ice.  Because of her mom's controlling behavior and lack of love, Abigail develops a purging problem.  Yes it did start off as bulimia to control her weight as she is a talented ballerina but over the years it has become just a natural reaction to the stress and anxiety of dealing with her controlling mother and stressful situations.
Abigail has been accepted into Juilliard as a ballerina which is a high honor.  Rather than live in the dorm, her mother buys her and her roommates a very expensive apartment close to school.  As Abigail leaves for the start of school, we learn some surprising things about her life and it all starts to click for me and make sense as to why her relationship with her mother is the way that it is.
Abigail's roommates – Jade and Rachel are awesome.  They are girlfriends that you wish to have because they are there for you to support you and to always have your back.  They give Abigail a new name "Gabs" and it's like a new start for her – a chance to be a whole new person – someone who is free!  Gab's roommates are not perfect  either – everyone has their own secrets and issues to deal with but for once Gabs is not an outsider, she is someone that has a place where she belongs.
When Gabs and Tucker meet – SWOON!  They are immediately drawn to each other and it melts my heart with the intensity yet innocence of it.  Rather than rush into a relationship, they get to know each other slowly over time.  Tucker isn't around too much for Gabs but there is a lot of texting going on.  With all of his absence it makes me question right away what he is doing behind her back.  Tucker has a dream of being a tattoo artist and is doing an apprenticeship with one of his friends but with all of the times he is gone, I can't help but think he will get himself into troubles.
Gabs knows she should take her time with this first love that she has ever experienced and concentrate on her ballet because it has always been her dream but can she put aside her feelings for Tucker?  Can Tucker ever get out of what he knows with drugs and have a life with Gabby who seems so far out of his league?   With all of the negativity from her parents dislike for Tucker, will he ever fit into her life and vice versa?  Will there be a HEA for these two people who feel so strongly for each other yet can't seem to ever be on the same page?
You will have to read it to find out!
This is a wonderful story of two very different people from different backgrounds trying to fight for their common goal – to love one another and have a relationship.  Both make mistakes throughout this book and we see how young love is not always perfect.  This book dealt with some tough issues and I felt that Nichele did an amazing job making us feel and love these characters for all of their imperfections.  There are some suspenseful parts that kept me on my toes and added that extra something for me towards the end of the book.  This book was well written for a debut novel and very emotional.  I look forward to reading more from Ms. Reese and seeing where she goes with Alex and Brad's stories.
I want to mention that the epilogue at the end was again in Tucker's POV and was AMAZING – and it goes to show how with love in your life – your life couldn't be any better.
Love the shoutout to Black Falcon!!
About the Author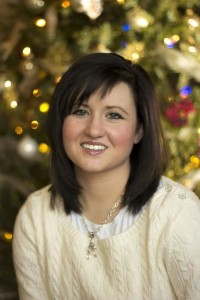 I work in a hospital at night; write my soul out in the day.. I'm married to the most patient man in the world. We have 1 rambunctious little boy, who loves flashlights and likes pulling our 2 furry animals legs.
---
GIVEAWAY
Enter for a chance to win an ebook of this book by leaving a comment after this blog post.  Please make sure to leave your email address too.  Winner to be selected at 10pm tonight.  Good luck!!!