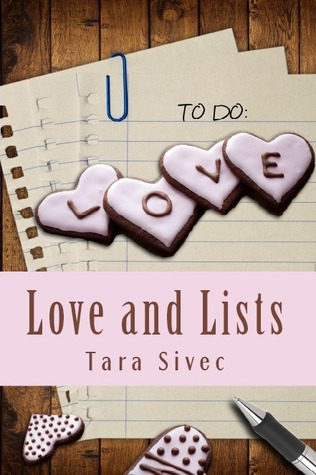 Today we welcome Tara Sivec to our blog as she celebrates her new book Love and Lists which released on October 1st.
Enter for a chance to win some amazing giveaways using Rafflecopter below! Good luck!
---
5 STARS!!!
Synopsis
Love and Lists is the first book in the Chocolate Lovers spinoff – Chocoholics: The foul-mouthed offspring tell their stories.
Twenty-five-year-old Gavin Ellis has always had the love and support of his family ever since he was a little boy and couldn't stop talking about his penis. He's also always had their unsolicited advice and uncanny knack of embarrassing him at all costs. Now that he's an adult and trying to convince the love of his life to love him back, things haven't changed very much from when he was younger.
When Gavin's best friend Tyler suggests he make a to-do list of items that will ensure he wins the girl, Gavin is one-hundred-percent on board: after a few six packs.
After puking in the shrubs, a bad experience with Viagra, a Sex-Ed course gone wrong, and a slew of other mishaps courtesy of his family and friends, Gavin is pretty sure this list will be the death of him.
Sometimes, trying to make someone love you with a list isn't always the best idea. Especially when "Show her your penis" is the first "to-do" item…
Christine's Review
So I forgot how funny Tara Sivec was until I picked up Love and Lists and am swept away into this crazy hysterically funny spin off from The Chocolate Lovers Series.  I hate to admit that I have only read Seduction and Snacks but after reading this, I HAVE TO go back and read of the rest of series as I want to immerse myself into these characters and everything Tara Sivec!
I met Gavin when he was a 4 year old boy obsessed with his penis in The Chocolate Lovers Series.  The Chocoholics Series focus on the children and I am so glad to see that Tara is continuing this family saga.  I couldn't imagine Gavin being an adult and it's almost like one of my children growing up right before my eyes!  Tara has done it again with this first book in the series as I laughed my ass off throughout.  It's almost like a family reunion and I am catching up with loved ones 🙂
I do not want to give anything away about this book as I totally recommend that everyone read it for themselves but the book starts off in Gavin's POV as we watch him trying to capture the attention of the love of his life – Charlotte, the daughter of Aunt Liz and Uncle Jim (not really an aunt and uncle – just really close friends of the family – no inappropriate loving of the cousin involved lol).  Gavin has a list of things he wants to do to get Charlotte to notice him and I am laughing, embarrassed for all of the TMI and am literally saying OMG every second.  I was so obnoxious that my husband (who is never curious about what I am reading) came over to sit with me so I could read passages to him as tears rolled down my face because I was laughing so hard 🙂
The second half of the book is all Charlotte and I am surprised about the turn of events…so not revealing anything!
So really this book was highly entertaining in such a good way and I had a smile on my face throughout.  This is EXACTLY what I needed after a lot of the serious reads I have been reading and was such a welcome change for my heart.  I recommend this book and this author wholeheartedly so pick up your copy today.  You will not be disappointed! <3
Love you Tara – would love to meet you one day because I imagine you are just as funny in person!!!! <3 <3
"Just remember, love and lists.  Nothing else matters."
About the Author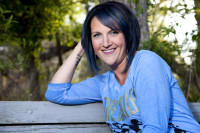 Tara Sivec is a wife, mom, chauffeur, cheerleading coach, soccer coach, babysitter, shortorder cook, genius and albino squirrel hunter. She lives in Ohio with her husband and two kids. In her spare time she likes read, write and cover things in chocolate. Most of her material comes from real life experiences with family and friends. Lucky for them, the names have been changed to protect the innocent (aka, drunk).
Tara also writes under the pen name T.E. Sivec where she can be serious, suspenseful and not at all funny.