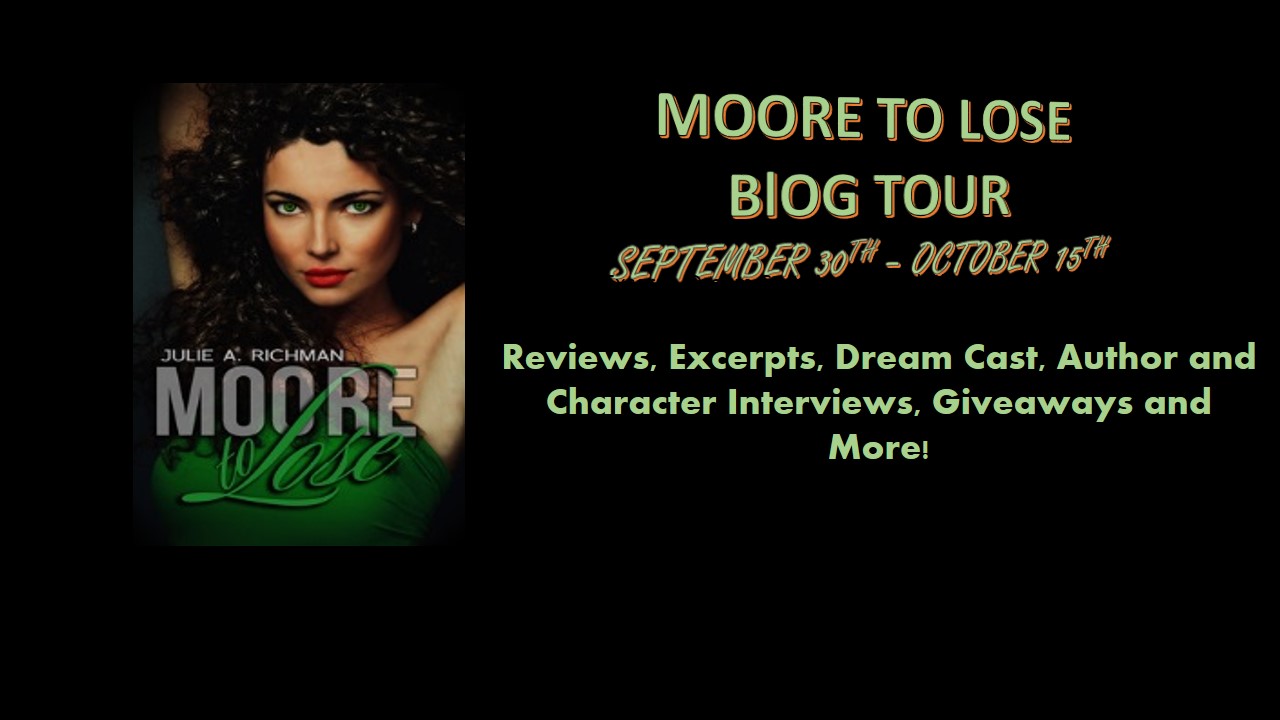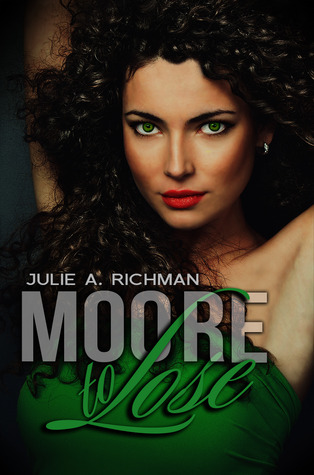 Today we welcome Julie A. Richman to our blog as she celebrates her new book Moore to Lose which released on September 28th.
Enter for a chance to win some amazing giveaways using Rafflecopter below.
---
4.5 STARS!!!
Synopsis
Continuing the fight for their happily ever after that began in Searching for Moore, Schooner Moore and Mia Silver struggle to overcome the ghosts and baggage they accumulated during their time apart.
Exploring the missing 24 years when they were separated, Moore to Lose follows Mia's journey from heartbroken teen to kickass businesswoman to her emotional reunion with Schooner and the exploration of the love that was ripped from them.
But is their love really strong enough to overcome the damage of those missing 24 years or will they continue to be ripped apart by pasts that can't be changed?
This is Book 2 in the Needing Moore Series. This is not a stand alone book. It is meant to be read after Searching for Moore.
Excerpt
As he hardened beneath her fingers, Mia's devil smile grew wider and wider.

"You're incorrigible."

Mia looked at him with her "You didn't just figure that out now, did you?" look and he laughed.

She could feel his erection straining against his jeans and she wanted to take it out probably as much as he did. With a quick kiss on the lips, she ducked her head down the bed.

He started to protest and Mia looked up at him and put her finger to her lips, "Shhhh."

And then she did what he did not expect. She did not undo the top button of his jeans, she did not unzip his fly, she did not reach inside his jeans to pull him out and fondle him (even though she was dying to). With her teeth, Mia outlined his cock through his jeans. As she moved from base to tip at an excruciatingly slow pace, she opened her mouth so that her top teeth were on one side of his cock, her bottom teeth on the other.

The sound of his moan and the feel of his fingers in her hair, made Mia ache to have him inside of her. She nibbled the soft head of his cock through the rough fabric.

"Oh God, Mia." He reached down and pulled her on top of him so that they were laying face to face. Both panting, he took her face in his hands and pulled her lips down to his, kissing her roughly.

She could feel his cock between her legs and pressed down, "I want you," she said into his mouth, rubbing along the length of him slowly clockwise, and then lifting her mouth off of his slightly to smile, she changed the direction of her grinding to counterclockwise.
Jennifer's Review
I was given ARC to read by the author for an honest review. Hearing many friends chat about the first book Searching for Moore, I couldn't wait to start this series! Searching for Moore was a stay up all night kind of book for me. After the heart wrenching ending, I couldn't wait to immerse myself further with Mia and Schooner in the second installment from the Needing Moore Series, Moore to Lose! WOW, this book did not disappoint, and once again had me losing sleep to finish it!
Moore to Lose begins with Mia's story, and we will thankfully find out answers from the dramatic Searching for Moore ending. It will quickly take the reader back in time, and delve into the 24 missing years that Schooner and Mia spent apart from each other. Ms. Richman did a superb job in this part of the story, filling in so much of the lost time from book one. I believe it was essential for this part of their journey to be told, and helps the series come full circle. You will learn about the other men that Mia was involved with, and although she enjoys spending time with these men, Schooner is never far from her thoughts. I really grew attached to some of these characters from this time in Mia's life, they were really well developed, they had me laughing during many scenes, and in others my heart was breaking in two! Be ready for some ugly crying, the story will take a very raw and emotional turn as Mia along with friends from this time in her life, will have to deal with a terrible tragedy. This scene absolutely wrecked me!
You will also find out how Schooner spent the 24 years apart from his "Baby Girl" The lie that his wife CJ had kept all this time, that changed the course of his life. After Searching for Moore, I didn't think I could despise CJ any more than I already did, but she has quickly become one of my most hated book characters with the addition of this second book. The end of the story will take the reader to the present time again. Mia and Schooner are together, and dealing with the fallout of what Zac had done. The ending of Moore to Lose had me picking my jaw up from the floor, I can't wait for book three in the Needing Moore Series! I adore Mia and Schooner, they have quickly become a favorite book couple, and Ms. Richman has a new fan in me! I highly recommend Moore to Lose, such a fabulous read! Thanks to the girls at Shh…Mom's Reading for the opportunity to guest review on this one, A wonderful 4.5 stars!
Favorite Quotes
"By the time the sun comes up there will be no doubt in your mind who you belong to."
"I didn't know I could feel so addicted to someone, I didn't know I'd ever want to…"
"And I will move heaven and Earth to make sure that we finally have the chance that we were robbed of."
About the Author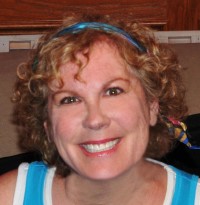 Author Julie A. Richman is a native New Yorker living deep in the heart of Texas. A creative writing major in college, reading and writing fiction has always been a passion. Julie began her corporate career in publishing in NYC and writing played a major role throughout her career as she created and wrote marketing, advertising, direct mail and fundraising materials for Fortune 500 corporations, advertising agencies and non-profit organizations. She is an award winning nature photographer plagued with insatiable wanderlust. Julie and her husband have one son and a white German Shepherd named Juneau.
---
GIVEAWAY
a Rafflecopter giveaway
Book 1 – Searching for Moore