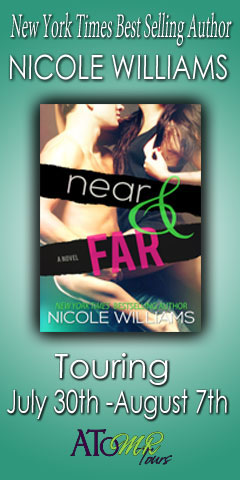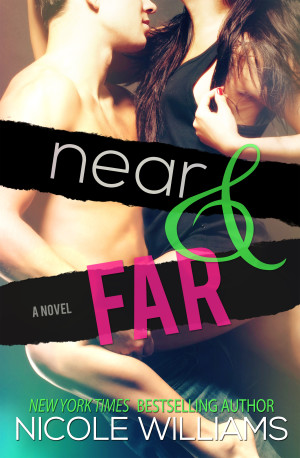 Today we welcome Nicole Williams to our blog as she celebrates her new book Near and Far which released on July 30th.
Enter for a chance to win some amazing giveaways using Rafflecopter below!
---
5 STARS!!!
Synopsis
There's optimistic. And there's Jesse Walker.
If he wasn't so charming, his sunny disposition and incessant grin would get old. Fast.
Falling in love with the girl who had at first seemed immune to it, was the best thing to happen to Jesse since the Walkers adopted him into their family when he was five. But loving the girl who has her fair share of secrets is about as easy as that same girl loving the boy who seems to have none.
As Jesse's life continues at the ranch, and Rowen begins making her mark in the Seattle art community, they begin to wonder where the middle ground is. Or if there even is one.
As push comes to shove and choices aren't only needing to be made, but forced to be made, Jesse and Rowen have to face what their lives might look like without the other.
Can two people with such tragic pasts and different presents, go on to expect a promising future? Whatever the answer, they'll need a lot more than love to make it.
Christine's Review
Nicole Williams has done it again with this wonderful cast of characters. Not only is this a book about a love that shows no bounds but it's also a book about taking what you want out of life and not letting your past define you. This is a book about never giving up and putting your trust in love to get you through the darkest of times.
I was excited to start Near and Far as it picks up where Lost and Found ended. Rowen is now in college and she and Jesse are madly in love and learning how to be in a long distance relationship. Jesse has learned the art of compromise and sacrifice and to me is the ultimate book boyfriend not only in his actions but the beautiful words that come out of his mouth. Their love is still all consuming and suffice it to say consumes my every emotion while I read this book. I find myself smiling and laughing out loud and even I am not immune to the Jesse Walker charm.
Rowen is studying her passion – art. Though finding it difficult to be away from the one constant and love of her life, I admire her independence and need to be her own person and to succeed in the art world. Though Rowen has grown in some ways since Lost and Found, all because of Jesse, she does have constant insecurities about losing Jesse and him finding someone better than her.
Despite the seemingly good things that are happening in their relationship, Rowen and Jesse will face many obstacles in this book namely other characters vying for their attention as well as living separate lives a part many miles away from each other. Not only are they far from each other but timing is also a factor as the time they spend together gets further and further a part. All of this combined is a struggle for anyone but to these two young people who love each other so much, it becomes something that feeds into their insecurities making them question their relationship.
We will also see a break in Jesse's character as he begins to suffer from nightmares about his childhood abuse. It was hard for me to watch him like this as he was SO strong in Near and Far and to see him broken had me crying for his pain. All of these insecurities leads to Jesse also questioning whether he is good for Rowen or if she deserves someone more stable.
Can these two amazing characters survive the distance? Will Rowen allow others experiences cast a shadow over her relationship with him and ruin them? Similar to Jesse helping Rowen with her inner demons in Lost and Found, will Rowen be strong enough to handle Jesse's and to help him overcome them?
You will have to read this book to find out!
I want to note that there is a certain part of this book that literally caused my heart to catch in my throat in fear. Jesse's past was tough to get through especially knowing what a kind hearted man he has become since then. But what put a smile on my face and warmth in my heart was how Jesse prevailed from such an ugly childhood. This was a true testament to Rose and her family for taking in a broken boy who was abused and unloved and making him the amazing person and character that he is today. The ending of this book was pure magnificence and I can't help but want to shout out loud how much I just LOVE LOVE LOVE these characters! <3 <3
In true Nicole fashion, she has created a wonderful set of secondary characters that you take into your heart and adore. Garth Black is still as black as ever in this book. But in a lot of ways I find that he is misunderstood. Though he is the "bad", guy I find myself caring about him, wondering about his past and wanting to know more about him. He also made me laugh several times throughout the book! He surprised me in this book too – in a good way – and makes me think that there is more to him than meets the eye. And I can't wait to find out more!
Thank you Nicole for giving us more of Jesse and Rowen. This is a couple who loves so deeply and endlessly that it is truly something to be inspired by.
Favorite quotes:
"Our priorities aren't what we say they are. They're what we show they are."
"I was made to love you."
About the Author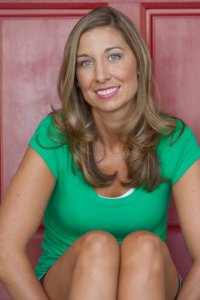 I'm the New York Times and USATODAY bestselling author of the LOST & FOUND series, the CRASH series, and a handful of others. Basically, I get to do what I love. Every single day. I write romance because I'm a sucker for a good love story, and I write happy endings because there are too few of them in real life.
---
GIVEAWAY
a Rafflecopter giveaway