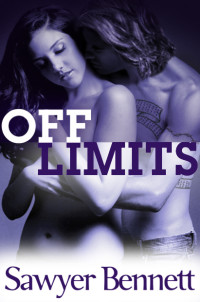 Today we welcome Sawyer Bennett to our blog as she celebrates her new book Off Limits which released on April 16th.
Enter using Rafflecopter below for some amazing giveaways from the author.
---
4.5 STARS!!!
Synopsis
"There is a vulnerability there, hovering just below the surface. And I want to pick at it until I expose it. Then I want to kiss it."
Two years ago, Emily Burnham, had an epiphany about the shallowness of her life. And she made it her mission to become a different person…a better woman. Out from under the controlling thumb of her mother, Emily is tasting the real world for the first time. And she likes it.
Nixon Caldwell has served his time in the Marine Corps, surviving two brutal tours in Afghanistan. He is back home, surrounded by what he likes best…isolation. It's certainly the easiest way to avoid confrontation of the consuming guilt that is weighing him down.
When an accident brings Emily and Nix together, he soon learns he is not the master of his own fate. Struggling with his own pain, Nix tries to guard himself against Emily's charms.
He wants her in his bed, but he doesn't want her in his heart.
Having grabbed life by the horns, Emily wants it all. But is she willing to accept just the small part of himself that Nix is offering? Can she reach the part of his soul that he has deemed to be Off Limits?
This book is the follow up novel to Off Sides by Sawyer Bennett. It can be read as a stand-alone.
Denise's Review
This book tells the story of Emily Burnham and Nixon Caldwell.  Emily is a young woman finding her own place in the world, learning to become the woman she wants to be, not the vision her mother holds for her.
Nixon "Nix" Caldwell is veteran who served wartime tours in the Marine Corps and has desired to live his life in solitude with his work and his best friend – his dog Harley.
Emily and Nix have a common bond, their brothers play together in the NHL.  I enjoyed how this common bond brought these two together.  It was used in a non-traditional way for a first meeting (no I am not going to tell you – you will have to read this to see how they met!).
Every time I had to put this book down to go about my life, I found my thoughts drifting to Nix and as I am writing this review days later, Nix is still with me.  The author did a wonderful job at showing the reader how affected Nix was by his feelings for Emily. How his reaction to her, his thoughts of her were all so different than anything he has felt in the past towards a woman.
Readers of my reviews and authors I chat with know I adore knowing the meaning of character's ink. Well let me say – hats off to Ms. Bennett – the use of Nix' scroll tattoo was amazing; it helped the reader understand him, it was used as a tool for healing and in the end well… again you have to read that part to understand what I am referring to!
This wounded warrior will pull at your heart strings. His journey to happy and more importantly to peace was amazing and truly made me wish I could hug him… well or maybe get to touch his scroll as Emily did!
I absolutely loved loved the end of this book; it was not about Emily fixing Nix; it was about Nix finding his own way. Nix's actions toward the end of the book went from frustrating, to heart tugging, to endearing, to hot! So well done!
This book can absolutely be read stand alone!  If after reading it, you want to know more about Ryan, Emily's brother than you can go pick-up Off Sides.
I really enjoyed the use of secondary characters in this book, and I am so looking forward to Lincoln Caldwell's story next; Off Record releasing in June!
About the Author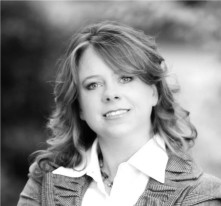 Sawyer Bennett is the pen name for a snarky southern woman and reformed trial lawyer who decided to finally start putting on paper all of the stories that were floating in her head. She is married to a mobster (well, a market researcher) and they have two big, furry dogs who hog the bed. Sawyer would like to report she doesn't have many weaknesses but can be bribed with a nominal amount of milk chocolate.
---
GIVEAWAY
a Rafflecopter giveaway