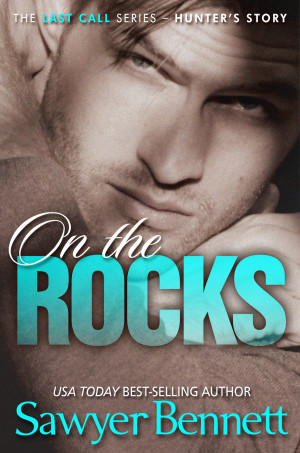 Today we welcome Sawyer Bennett to our blog as she celebrates her new book ON THE ROCKS which released on February 17th. Enter for a chance to win an amazing giveaway using Rafflecopter below. Good luck!
---


He left to travel the world for fame and glory, but only after spurning Gabby Ward and crushing her young heart. Now Hunter Markham has come back home to the sand and salty breeze of the North Carolina Outer Banks so he can open up Last Call, a beach bar nestled among the dunes of the Atlantic.
Gabby Ward is not happy that Hunter has returned. Bitter over his rebuff years before, she's content to stay far away from him and his dangerously charming ways.
Gabby's well-schemed plans to ignore Hunter go up in flames when he presents an offer to her that she simply can't refuse, throwing them together in a common quest to each reach their goals. Working together day in and day out proves to be problematic for Gabby, who soon realizes that the feelings she had for him are still very much alive. Hunter struggles to reach through to Gabby's cold heart, all while starting a new career away from his life as a top ranked, professional surfer.
What starts out as a mutual business arrangement soon turns into a passion that neither of them can continue to deny.
Hard choices lay ahead for both of them when Hunter is offered a once in a lifetime opportunity to return to the pro surfing tour.
Choices that could destroy what they have built or take them further than they ever had dared to hope.

On the Rocks is book 1 in a new series from author Sawyer Bennett. This book was a great introduction to a new cast of characters whose stories I am looking forward to reading as the Last Call series is released.
This book is told in alternative point of views, something I truly enjoyed as Ms. Bennett really seemed to capture both voices.
On the Rocks tells the story of Hunter Markham a pro-surfer returning home to North Carolina, no I am not telling you why he returns home, you need to read the book for that. Last Call pairs Hunter up against Gabby Ward, a woman from his past.. you see Gabby is best friends with Hunter's sister Casey, a lifelong friendship that has these two lives very intertwined.
Gabby has pined after Hunter for years when things get weird between the distance of his surfing tour keep them apart for years, something Gabby is more than happy about. But this return puts Hunter right into Gabby's orbit as business draws them together. I truly enjoyed how these characters were adults with lives and careers and that part of the story was working through those professional commitments.
I adore the use of Gabby's backstory and her father's business to not only put these two in each others space but also its use to show Gabby's character and toward the end it also made for a true expression of Hunter's feeling for Gabby.
From the moment the reader witnessed Hunter and Gabby in each others space again it is clear that there is an attraction. I thoroughly enjoyed Hunter and Gabby together as it is clear they were made for each other.
When the opportunity to return to a career Hunter adores and a sport he can truly dominate at comes to his door will he return to touring the world… can life-time friends find the balance between love and career??
Well, I won't tell you that part – you need to read the book to find out.
The secondary characters in this book were really well done, they added to the story and really had me wanting to know more about them.
I am really very excited for Brody, Hunter's twin to have his story told in book 2 Make it a Double and I truly hope Casey their sister get a story in book 3!!
Oh I will say I really enjoyed the epilogue in this book; and yes it made me want book 2 even more, you will know why when you read it! (no its not cliffhanger)
Thank you, Ms. Bennett for a new cast I want to know more about.

USA Today Best-Selling author, Sawyer Bennett, is a snarky southern woman and reformed trial lawyer who decided to finally start putting on paper all of the stories that were floating in her head. She is married to a mobster (well, a market researcher) and they have two big, furry dogs who hog the bed. Sawyer would like to report she doesn't have many weaknesses but can be bribed with a nominal amount of milk chocolate.
---