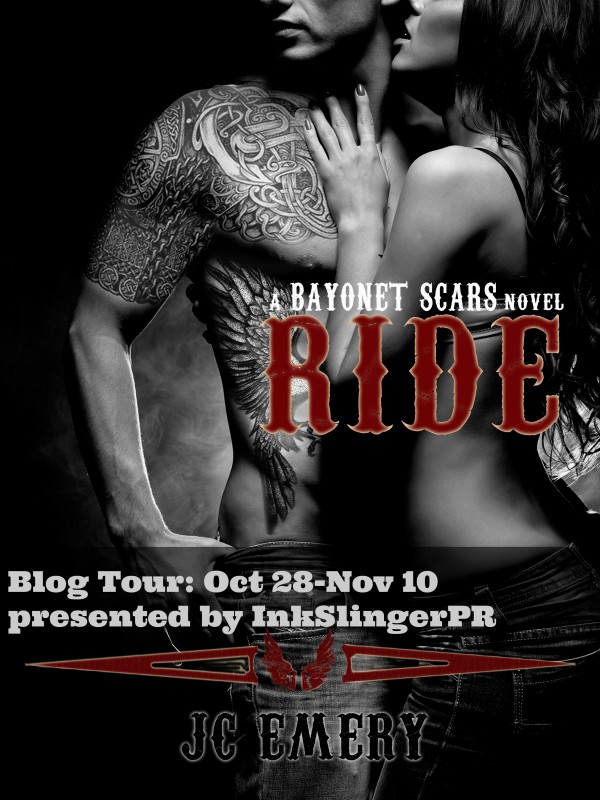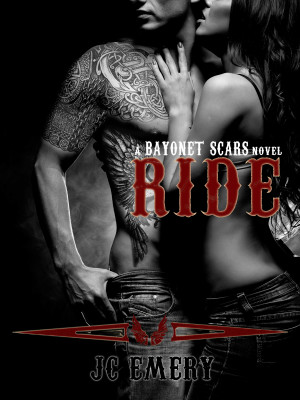 Today we welcome J.C. Emery to our blog as she celebrates her new book Ride which released today. HAPPY RELEASE DAY!
Enter for a chance to win some amazing giveaways using Rafflecopter below!
---
3 STARS!!!
Synopsis
Death comes in Armani. Salvation comes in leather.
Principessa to the Mancuso crime family, Alexandra knows a thing or two about living outside the bounds of the law. Suffocated by the future her father has laid out for her, she makes a choice she can't take back, changing the entire trajectory of her life.
Thrust into the dark and dangerous world of the Forsaken Motorcycle Club for her own protection, Alex finds herself faced with the last thing she needs right now: the man of her dreams. He's sex in leather, the devil incarnate, and one hell of a kisser. But he's also off-limits. Ryan Stone can be her friend, but he's forbidden to be her lover.
Third-generation Forsaken, Ryan knows nothing other than life on two wheels, and he wouldn't have it any other way. He enjoys the many privileges that come with the patch, and the only laws he recognizes are the ones set-forth by his club. That is, until who he wants more than anything isn't allowed on the back of his bike —or in his bed. Balancing his desire for her body, and need to keep her safe, Ryan tries to keep Alex at a distance. Finally having made a choice for herself, she's done hearing the word "no" and will push boundaries even Ryan himself doesn't dare cross.
Love is never more tempting than when it's forbidden.
Excerpt
"Ruby won't like it," Jim warns. The moment he says her name, I know for sure that it's Jim. With his warning, I know he's talking about me. I'm not a stupid child, nor am I as innocent as Ruby seems to think I am. What is so bad about being interested in Ryan?
"I don't give a fuck, and I'm not doing a fucking thing. Get off my back."
"I'm just trying to help you out," Jim says, then the sounds of heavy footfalls disappear into the distance.
"Fucking Christ," Ryan says from the other side of the door. I move away quickly and stand beside the bed, separating my hair in preparation for braiding it. He storms in and slams the door behind him. I give him a casual sideways glance and then go back to focusing on braiding my hair. His mood wafts off of him and is covering the entire room with a layer of anger and frustration.
Plopping down in the recliner, he pulls out a bottle of whiskey from between the arm and the cushion. I try to keep my eyes on my damp hair, but it's difficult to pay attention to anything but him. He's like a vortex, sucking me in.
"Like something you see?" Ryan says.
I look over my shoulder. Without removing his gaze, he takes another drink from the bottle of whiskey. He swallows heartedly, and a few drops remain on his lips. My tongue sneaks out and licks my lips before I realize what I've done, the invitation I've given. He mimics my motion with his own tongue. A warm blush rises on my cheeks, and I look down at my feet as my hands resume working at the braid.
"You really are just a little girl, aren't you?"
Jen's Review
I was provided ARC from the author in exchange for an honest review. Ride, by Author JC Emery is the first book from the Bayonet Scars Series. Wow, what a sexy cover this book has! That along with the synopsis, had me anxious to read this one!
Ride Centers around nineteen year old Alexandra Mancuso, or Alex for short. She's the daughter of Carlo Mancuso, Crime boss in New Jersey. Alex feels that life has been laid out before her. With no choice in the matter, Carlo has plans to marry Alex off to Leo, a man quickly making his way up the ranks of this crime family. This is how she's been raised after her mother's death, to be an obedient woman, and keep your mouth shut. When an incident takes place in the family, she feels compelled to open that mouth, and talk to the wrong people. Her life as she knows it, changes quickly. When someone from Alex's past hears of the danger she's in, they quickly come to help her, and work to get her away from the violent crime family life that she is accustomed to.
Ruby, a friend from the past has come into Alex's life abruptly, bringing with her many strangers. All of them from the Forsaken Motorcycle Club, there to protect Alex, and take her to California in order to keep her safe from the crime family she only thought she knew. So many questions arise, that a frightened Alex needs answers to!
On the ride to California, Alex starts to get closer to Ryan Stone, a man who has only known life as part of Forsaken, and having his "patch" means everything to him. Trying to stay focused on the goal of keeping Alex safe becomes more difficult as their long journey continues, and he will wrestle with feelings that begin to emerge for both of them.
Secrets will be exposed as time goes on that will push these two closer together, and threaten the only life either of them have known, sending the reader on an emotional roller coaster!
Having not read any of Ms. Emery's previous books, I was anxious to give Ride a try! There were some scattered hot sex scenes throughout the book, and it was a very quick read. Overall I thought the book was good, I did feel there were parts of the book that felt rushed, and made it hard to stay focused with the story. Scenes that could have been a bit more descriptive, may have made this a 4 star read for me. The chemistry was there, it was just a bit rushed. I'll be looking forward to the next book in the Bayonet Scars Series.
Favorite Quotes
"Ryan is like a game of Russian roulette with a loaded gun. It doesn't matter how it ends, it's not going to end well."
"It ends now. I don't want you thinking you're going to be on the back of his bike, or in his bed."
"He licks his lips and brings his hand behind my head. Before I can stop him, he pulls me in and his lips are on mine. Plush, moist, and demanding, he takes ownership of my very soul."
"And this is a promise of protection. I'll protect your heart because I love you."
About the Author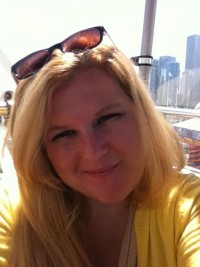 As a child, JC was fascinated by things that went bump in the night. As they say, some things never change. Now, as an adult, she divides her time between the sexy law men, mythical creatures, and kick-ass heroines that live inside her head and pursuing her bachelor's degree in English. JC is a San Francisco Bay Area native, but has also called both Texas and Louisiana home. These days she rocks her flip flops year round in Northern California and can't imagine a climate more beautiful.
JC writes adult, new adult, and young adult fiction. She dabbles in many different genres including science fiction, horror, chick lit, and murder mysteries, yet she is most enthralled by supernatural stories– and everything has at least a splash of romance.
---
GIVEAWAY
a Rafflecopter giveaway